Suunto hallmark robustness and sports expertise introduced into the fitness watch category

Vantaa, Finland – Suunto, a global leader in sports precision instruments, introduces the new Suunto 3 Fitness, a smart and robust fitness watch for people who lead an active lifestyle and value health and wellbeing. A beautifully designed personal training companion and elegant timepiece for everyday use, the Suunto 3 Fitness delivers individual training guidance based on fitness level and even adapts to training rhythms, inspiring you to keep moving.

"Suunto has a long heritage in building reliable, premium sports instruments that are trusted by professional athletes around the world. Our goal is to equip and inspire everyone to lead an active lifestyle, regardless of their sports level or background, and with Suunto 3 Fitness our sports expertise and watch craftsmanship is made available for an even wider audience. With Suunto 3 Fitness we wanted to create an affordable watch that is not only an activity tracker but a solid training companion and source of inspiration for its user," says Sami Arhomaa, Suunto Head of Portfolio. "It has always been Suunto's principle to design watches that are a joy to wear all day, and Suunto 3 Fitness is no exception. It serves as a beautifully designed timepiece from gym to the office."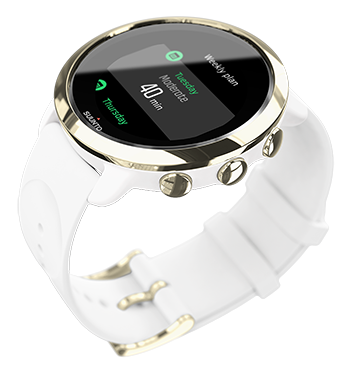 Adaptive training plans and real-time guidance

Packed with Suunto's hallmark sport expertise, Suunto 3 Fitness comes with convenient wrist heart rate measurement, provided by Valencell Inc., and a heart rate-based fitness indicator that determines your current fitness level.

Training with Suunto 3 Fitness is easy. The watch automatically creates seven-day training plans, using your fitness level and overall exercise history as a base. However, if you miss an exercise, or get excited and do a little more than planned, Suunto 3 Fitness automatically adapts your training plan accordingly, so you don't need to stress about keeping up with the plan. Additional real-time guidance with heart rate zones during every workout help ensure you train at the right intensity.


Balance exercise and rest to support overall wellbeing

Suunto 3 Fitness provides 24/7 activity tracking for steps and calories, and easy-to-follow summaries provide a view of your daily activity, helping you balance training and rest. Sleep quality tracking indicates how well sleep supports your recovery, enabling you to keep up with your active lifestyle.

Suunto developed sleep quality tracking, as well as fitness level indicator and adaptive training guidance in cooperation with Firstbeat Technologies, Suunto's long-term partner in sports sciences.


Keep up with training goals via connected Suunto app

Suunto 3 Fitness connects to the all-new Suunto app, which will be introduced in detail later in the spring. The new app logs all your activities and keeps you up to date on your weekly training goals. The smart mobile connection also delivers incoming calls, text messages and calendar notifications to the watch.

Product highlights:

Adaptive training guidance
Activity tracking with steps, calories and sleep
Built-in sport modes for running, swimming, cycling, gym training and many more
Accelerometer-based speed, pace and distance for walking and running
Water resistant to 30 meters, swimming proof

Five fresh designs for everyday wear


The Suunto 3 Fitness will be available in the spring in five different models: Gold, All Black, Ocean, Sakura and Black. Gold and All Black (RRP 229€) present an elegant, urban feel with gold- or black-plated stainless steel bezels and pushers. Black, Ocean and Sakura come with polished stainless steel bezels and offer a fresh, lively look at an RRP of 199€. Full product details will be released later.