Note: This article applies to Suunto 9, Suunto 5, Suunto 3 and Suunto Spartan Collection watches.
With a wide range of pre-defined sport modes, your watch always shows the most relevant data during your exercise. In addition to pre-defined sport modes, you can now create custom sport modes with Suunto app.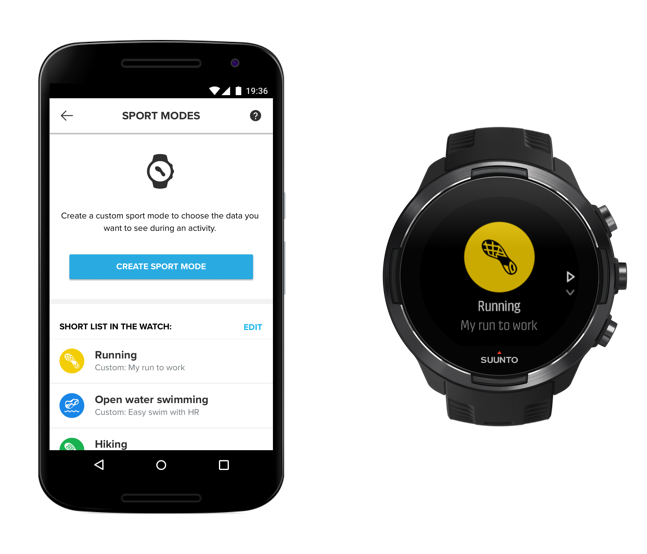 How to create a new custom sport mode?
Connect your watch to Suunto app and open Sport mode customization.
Tap Create sport mode.
Select sport
Tip: You can create several custom sport modes for the same sport. For example, you can have a custom running mode for races and recovery sessions.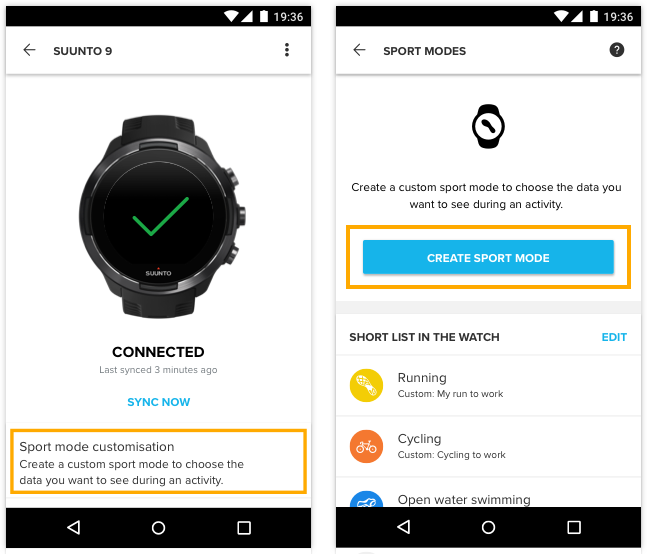 Personalize the layout and data of single displays:
To change the display layout, tap Change underneath the watch, and select the layout you prefer.





To change the data, tap a field in the list and select the data you prefer.





Find your new custom sport mode on top of the short list. Suunto app will automatically sync your new custom sport mode to your watch. Open Exercise on your watch and see your new custom sport mode on the top of the short list.
How to edit a custom sport mode?
Unlike pre-defined sport modes, custom sport modes are highlighted with a colored icon in the short list in Suunto app and can be edited:
Tap the sport mode you wish to customize.
Personalize the layout and data fields as described above.
Suunto app will automatically sync your settings to your watch.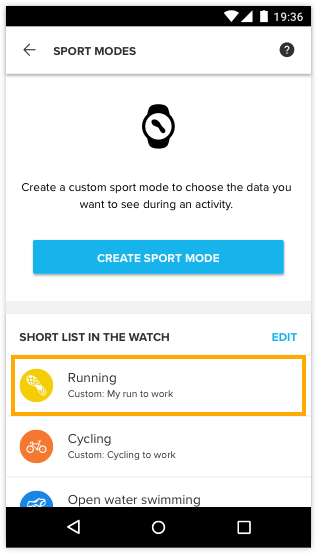 How to manage the short list in your Suunto watch?
The short list in your watch reflects the sport modes that you have recently used. Both custom and pre-defined sport modes can be removed from the short list, but only custom sport modes can be edited.
To remove sport modes from the list, tap Edit next to Short list in the watch. Remove the sport modes you don't need.
Note: All sport modes cannot be deleted. You need to have at least one sport mode on the list.
Tip: To add a pre-defined sport mode back to your short list, open Exercise on your watch, scroll down to Other and start the exercise with the sport mode you want to add.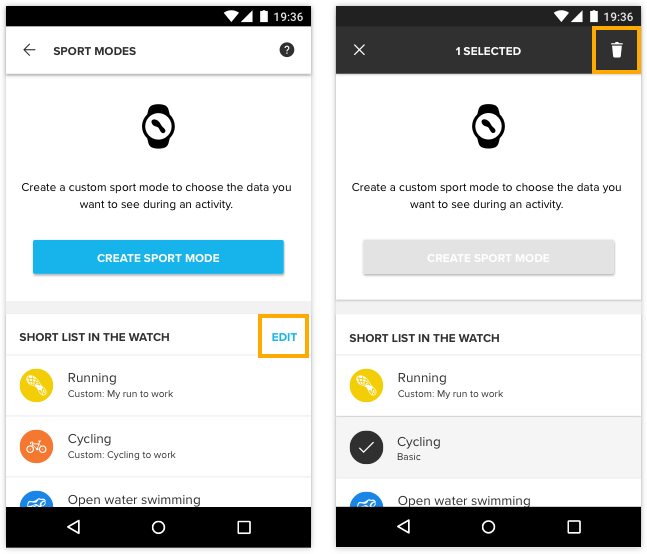 Additional sport mode specific settings
Settings like GPS accuracy, use of heart rate measurement and other, can be changed in the watch before you start the activity. Scroll down to Options menu below the exercise start screen.
Are you also using Suunto Movescount?
When syncing a custom sport mode with the Suunto app to your watch, your watch connects to Suunto app. You will not be able to sync your activities with Suunto Movescount app and web from then on. Learn more.  
You can't see sport mode customization in your Suunto app?
To use sport mode customization, you need
the latest version of Suunto app: open Suunto app in Google Play Store and check for available updates.
the latest software version for your Suunto device: Install SuuntoLink on your PC or Mac and connect your watch to your computer using your charging cable. SuuntoLink will inform you if there is a new software update available for your device. Download SuuntoLink .
RELATED ARTICLES