Athletes from across the globe are gathered and ready to go as the third Blue Element fins off in Dominica!
Blue Element kicks off tomorrow for their 3rd event in Dominica. Suunto Dive caught up with one of the founders, Johnathan Sunnex, to find out what it is all about before media manager and freediver Francesca Koe takes over our Instagram feed tomorrow.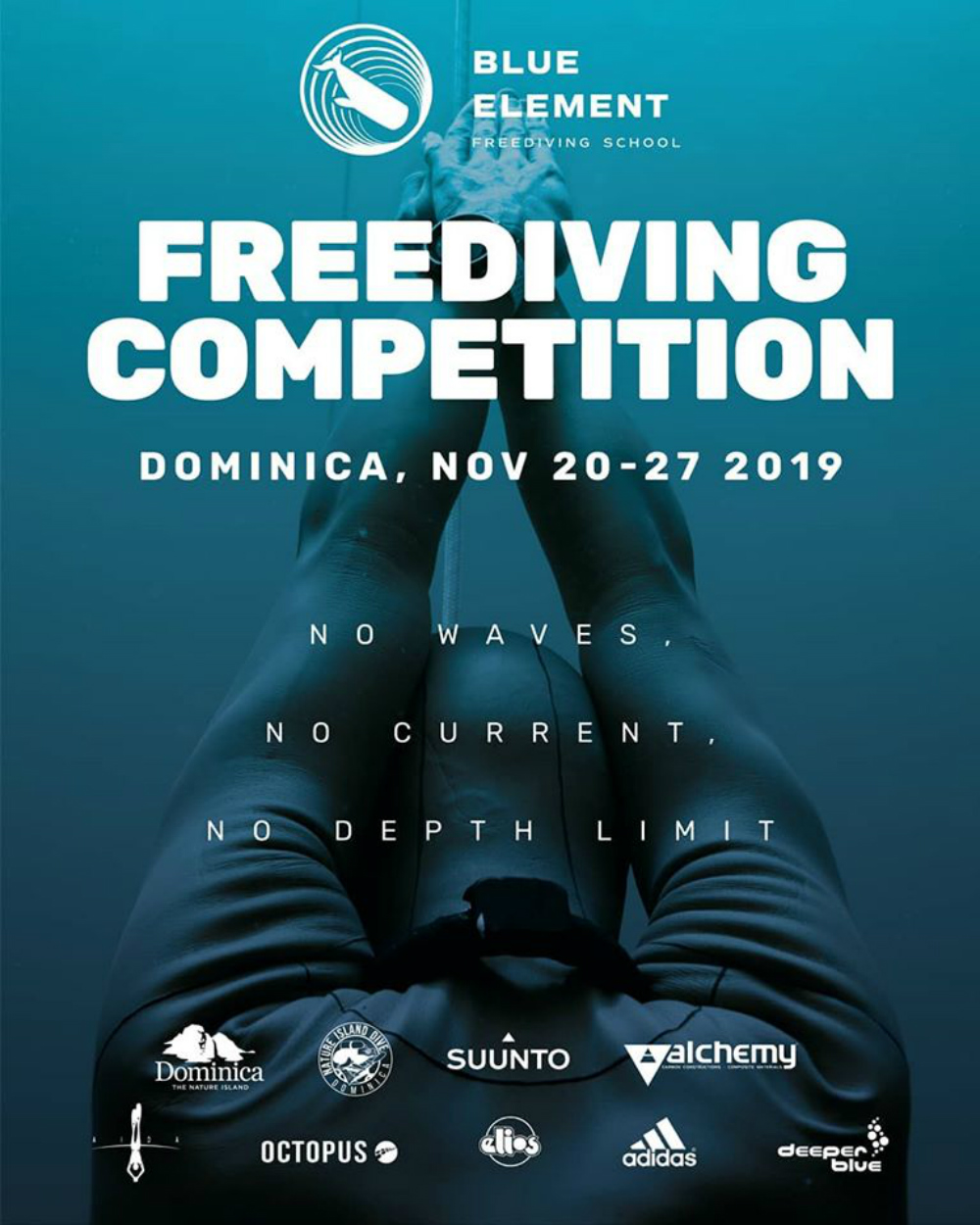 Photo by Daan Verhoeven
What is Blue Element?
Blue Element is an international freediving experience that encompasses multiple days of diving, beach clean-ups, island exploration and much more! It is held annually in the picture perfect island of Dominica! Sofia Gomez Uribe and I founded Blue Element freediving in 2016.
This is the third BE competition which was founded in 2016. Hurricane Maria prevented the 2017 edition, but last year the BE team were able to re-establish the event despite the country still being in recovery mode after the hurricane devastation.
The event is held in Soufriere Bay/Scotts Head in the very south of Dominica. Dominica is a small island nation, a part of the Lesser Antilles island chain in the Caribbean.
Why is the location so amazing?
The Soufriere Bay offers world class conditions year round, unlike any other location on earth. The water temperature ranges between 26-30°C, the visibility is between 20-30m and there are no waves, no currents and effectively no depth limit. To add to this, the bay is surrounded by high mountains carpeted with lush tropical jungles creating the perfect backdrop.
The custom built freediving platform is currently set in 160 m and just a five minute swim from shore.
Are you expecting any records?
The Blue Element team pride themselves in creating an atmosphere where athletes can perform at their very best. Dozens of national records and several world records have already been set here over the past four years and we expect this event to be no different!

Blue Element 2019 will be attended by 30 athletes from around the world, including many national record holders, vice and world champions. We can expect to see many records fall at this event including national, continental and possibly world records.
What disciplines compete and on what days?
Athletes have the choice to compete in as many or as few of the competitive depth disciplines as they choose. There are six days of diving split into three sets of two. We are expecting 30 athletes to be competing this year and more than 150 official performances.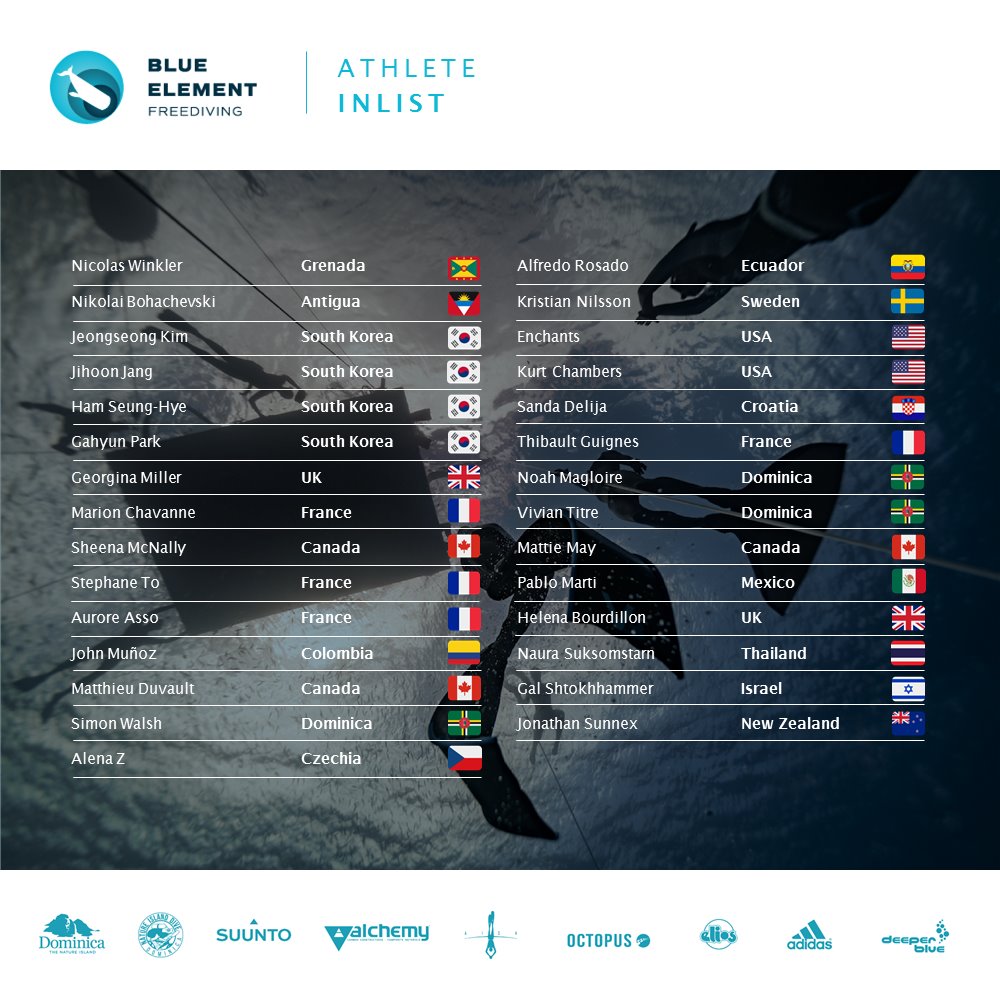 Have you seen the event grow?
Hurricane Maria was quite a setback and it took a lot to regain momentum. The event continues to grow each year and this year we will have almost three times the number of athletes than attended the inaugural competition.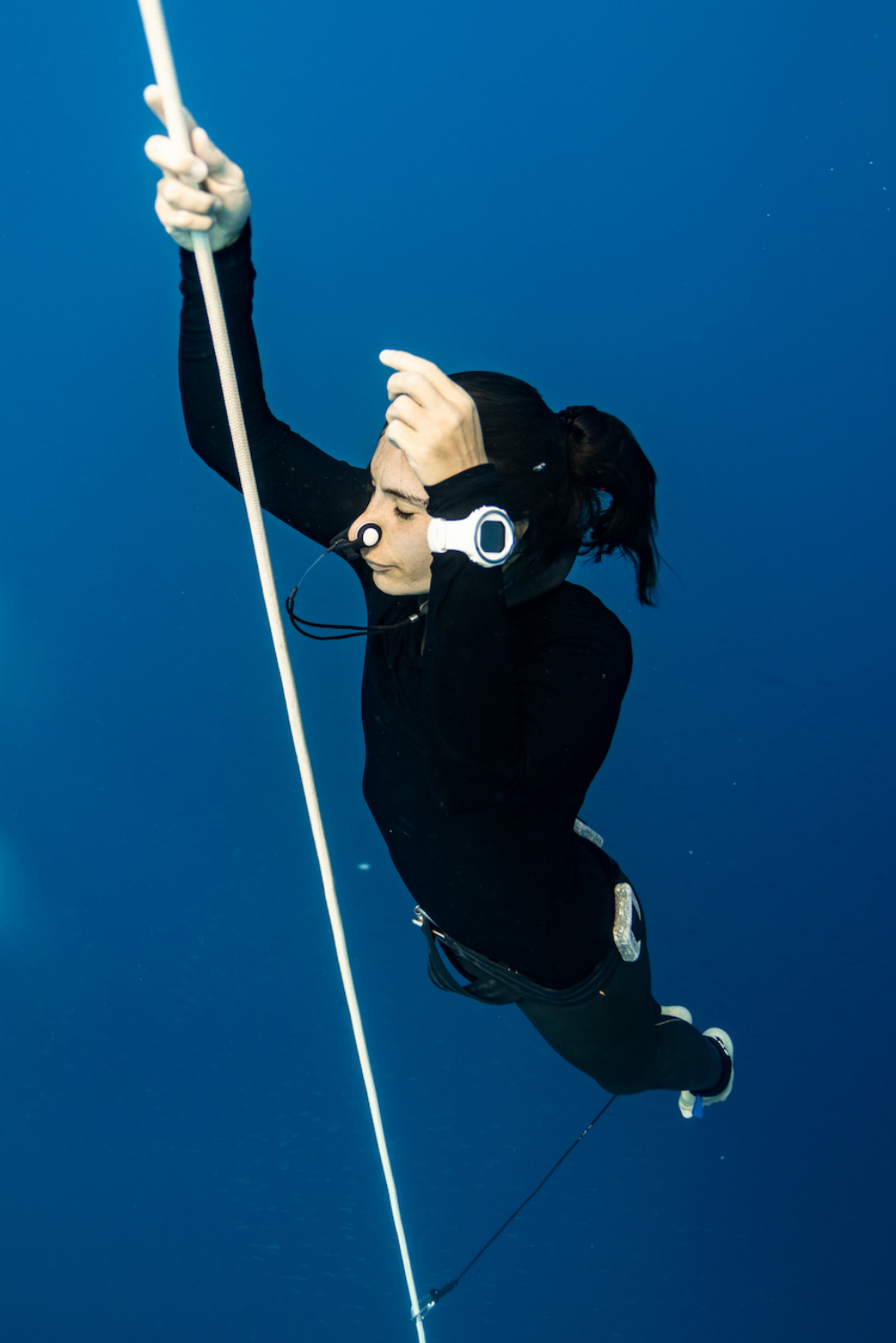 Photograph by Daan Verhoeven
What can the athletes win?
Suunto D6i's, Suunto D5's, carbon blade Alchemy fins and shirts, custom made Elios wetsuits, Octopus nose prize packs, All-Swim swimwear, high end Pacsafe back packs made of recycled fishing nets, ADIDAS shirts, Recycled plastic Blue Element T-shirts, custom medals.
Who are the judges?
Two of the world's leading judges, Carla Hansen and Vedran Milat.
Who runs the safety team?
Chief of Safety Louisa Collyns of the UK returns to lead our experienced team of safety divers. The safety team have been hand selected and are comprised of several 80-90m divers in their own right.
Will the rules be governed by AIDA or CMAS standards?
AIDA International.
Who is taking the official pictures?
Predominantly the man, the myth the legend, Daan Verhoeven. I will likely join him behind the camera for some session.
Will you have Dive Eye?
Not this year but the event will be covered by our professional media team with event videos and live streaming from the platform. We have cameras placed strategically to get all of the best angles from both above and below the surface! You will be able to catch the live stream from our Facebook page, and the videos will be uploaded to our social media channels. We will also be taking over the Suunto Dive Instagram feed live from the dive platform.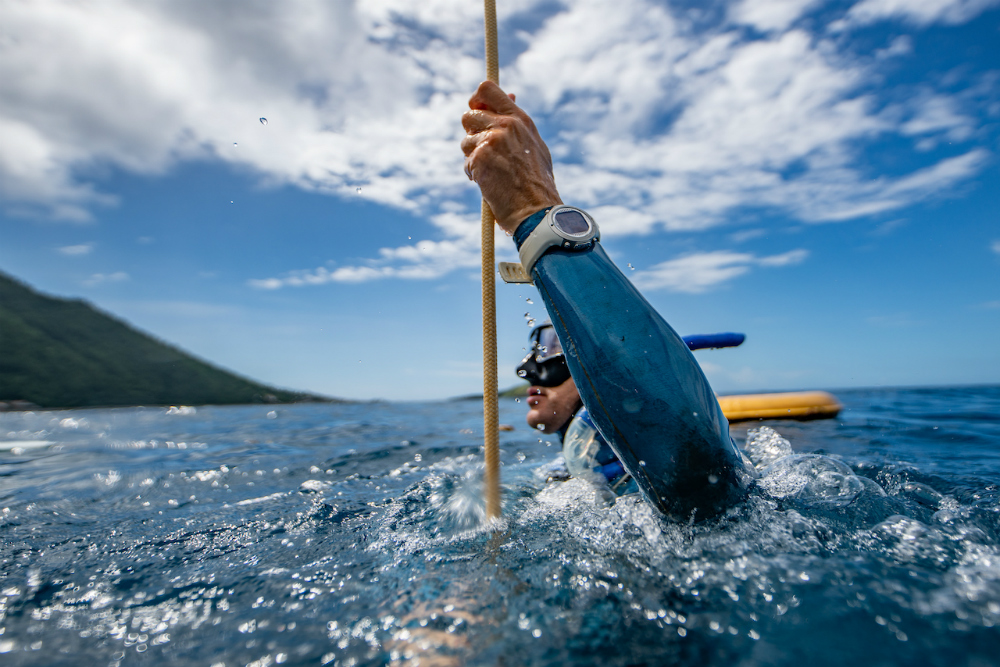 Photograph by Daan Verhoeven
What is your history in freediving?
I have been involved with freediving since 2011. I competed for the first time the same year in Kalamata for the Med Cup and then the AIDA World Championship. I placed somewhere in the middle of the field, but these events and the athletes who were in attendance inspired me to make a full commitment to freediving. I vowed to myself that when I would return I would be there for a podium placing.
I moved to Egypt and I started to teach and train full time. Living next to the ocean mean't I had easier access to depth which allowed me to progress quickly and I made my first dive below 100 m in November of 2012. The following year I returned to Kalamata for the AIDA Depth World Championship and, as I had hoped, this time I managed to place third in free immersion, winning a bronze medal. I ranked third overall for depth diving in 2012 and 2013 with deepest official results of 105 m CWT, 101 m FIM and 65 m CNF set in the Bahamas at Vertical Blue.
After the death of two friends (fellow freedivers) I switched my focus towards coaching and safety diving. I had thoughts about leaving the sport, but I soon realised that that wouldn't change anything and that I would be better off staying and trying to make the sport safer. I ran safety seminars and returned to Long Island in the Bahamas, this time as the Chief of Safety and co-organiser. I hand selected a group of free divers that I knew would be up to the task of looking after the deepest divers in the world pushing their bodies to the absolute limit. I applied the same mindset to running the safety team to what I had used in my own personal training. We approached safety diving with performance in mind. Team bonding for cohesion, rescue drills and emergency training to sharpen our skills, incident reviews for learning opportunities and to strive for improvement. This approach has since been adopted by many other events and has set the standard for the international freediving community.
Since then, I have coached athletes to more than 70 national and continental records as well as seven world records. I am an instructor trainer with AIDA International and I continue to organise freediving events. I enjoy exploring and documenting the underwater world with my camera, and have dived in all continents, including both polar regions.
Will you compete?
Once the competition is underway and everything is running how it should, then yes, I plan to take off my organizers hat for a few minutes each day to perform some dives!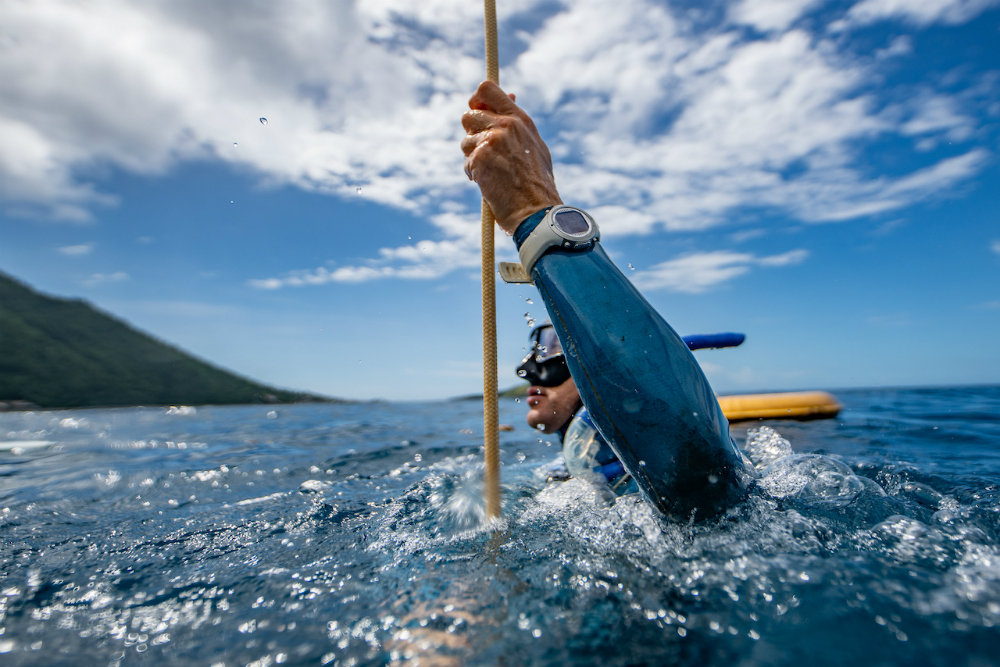 Photograph by Daan Verhoeven
Any hot tips or words of inspiration you would like to share?
Freediving, like life, is often a trial of tribulations. Success takes patience and persistence but inevitably hard work and determination pays off.
Links:
Photography by Daan Verhoeven