With Suunto app, you can create and store structured workouts and sync them to your Suunto watch, so that you can later use them as a guide during your training sessions
To create a structured workout in Suunto app that you can use in your watch to guide you during a training session, you can either tap on the "+" symbol on the top right and select "create structured workout", or tap to the watch symbol and, from the main watch syncing display, tap on "structured workouts" and then "create new"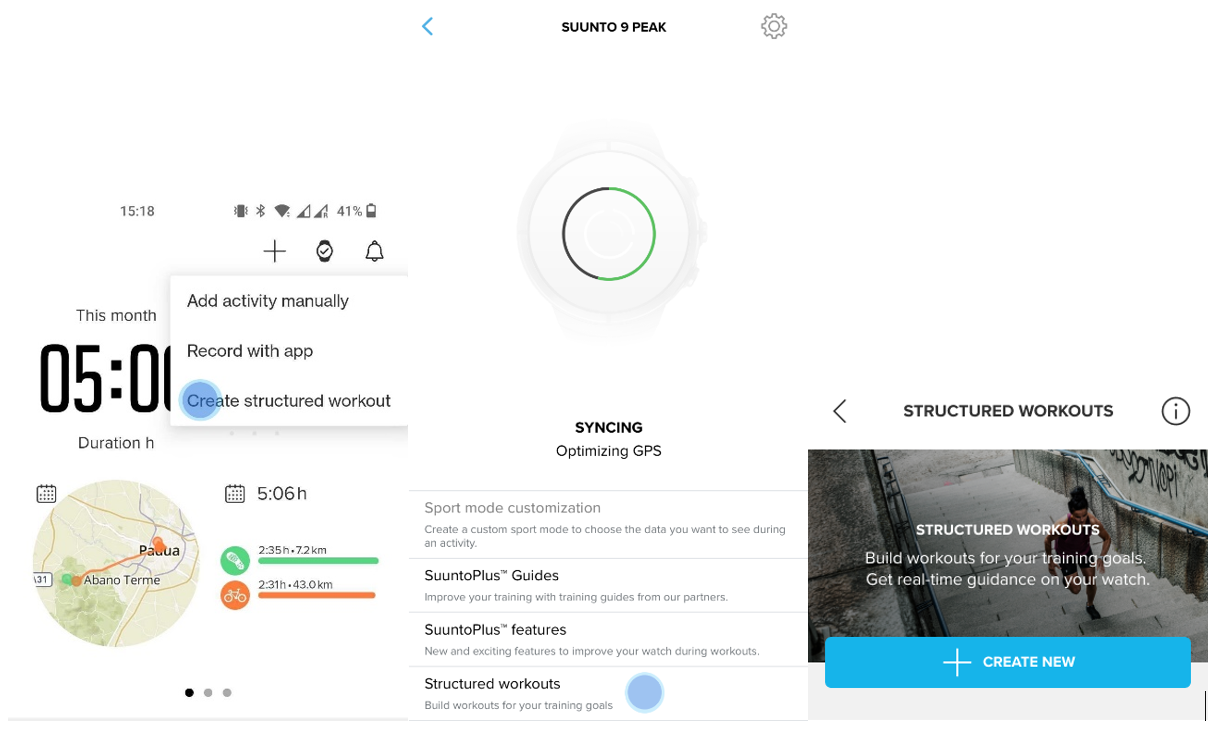 You can then set up the basic information for the workout (a name and a brief description that will be shown on the watch, the activity types/sport modes that you wish to use the workout with), and if you want you can set up a date when the workout will be suggested to you on the watch. You'll then be able to create the actual workout, by adding steps and reps. For each step, you can choose among 4 types of phases (warm-up, interval, recover, and Cooldown), and each of them can have its own name, duration and target: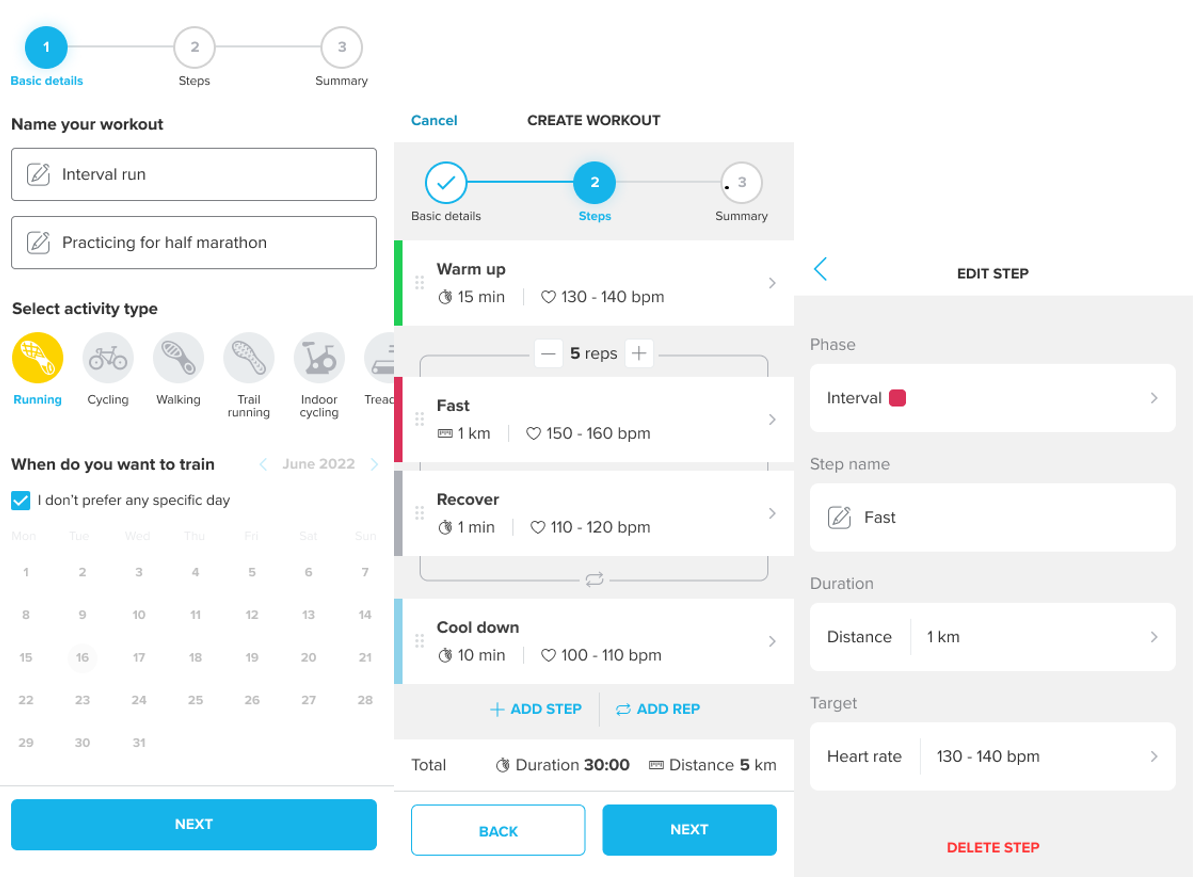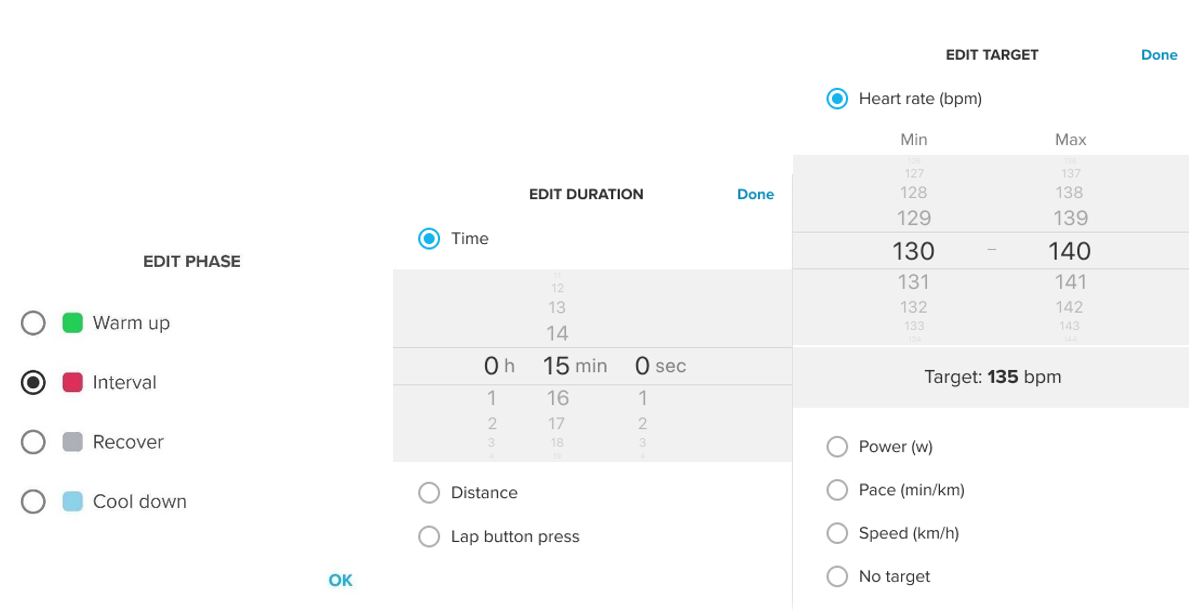 You can also easily delete steps or duplicate them by sliding from the right and tapping on the dedicated buttons:

Once you are done with the workout details, hit "next" and check the summary of your workout. You can then save it and it will be stored in your workout library (workouts there are listed as upcoming workouts, no specific date, or past workouts. NOTE: past workout won't be available in the watch, but you can simply remove or change the date and they will be available again): from there, it will sync to the watch and you'll find it among the SuuntoPlus™ Guides.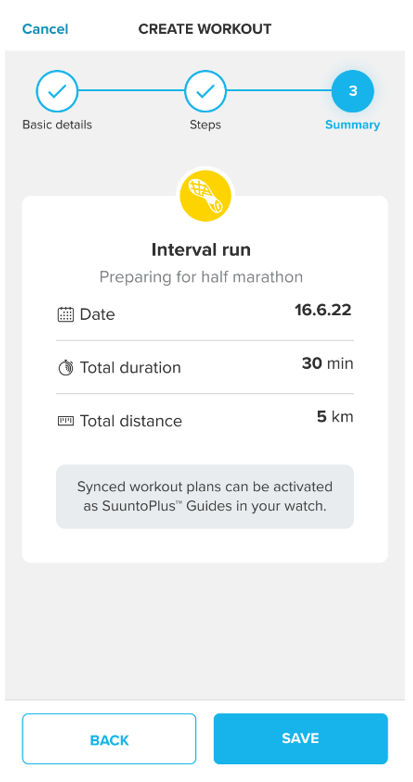 ON THE WATCH
Once your workout is synced to the watch, you will be able to find it among the SuuntoPlus™ Guides: if you programmed the workout for a specific day, the watch will remind you that you did and will give you the option to add it to the exercise with one simple click; otherwise, you can always add it manually from the SuuntoPlus™ Guides section of the exercise options: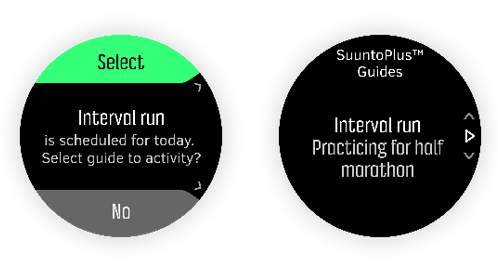 While training with a structured workout active, an extra display will be added to the ones you normally have for the particular sport mode you are using, with extra information relevant for the workout step you are performing.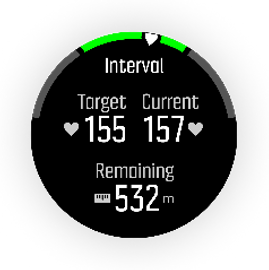 When a new step of the workout is about to start, the watch will infrom you of it with a notification on the screen; another dedicated notification will appear at the end of the structured workout.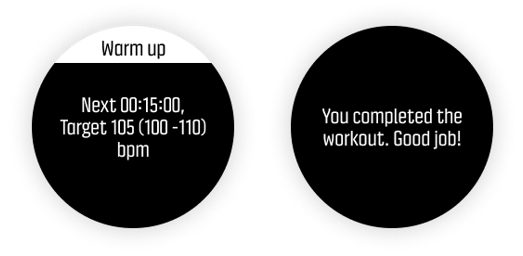 Note: Structured workouts in Suunto app are based on the SuuntoPlus™ Guides components. Therefore:
They are only compatible with watches that support SuuntoPlus™ Guides.
If you are using a Structured workout, you cannot use a SuuntoPlus™ Guide nor a SuuntoPlus™ sport app during the same exercise.
READ MORE: