Notifications
If you have paired your Suunto Traverse with Suunto app (see Suunto app), you can get call, message and push notifications on the watch.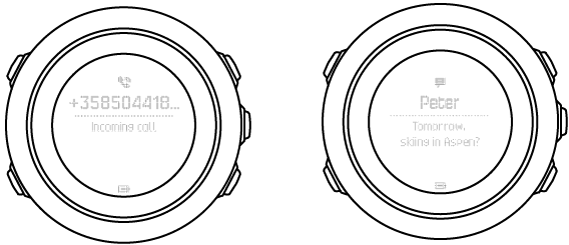 To get notifications on your watch:
Keep
pressed to enter the options menu.
Press

CONNECTIVITY

and press .
to scroll to
Press

Notifications

.
to scroll to
Toggle on/off with
.
Exit by keeping
pressed.
With notifications on, your Suunto Traverse gives an alert (see Tones and vibration) and displays a notification icon in the bottom row of the time display with each new event.
To view notifications on your watch:
Press
to enter the start menu.
Scroll to

NOTIFICATIONS

with and press .
Scroll through the notifications with
or .
Up to 10 notifications can be listed. Notifications remain in your watch until you clear them from your mobile device. However, notifications older than one day are hidden from view in the watch.