The data for 2020 is in! Our data nerds crunched the numbers and worked out who gets kudos. 
Well done to everyone who got out there and chased vertical meters over World Vertical Week 2020. We saw some inspiring efforts from people around the world.
Two firefighters, for example, donned their heavy protective clothing and gear, and powered up and down the best training hill in their hometown of Helsinki, Finland. That's going above and beyond the call of duty! Read their and two other cool stories from the week here.
At Suunto HQ we are always excited to analyze the data and see how much our users have climbed over the week, and which nations and sports have sweated it out and gathered the most vertical meters. This year week has some exciting results.
Over time, World Vertical Week has gradually been becoming a tradition; more and more people are participating and sharing their love of moving uphill.
Return to the top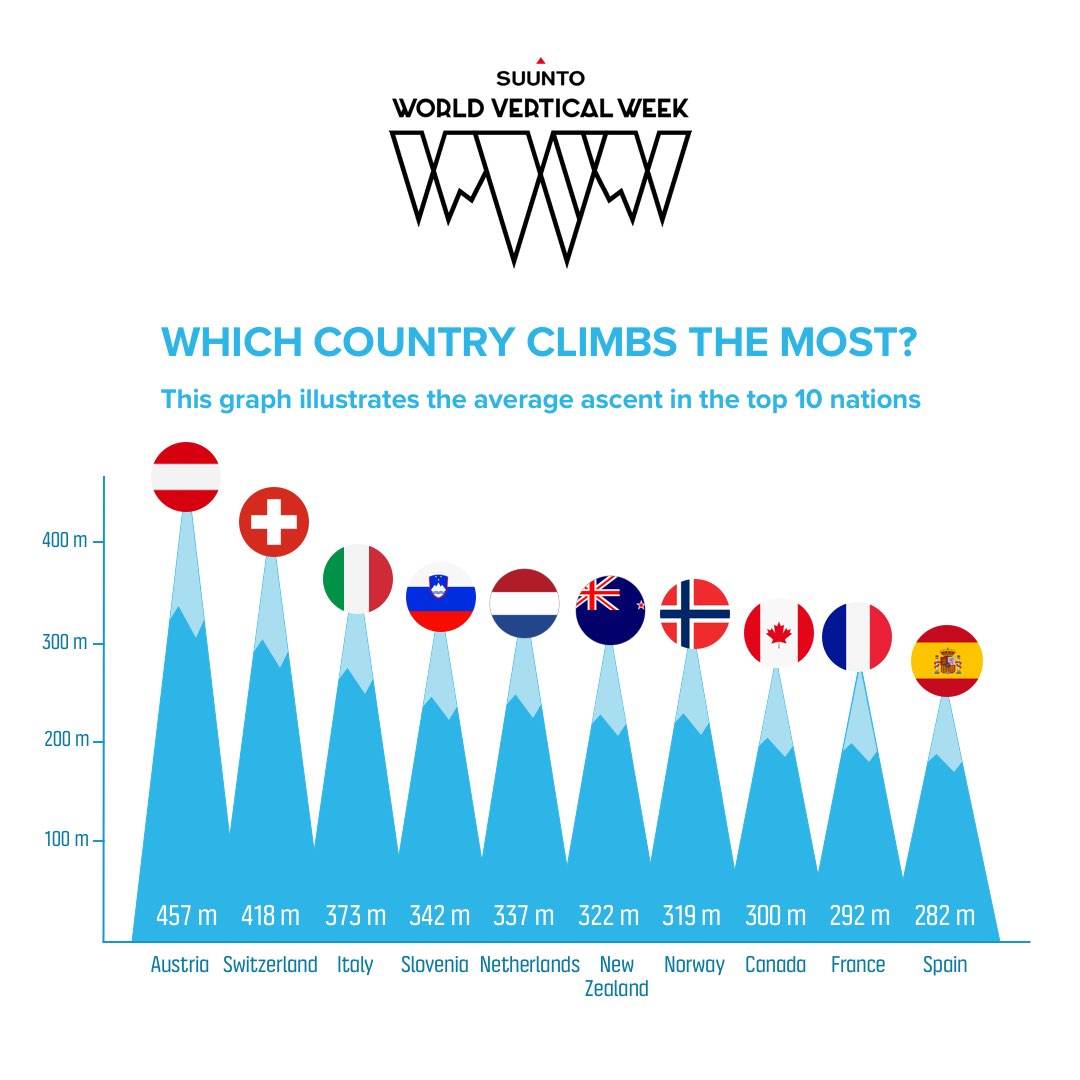 Last year, one of the surprise results was that Austria lost it's top place as the nation that gains the most vertical meters by average after holding it for two years. This year, the alpine nation has retaken the throne. The average climb among Suunto users in Austria was 457 m. Sehr gut Österreich!
Notable mention to second place Switzerland (418 m) after dropping to eighth place last year. In the previous two years before that it was near the top. Italy (395 m) came third. These results prove once again that alpine nations know the best way to move is upwards!
The overall kick ass nations
Respect to our users in Italy, Spain, Austria, and France, all nations that came in the top five of five or more categories. Italy landed in the top five of 10 different categories, and Spain landed in the top five of seven.
Skimo the go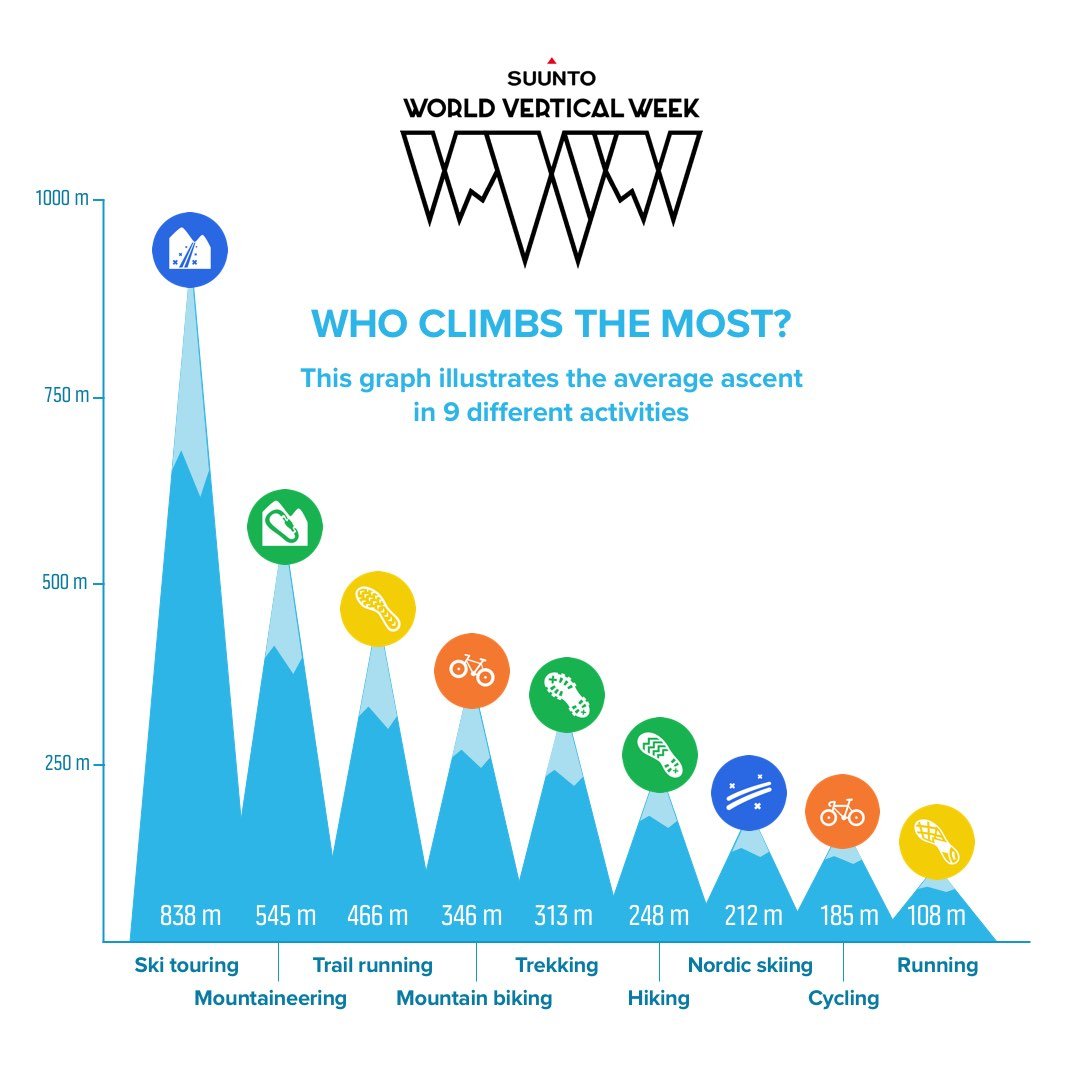 No surprises here; once again ski mountaineering accumulated the most vertical meters (838 m) on average out of all our activity types. Mountaineering (545 m) and trail running (466 m) came in second and third, as they did last year.
Race to the top
In the race for most total ascents per country, France beat out Spain to win the country that climbed the most. Last year, Spain came out on top. And, once again, Italy came in third.
Impressive individual efforts
There were 1772 participants who climbed more than a thousand meters during the week, and 1095 individual sessions that included more than 1000 meters of climbing. That's some solid training, folks. Well done!
Top nations by sport
Ski touring
No nation cracked the 1000 m mark this year in the skimo stakes, but it's clear many users are gunning for this. Keep pushing and nail it next time!
1. Spain 972m
2. Austria 948m
3. Italy 946m
4. Switzerland 921m
5. Slovakia 903m
Mountaineering
Kudos to Sweden, a small nation of 10 million, for coming out on top in the mountaineering category, and for breaking the 1000 m mark. Surprising given last year it didn't even make the top five.
1. Sweden 1316m
2. Italy 1060m
3. Austria 666m
4. Spain 581m
5. Slovenia 494m
Trail running
People in Asia are crazy about trail running, and once again Asian nations won the podium this year and four were in the top five. Nice!
1. Japan 932m
2. Hong Kong 896m
3. Thailand 676m
4. Greece 649m
5. Malaysia 636m
Mountain biking
Austria won this one, followed by Spain and Italy; all nations in the top five last year, too.
1. Austria 582m
2. Spain 513m
3. Italy 469m
4. Switzerland 375m
5. France 356m
Trekking
Notice anything? This time Italy wins and Spain and Austria follow.
1. Italy 559m
2. Spain 397m
3. Austria 375m
4. France 352m
5. Malaysia 316m
Hiking
Malaysia came out on top here, and, as a side note, also came in fifth place for both trekking and trail running. We can imagine exploring the incredible mountainous rainforests in Malaysia must be pretty motivating!
1. Malaysia 606m
2. Italy 475m
3. New Zealand 453m
4. Slovenia 352m
5. Japan 343m
Nordic skiing
Go Canada! Last year Canada came second, behind France. This year they reversed positions.
1. Canada 438m
2. France 268m
3. Norway 233m
4. Austria 218,0m
5. Italy 217,6
Cycling
Portugal won after not even making the top five last year. Spain, Italy, Israel and South Africa once again filled the rest of the positions.
1. Portugal 460m
2. Spain 390m
3. Italy 345m
4. New Zealand 316m
5. South Africa 310m
Running
This category had very narrow margins between nations, and a slight reduction in average meters from last year. Last year New Zealand won it. Congrats Norway!
1. Norway 156m
2. Switzerland 151m
3. Czech Republic 142m
4. Italy 140m
5. France 139m
Lead images: 
Photo by Klemen Tušar on Unsplash
Photo by Jamie Davies on Unsplash
Read more articles