Suunto watches are a valid choice for your daily activity tracking and for monitoring your sports and recovery. The watch is designed and thought to be your assistant, trainer, and your buddy all in one.
With the latest software update, Suunto 7 gears up with a new Tile and is ready to count all the steps you take, estimate your effort in calories, and tell you how many hours you should recover before your next training.
When you record your training using the Suunto wear app or when you just wear your watch, these metrics will be generated for you to have a better understanding of how your body is doing.
In this tutorial we break them down for you: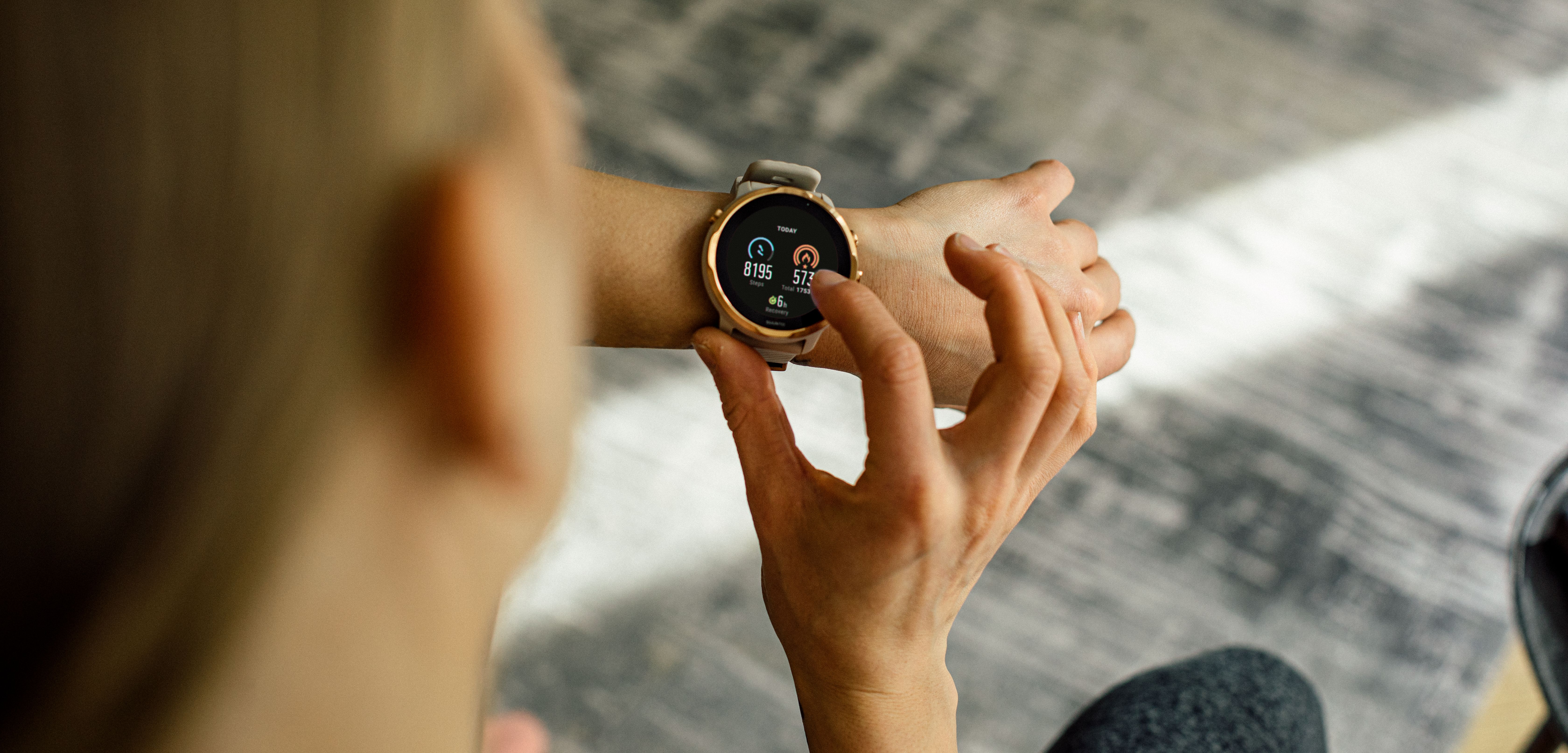 STEPS
What?
Have you ever heard of the magic "10k steps a day keep the doctor away"?
It refers to the total number of steps you take daily, some of which are included in the training you do. The number is far less important compared to the precept it conveys: to walk and exercise for your health and fitness. 
How?
Your Suunto device's internal algorithms will track your movements and translate them into steps using the accelerometer, a sensor working to translate accelerations of your wrist into steps
Given the conversion that is taking place between the way you move your body and a step, noteworthy is the fact that step counting is not reliant on GPS data, the accuracy of the daily results may vary. When you train, some sport modes will add steps to your daily count, whereas some will not. Have a look at the complete list of sports that will NOT add steps to your daily count:
Aerobics, Badminton, Bowling, Boxing, Cheerleading, Circuit Training, Climbing – Indoor, Climbing – Mountain, Crossfit, Cross Trainer, Cycling – Basic, Cycling – Commuting, Cycling - Indoor Trainer, Dancing, Gymnastics, Indoor Cycling, Indoor Training, Kettlebell, Kitesurfing, Martial arts, Motorsports, Mountain biking – Enduro, Mountain biking – Trail, Paragliding, Racquetball, Roller Skiing, Sailing, Squash, Stretching, Surfing, Table tennis, Tennis, Unspecified sport, Volleyball, Weight training, Windsurfing, Yoga/Pilates, Canoeing, Cross-country skiing, Indoor rowing, Kayaking, Pool swimming, Open water swimming, Rowing, Stand-up paddling, Telemark skiing
It is important to mention that all step counters, or simply put pedometers, use different algorithms to interpret movements and calculate steps. You might see slight variations between the Google ecosystem, Suunto, and even your phone's health app. Variations are not a dent in the accuracy of the device, but an illustration of different calculations and sensor calibrations. 
Where?
The daily number is going to be saved on the Today tile on your watch and in your diary in the Suunto app, where you can check your daily, weekly, monthly, or annual statistics. You can also set your step target in the Suunto app settings to reflect a personalized way of pushing your limits.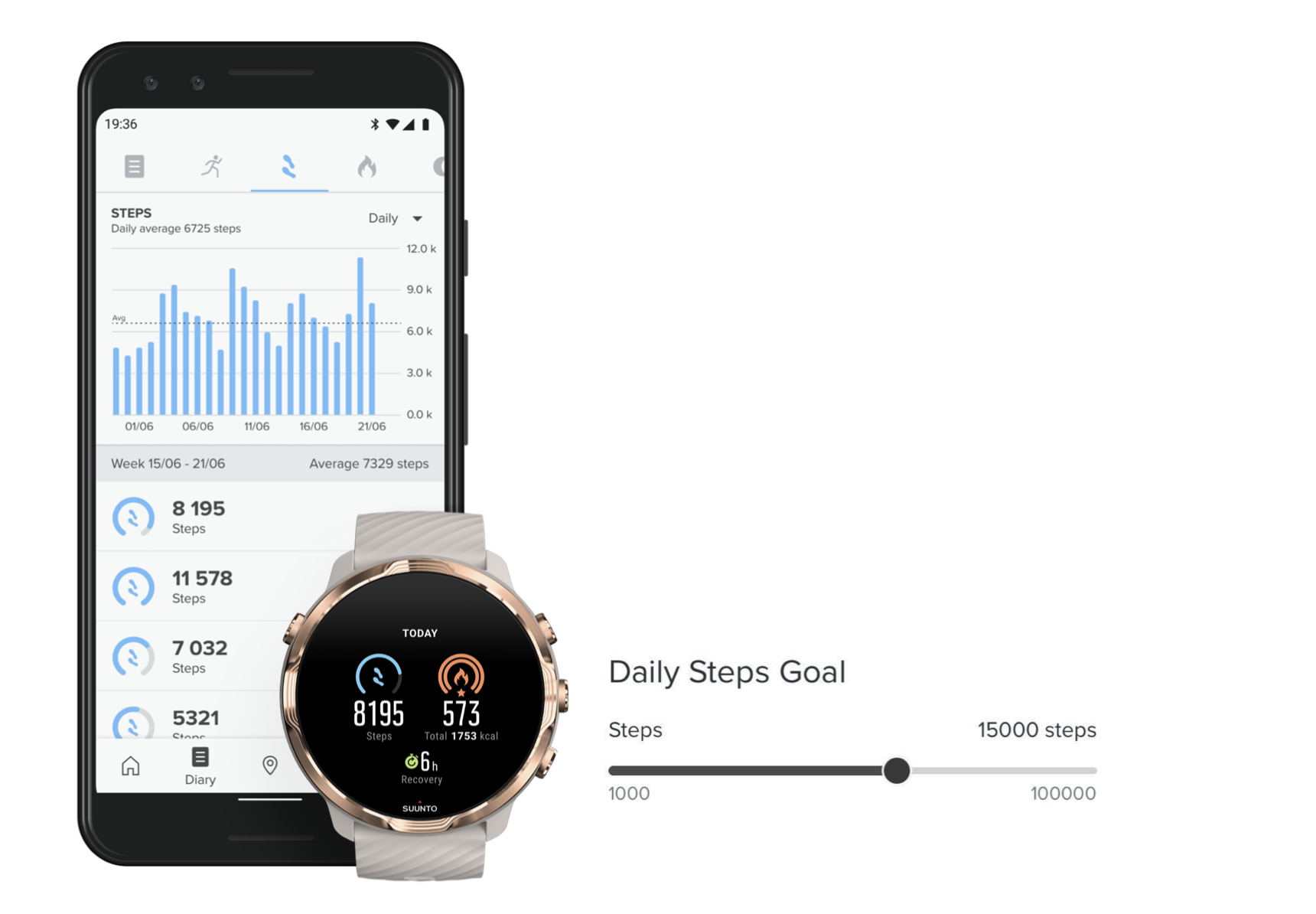 CALORIES
What? 
Those tiny creatures that live in our closets and make your clothes tighter? Everybody knows them and has to deal with them, unfortunately.
Calories are one of the most important units of energy our bodies need to function optimally. Not only do you have a minimum required to live, but you also need to consume enough calories to maintain a healthy metabolic rate and support your muscles and organs. That being said, it is your watch's important job to monitor your consumption of calories.
How?
What your Suunto watch does is estimates, in calories, the total energy you consume during your training. Keep in mind the calculation relies on two key numbers: your "just to be alive calories" also known as your BMR (Basal Metabolic Rate) plus the extra "sport burned calories" aka "active calories", the more interesting ones.
Needless to say, your BMR is based on the personal data the watch asks you to input when you start using it and it is recommended you edit any changes in that personal information.
Additionally, the steps you take daily will also add to the number of active calories you have gathered up throughout the day.
Where?
The daily number of burned calories (BMR + active calories) is going to be visible on the Today tile on your watch and in your diary in the Suunto app, where you can check your daily, weekly, monthly, or annual statistics. You can also set your calorie target in the Suunto app settings. When you set a calorie goal, you define how many calories you want to burn in addition to your BMR, in other words, your target accounts for "active calories". Make sure you do not overstress your body!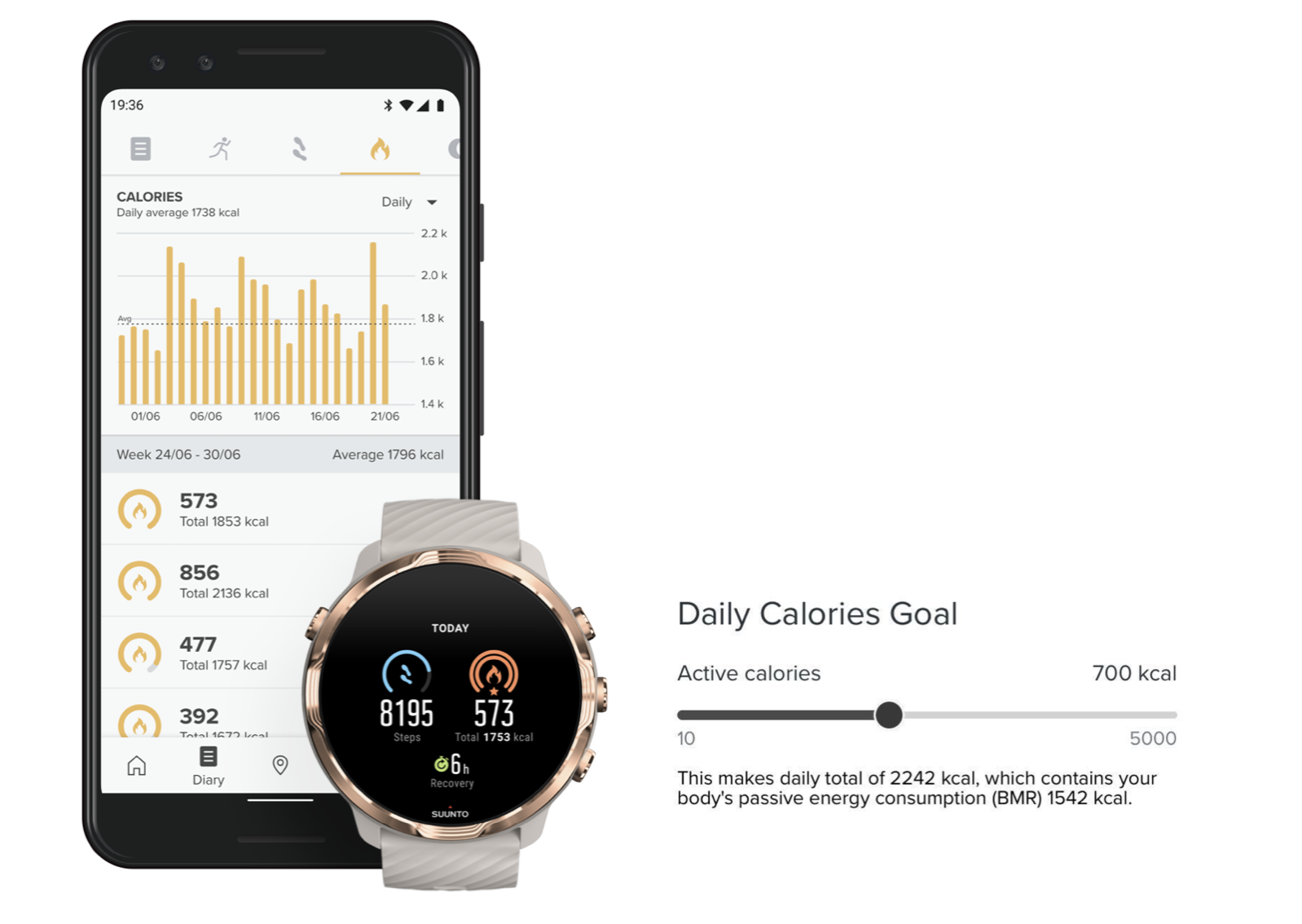 RECOVERY
What? 
"To kill time", "to save time", and "to make time" are all important phrases, but none is more important than "recovery time" and this is where your watch becomes your trainer and teaches you another important phrase: "to take your time".
Recovery time is the estimated number of hours your body needs to fully recover from any previous training you recorded. The more difficult and exhausting your training, the higher the stress on your muscles, the more hours it will take your body to fully recover. You will reach the next level in training with the help of the time you take off and relax.
"The countdown" will start and be visible once you ended a recording that has a minimum of 1h of recovery time.
How?
What your Suunto watch does is it calculates your recovery in hours based on the data collected throughout your training, data that relies on your general info. Make sure that information is up to date.
Another important thought to factor in when planning your next training session: recovery time is cumulative, and it simply does not stop there.
The longer you train and strain your muscles, the higher the recovery hours, and when you train before the countdown reaches zero, the new recovery hours will be added to the already existing ones. Careful, stress, and no fun might also damage your muscles and diminish your capacity to exercise. And who said waiting for the recovery time to reach zero is not an exercise?
Where?
The recovery hours are available on the Today tile on your watch and in your exercise summary in the Suunto app. Your watch will show you your recovery hours only if you have recorded your training using the Suunto wear app (top right button).