MARQUEE PATRON OF THE XTERRA PAN AMERICA TOUR
TEAM Unlimited LLC, owner and producer of the XTERRA World Tour, today announces Suunto as the official GPS sports watch of XTERRA in the United States and a marquee patron of the XTERRA Pan America Tour.
The partnership puts Suunto, a global leader in sports instruments, in a prime position to connect with XTERRA's active, international audience of adventure seekers, weekend warriors and competitors at more than 100 XTERRA off-road triathlons and trail runs held across the Americas this year.
"There's great synergy between our two companies," said XTERRA CEO, Tom Kiely. "XTERRA athletes are all about discovering unknown territory, challenging themselves to be the best, and embracing the community. Suunto is too, and its world-class 'XTERRA-proof' GPS watches and Suunto Movescount sports service offers exceptional mapping, training, and community features for our athletes."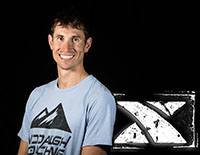 As part of the alliance, Josiah Middaugh, the 2016 XTERRA Pan American Tour Champion, who wears Suunto to train and race, will be sharing his workouts, tips, and more with bi-monthly Middaugh Coaching Corner, presented by Suunto columns this season.
"We're excited to join forces with Josiah and the XTERRA Tribe, and use our expertise to enhance the quality of the XTERRA experience for all involved," said Bryson White, Suunto's brand manager for the Americas. "We're looking to standardize XTERRA course maps, provide training content specific to upcoming events, host demo days, and inspire the XTERRA Tribe to get out and Live More."
Suunto's XTERRA course maps will make routes easier to read and follow, and provide more information to racers with layers of data that show altitude profiles, 3D terrain flyovers, and in some cases, historical user-data analysis of what it takes to succeed on a given course.
Suunto representatives will be on-site to educate and engage with the off-road community at XTERRA Oak Mountain (May 20-21, Pelham, Ala.), XTERRA Beaver Creek (July 15, Avon, Colo.), XTERRA Pan Am Championship (Sept 16-17, Ogden, Utah), XTERRA World Championship (Oct. 29, Maui, Hawaii), and XTERRA Trail Run World Championship (Dec. 3, Kualoa Ranch, Hawaii) as well as other select races throughout the year.
"This year XTERRA racers will get accustomed to seeing the Suunto logo at the finish line, on the clock, on course maps, on time cards, on Josiah's training tips, and ultimately on their wrists," said XTERRA Vice President Trey Garman. "I've been using the Suunto Spartan Sport watch and the features are phenomenal, perfect for couch-to-trail types like me and world champs like Josiah too."
About TEAM Unlimited/XTERRA
TEAM Unlimited LLC, founded in 1988, is the Hawaii-based television, events, and marketing company that brought off-road triathlon and trail running to the world under the brand name XTERRA. From a one-off race held on the most remote island chain in the world XTERRA evolved into an endurance sports lifestyle with worldwide appeal. Over the past 20 years XTERRA transcended its status as 'just a race' to become a bona-fide way of life for thousands of intrepid athletes as well as an emerging brand in the outdoor industry. In 2017 XTERRA will offer more than 200 off-road triathlons and trail running events in 35+ countries worldwide and produce 10 adventure television shows for international distribution. Learn more at xterraplanet.com and xterracontent.com.