On this page, we have gathered instructions for cleaning and caring for your watch by strap material since different materials require different care: 
HOW TO KEEP YOUR SUUNTO WATCH CLEAN
Watch body
We recommend you wash the watch body after every workout to remove sweat, dander, and residue of any body lotion or cream you might have on your skin. If the watch has a silicone or elastomer strap, the same cleaning instructions apply to the straps.
Care instructions:
Use warm water and mild hand soap to wash the watch body.
Rinse well and towel dry the device.
Use a cloth to remove any remaining dirt or stains and a soft-bristled toothbrush to clean debris away from charging contact points or cavities on the device. Click here to watch our instruction video for cleaning a watch. 
STRAP MATERIALS AND CARE
Silicone or elastomer straps
Many Suunto watches come with a strap made of hypoallergenic silicone. Silicone feels soft and comfortable against the skin and the material is easy to clean, making silicone straps ideal for swimming and sports where you sweat a lot. Primarily used in our older watches, elastomer straps are slightly stiffer than silicone ones and suitable for high output activities.
Care instructions:
Regularly take the watch off your wrist, wash the watch and the strap with mild hand soap and warm water, rinse thoroughly and dry it well with a towel.
We recommend washing the watch body and the strap after every intense workout. 
Remove the build-up of lotions and oils (such as sunscreen, insect repellent, or moisturizers) from under the strap by using mild hand soap, rinsing thoroughly and drying the device with a towel.
The more challenging to reach or tough spots, stains, or build-up, scrub with a wet, soft-bristled toothbrush.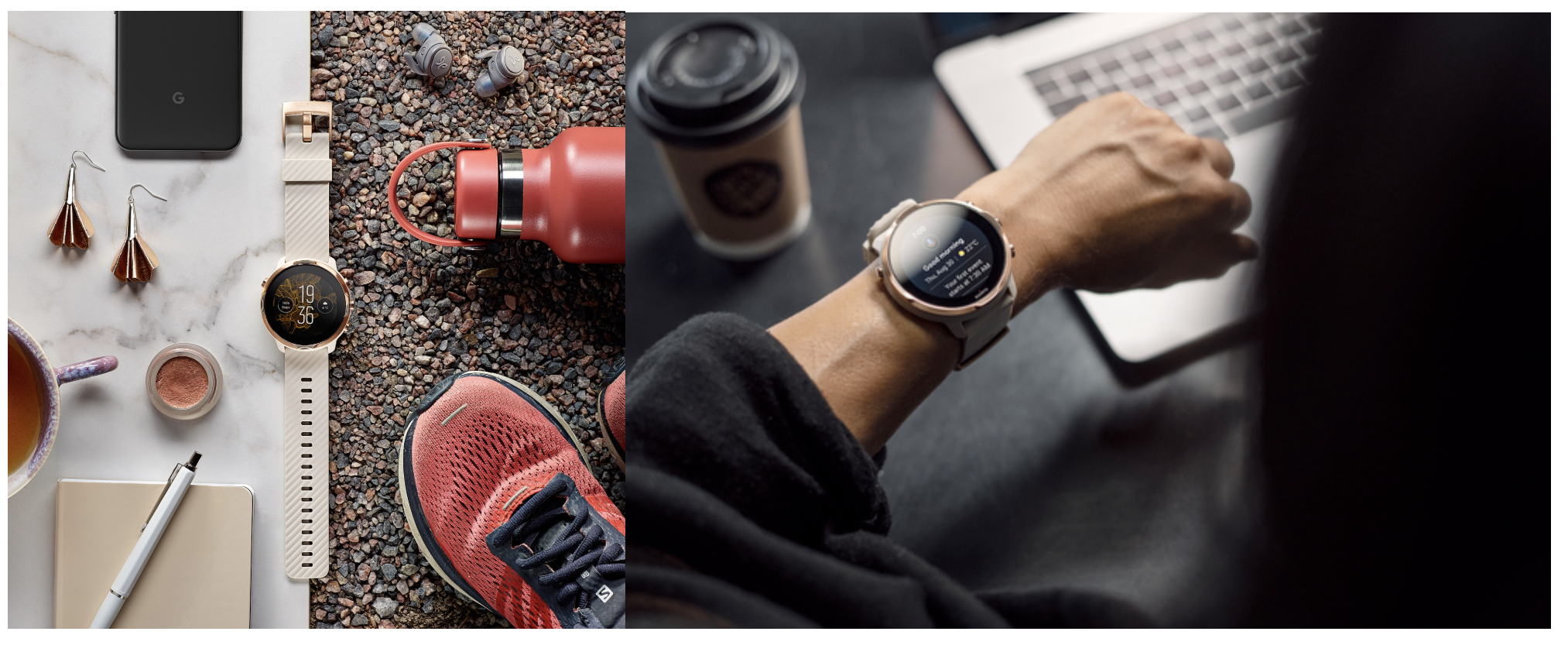 Leather straps
The performance and lifespan of leather straps can differ from one strap to the next, given the natural variation in the material. Usage has a significant impact on the performance and lifespan of leather straps, and contact with freshwater, saltwater and perspiration may change the color and odor of the strap.
Leather straps are designed for casual daily wear, but wearing them day and night will impact their qualities and lifespan, so we recommend taking the watch off for the night.
We recommend changing the strap to one of our more breathable silicone designs if you want to wear the watch overnight, e.g., for sleep tracking. Also, if you intend to swim, snorkel or participate in high-output activities with your Suunto watch, we recommend using a silicone strap.
Different types of leather straps:
The 20 and 24mm wide quick release leather straps:

These leather straps are made of high-quality Italian vegetable-tanned leather. Vegetable-tanned leather doesn't contain any toxic substances such as azo-dyes, nickel, PCP, or chrome VI and its production cycle has a low impact on the environment. The rawhides used for our leather straps are by-products of the food industry, so no animal is killed for its skin. Thanks to their chemical-biological characteristics, they can safely be disposed of at the end of their lifecycle as vegetable-tanned objects.


The 22mm wide quick release leather straps:
These leather straps are chrome-free, very soft and easy to use semi-aniline leather. This grain leather is a by-product of Scandinavian cattle. The straps are tanned using clean water tanning technology that enables borrowing the water needed for the process and returning it to the river in the same condition instead of creating toxic wastewater.
Care instructions:
Wipe down the strap with a non-abrasive, lint-free cloth. If needed, you can lightly dampen the cloth with water. Leather straps are not sweat or water-resistant. Soaking them will cause discoloration or other damage. Gently wipe away excess moisture with a dry, non-abrasive, lint-free cloth and let the strap air dry.
Direct sunlight, high temperatures, and humid conditions will cause discoloration or damage like hardening or cracking over time. Discoloration from wearing the strap is part of the aging of vegetable-tanned leather.
To minimize discoloration and damage to these straps, limit exposure to moisture and substances like perfume, insect repellent, body oil or lotion, or dyed materials like denim.
For light-colored leather straps, minimize direct contact with dark-colored clothing, as color transfer may occur.
If you find flaking, cracking, or the surface feels dry or stiff, or if the leather has been soaked, you should treat the dry strap with leather balm suitable for vegetable-tanned leather. Note that leather shoe cream is not ideal for this purpose. The leather balm will change the color of the strap, but this is part of normal aging.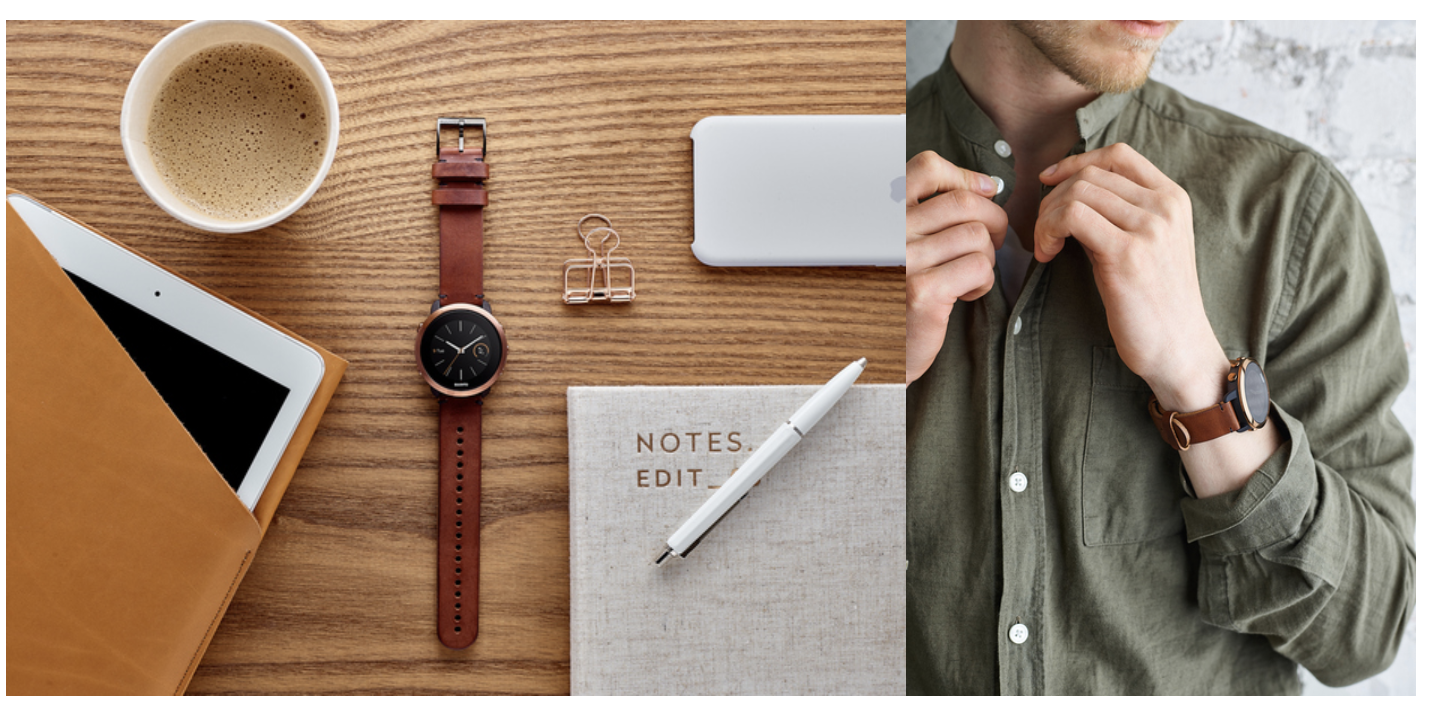 Woven textile straps
Suunto Explore style textile straps are made of high-quality woven polyamide, and they are durable in use. Textile straps are ideal for outdoor sports and activities where the watch is worn over a sleeve since the material is abrasion-resistant. Textile straps also look good in everyday wear.
Suunto Athletic style braided textile straps are made of soft, breathable, stretchy material for excellent comfort and improved wrist heart rate measurement, making it ideal for your sporty lifestyle and sleep tracking.
Unlike the leather straps, polyamide straps don't mind if they get wet, but for the heaviest training or swimming, you should choose a silicone strap as it dries faster. Since polyamide straps are non-elastic, it may be difficult to tighten the strap enough for accurate wrist heart rate readings, and therefore a silicone strap is a better choice for measuring heart rate from the wrist.
Care instructions:
Like other textiles, you should wash your strap regularly with lukewarm water and mild soap.
Make sure to rinse the strap thoroughly after washing
Let it air dry properly before wearing it again. Direct sunlight, high temperatures, and constant humid conditions can cause discoloration or damage over time.
Use a soft-bristled toothbrush and water on persistent stains.
To minimize discoloration and damage to these bands, limit exposure to moisture and substances like perfume, insect repellent, oil, and lotion or dyed materials like denim.
It is also possible to wash the strap in the washing machine with similar colors at low temperatures. Remove the watch strap from your watch and place it in a laundry bag to protect other clothing from the metal parts of the strap. Allow the strap to air dry after washing. Do not use a hairdryer or a tumble dryer to speed the drying, as high temperatures will damage the material.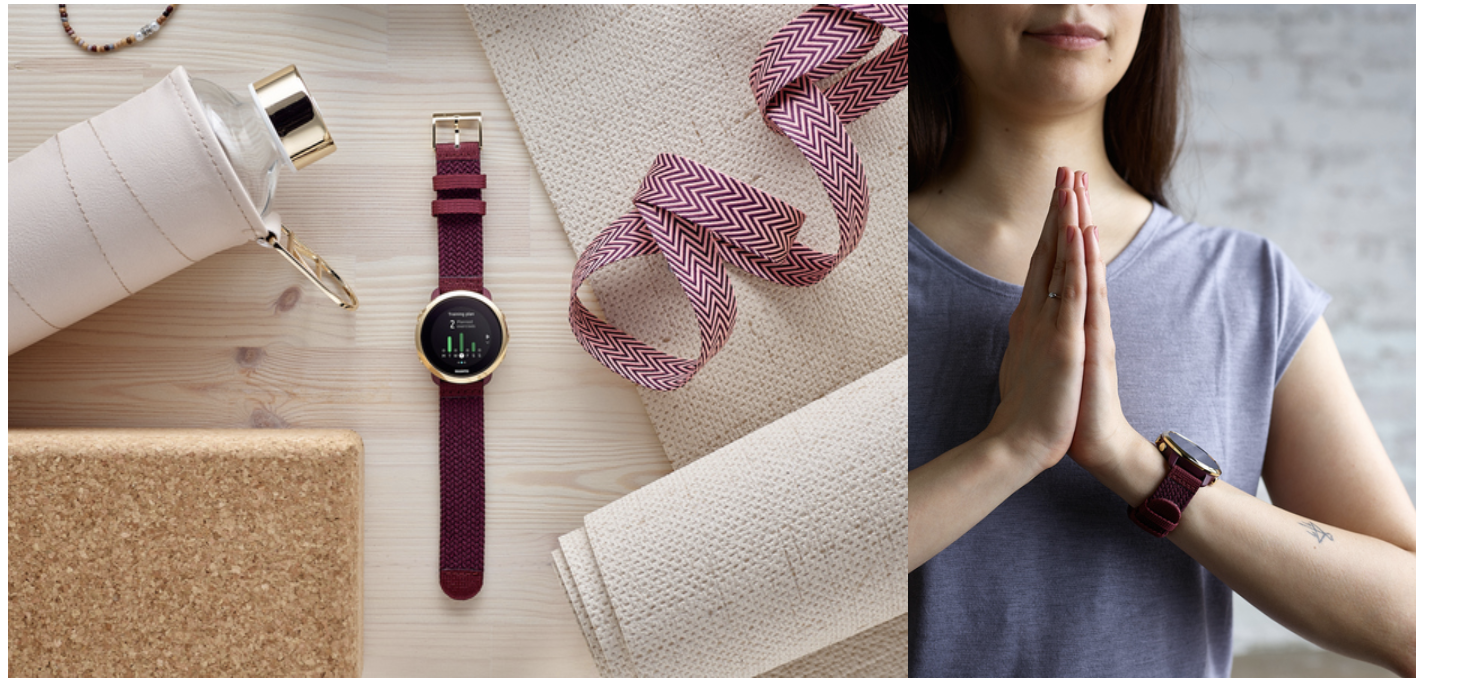 Microfiber textile straps
Suunto Microfiber textile strap is our latest addition to the list of easy to maintain, enduring and versatile materials that will keep your skin happy. The soft, plush and luxurious appeal is combined with high functionality and durability, making the new suede strap the best fit for all-day round use of your watch. 
Care instructions: 
Gently wash with soap and lukewarm water and wait until the strap is thoroughly dried to wear it again.
You can use a lint brush or buff the surface with a medium bristle brush to restore the strap's plush feel and soft luster. 
Dust it gently but thoroughly with a damp cloth or sponge. Redampen your cloth or sponge in clean water, wipe again and let dry overnight. Once it is completely dry, you can rejuvenate the fabric with a gentle brushing.
In case of spills, gently pat the spilled liquid with a paper towel. For dried-in soiling, coffee stains, and the like, you'll obtain the best results by gently brushing the stained area.
For persistent stains, try wiping the stained area from the outside with a well-wrung cloth dampened in lukewarm water (about 105ºF/40ºC). Keep a clean area of the cloth applied to the stain not to rub the fabric too hard. After wiping up, allow the fabric to dry completely before using it.

HOW TO KEEP YOUR SKIN HAPPY
Keep your watch clean: after each exercise, especially after swimming, wash your silicon, elastomer, or nylon strap and the watch case under running, lukewarm water with mild soap to remove sweat and other debris to avoid skin irritation.

Keep your watch and wrist dry: make sure your wrist is dry before putting on your Suunto watch. After washing, dry it thoroughly before putting it back on your wrist.
Give your skin a break: wearing your watch long-term on the same wrist may irritate your skin. Let your skin rest regularly by taking your watch off or switching the watch to the other wrist.
Additional information
If you experience redness on the skin or some other irritation despite following the above tips and under normal conditions, remove your watch and let your skin recover. If the symptoms persist, consult a physician or dermatologist.
Note: allergenic substances like fruit juice, raw potato, celery, albumen, corn, beans, peas, seafood, nuts, soy, wool, etc., and abrasive substances like dust, sand and some skin lotions trapped under strap may cause severe skin irritation very quickly.