You signed up for a marathon and then didn't get around to training? Don't worry, we've got you; here's how to make it through.
It can happen to the best of us. We sign up for a marathon with good intentions and then life happens; the kids get sick, you get sick, or maybe you just procrastinated like a champion. Whatever happened, your training plan went out the window. Next thing you know, the marathon is a week or two away. What to do?
This is an all too familiar scenario for running coach and fitness and nutrition expert Dr. Rick Kattouf II. Clients come to him in a panic about this, looking for a saviour. "I never want to send an athlete into a bear fight with a butter knife," he says. "So I'm very honest with them; running a marathon significantly undertrained is going to dramatically increase the risk of injury and illness. If it was up to me, I would say let's move on, go back to the drawing board. But if they are intent on doing it, I will back them."
With that proviso, we're assuming you're the type to walk into a bear fight with a butter knife. In that case, we play out a couple of scenarios where you might come out alive.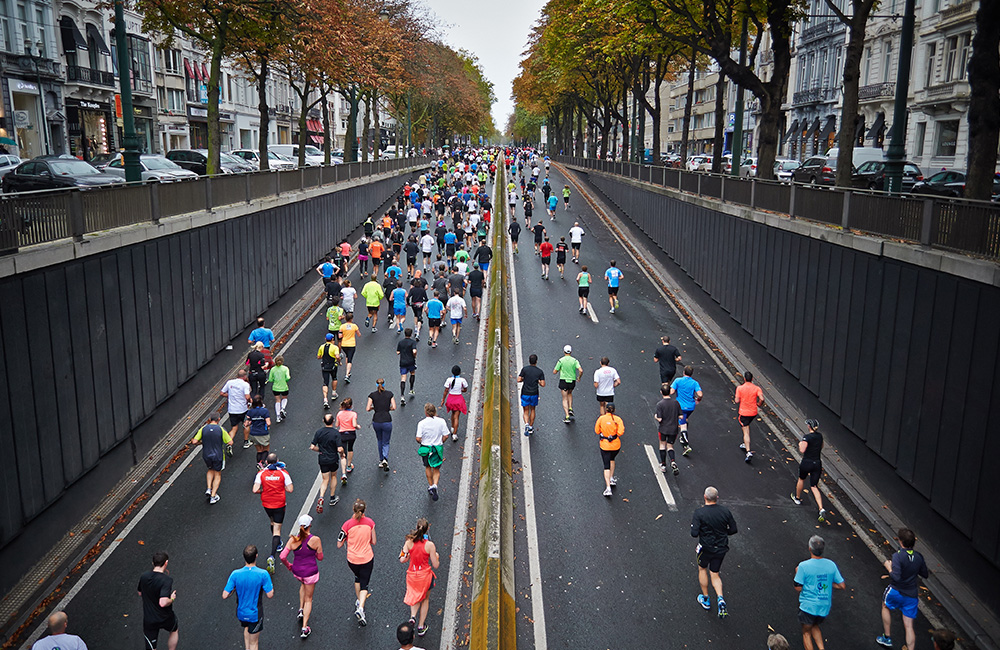 Photo by Mārtiņš Zemlickis on Unsplash
Scenario 1: one week before race day
Let us imagine the marathon is seven days away and your training plan has gone up in flames. Should you even bother preparing now?
"The general answer is, no, there is nothing we can do the week of the race that is going to make us a better marathon runner," Kattouf says. "With that been said, we do need to tweak things."
Ordinarily, for those runners who bothered to train, the seven days before a race would be part of their tapering. In this scenario, that doesn't make any sense. "We have an athlete now that hasn't peaked so there is no reason to taper," Kattouf explains. "Nor are we going to try to get them up to a 10 or 20 mile run this week. But what I would like to achieve before race day is a little feedback on that body. The body needs to feel the road."
Preparation advice:
Imagine it's Monday and race day is the coming Sunday. Kattouf advises to run about three kilometers, or two miles, a day for five straight days. Keep it light, don't go hard. Make them easy jogs. "Otherwise, race day will be like a hammer to the head," Kattouf says.
Aside from the running, it's also important to stay well hydrated during the week preceding the marathon. Get plenty of sleep and eat well. Kattouf advises no dieting this week.
Scenario 2: two weeks before race day
In this scenario, we imagine you have caught on a little earlier to the potential car wreck of a race that is hurtling towards you. You muster up your determination and try to swerve back on course. What is the best way forward from here?
"They say, 'don't shove a square peg through a round hole', but sometimes we need to do exactly that" Kattouf says. "And now we're just going to shove it."
Preparation advice:
Kattouf advises implementing a multi-day training block. It's not about the distance or duration of one training run, but instead the focus is on the cumulative effect of the whole training block. Forget trying to smash out one 20 km run. Focus on incremental gain.
On Monday and Tuesday of week one, do an easy run for an hour each day. Take Wednesday and Thursday off, and then repeat the hour-long runs on Friday and Saturday.
For the seven days before the race, revert to the preparation advice in scenario one. All up, this builds in nine runs in 14 days. This strategy prioritises frequency over volume.
Scenario 3: a month before race day
Respect. You've caught on to the looming catastrophe early and have given yourself a fighting chance to come out the other end relatively unscathed. Let's drill down.
"A month can give us a good amount of time to prepare," Kattouf says. "It's time to initiate a four week training camp."
Preparation advice:
Get ready to train. Coach Kattouf wants you to do it every single day. Yes, seven days a week. The good news is he's not asking for big running volume. He wants a mix of training: running, strength training, stretching and foam rolling.
"Seven days a week of exercise for four weeks is no joke," Kattouf says. "The key is, if we work out that much we never blast ourselves in one session so that we need a whole day to recover."
Running, swimming, stationary bike, weight training, stretching or yoga – all could have their place over the four weeks. Running should, of course, be the primary focus. The main message is: keep moving, just don't push yourself.
Race day: respect
When race day rolls around, there is one thing to keep in mind: respect. "The marathon is no joke, even for the very well trained," Kattouf says. "The conditioned athletes 100 % respect it. That's important."
One way to show respect is to focus on taking care of yourself properly, rather than being cocky and charging into it blindly.
Race day advice:
Wear a watch with a heart rate monitor, and focus on keeping your heart rate low. Achieve this by following a walk-jog rhythm right from the beginning. Start the race by walking.
"Throw out time, throw out pace," Kattouf says. "Keep one number on your watch: heart rate. Nothing else matters."
Keep your heart rate below zone one (50-60% of your maximum heart rate), or in zone one, and no higher than zone two (60-70% of max heart rate). If your heart rate creeps into zone three, immediately switch to walking.
Make it your mission to enjoy the marathon. Forget competition or trying to chase a personal best. Fun is the name of the game for this race.