Some people choose to read boring product news – this is for those who choose adventure.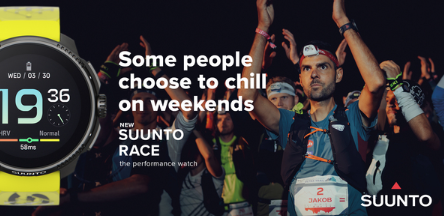 This October, Suunto presents a new sports watch for outdoor sports enthusiasts, featuring AMOLED display, HRV, free offline maps and impressive battery life.  
At the same time, we also present a first of its kind: open-ear bone conduction headphones designed by athletes, for athletes.  
Suunto RACE
The large-screen Suunto Race GPS sports watch, with AMOLED display, advanced training metrics, and detailed offline maps, is designed for athletes who want to improve their performance and challenge themselves. A sports watch perfect for training, competitions, and the time in between!  
Some people choose to chill on weekends, while performance-oriented athletes choose to challenge themselves and enjoy the community and vibe in races. Passionate athletes want to reach their personal best, and they need a tool they can trust to guide them. With the highest standard of toughness, together with offline maps, training and racing features, SUUNTO RACE provides information on progress and helps to maintain the balance between training and recovery.    
The new SUUNTO RACE presents itself with a high resolution 1.43" AMOLED display and a digital crown that makes accessing the numerous functions quick and easy. To bring the needed confidence on the starting line, the watch comes with improved training metrics. With SUUNTO RACE, one can track their training, recovery and progress easily. By measuring heart rate variability, HRV, one can assess their recovery state and compare their latest values to long-term HRV and analyse if their recovery is being compromised. The free, detailed maps can be downloaded directly onto the watch so that athletes can always find their route, even offline.   
SUUNTO RACE impresses also with its battery life: one can train for 40 hours non-stop with exact GPS tracking, and in daily mode, the watch can last up to 26 days. A long battery life is a crucial criterion in a watch suitable for racing.  
SUUNTO RACE comes in a titanium and a stainless steel version. Both models are tested according to Suunto standards, they are military tested, and they withstand weather conditions from -20° C to +55° C. The watch is equipped with a robust sapphire crystal glass and is water resistant up to 100 meters.  
On top of it all, the watch supports various outdoor and indoor sports with more than 95 sport modes. New features include Strava segments for sports like running and cycling, and a new movement feature for added metrics when calculating training intensity for weight training and ball sports, for instance. 
For the launch, we offer two variants – Suunto Race Titanium (549 euro) and Suunto Race Stainless Steel (449 euro). However, check out Suunto Customizer and style your watch for a personalized touch! 
More information: 
Suunto Race All Black Stainless Steel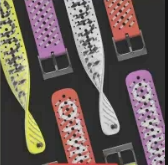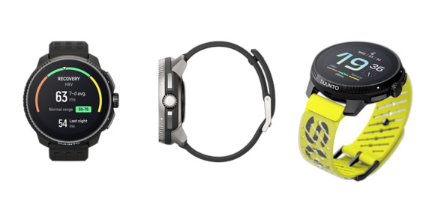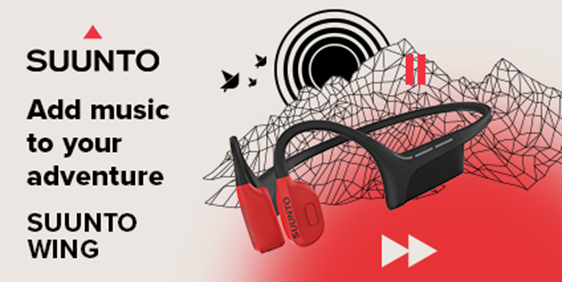 Suunto Wing
SUUNTO presents open-ear bone conduction headphones designed by athletes for athletes, to add music to your adventure. 
Some people choose the comfort of their couch, whilst athletes prefer to breathe the fresh forest air, to sweat and to challenge themselves physically. Always on the lookout for the perfect solution, today, Suunto presents a new audio product developed by athletes, for athletes: the new Suunto Wing open-ear sports headphones with bone-conduction technology. Unlike traditional headphones that transmit acoustic vibrations through the air, Suunto Wing uses a more innovative method of sound transmission. 
Bone-sound technology transmits vibrations directly to your inner ear via cheekbones, bypassing the eardrum. This allows users to continue to hear sounds around them, such as the sound of approaching vehicles or a bicycle bell, increasing safety in both urban settings and in nature. Bright LED lights placed on the side of the module behind the ear improve safety by increasing how visible you are.  
IP67 certification confirms they can withstand temporary submersion to a maximum depth of one meter of water for a maximum of 30 minutes, so they are tough enough for all weather conditions. They can withstand temperatures from -20°C up to 60°C, making them ready for any climate.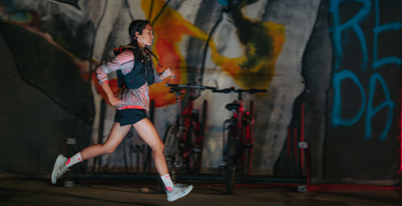 Three buttons can be used to adjust the volume, switch to the next song or accept a phone call. If you don't have a free hand in one moment, no problem, you can answer and end phone calls by simply nodding or shaking your head and activate the music control to jump to the next song. 
The headphones can be fully charged in just one hour and can then be used for approx. 10 hours. A 10-minute charge in between gives up to three hours more playing time. The portable charging station the headphones come with and can be used as a power bank on the go to extend the battery life.  
Suunto Wing headphones (199€) will be available in black and red colour. 
More information: 
So, when is Suunto Race and Suunto Wing available?  
 
Follow your country page on Suunto.com to learn more and check when the watch and headphones are available for you. The product will be first launched in Europe, Americas and China, and then globally rolled out in the following weeks starting 13th of October.