Our partners bring even more value to the Suunto watches and redefine your experience with a sports watch.
Training isn't easy on anybody. The purpose of our ecosystem is to enrich your experience and relieve a part of that "training load." We have partnered up with leading product & service providers in the sports and wellbeing industry and a few other companies to make sure you get the best pre, during and post-workout expertise.   
In the following tutorial, we will take you through the following topics:
How does the Suunto partner ecosystem work?
Understanding how our partnerships work is the first step to a better training experience together with your Suunto device. The ecosystem comprises various tools, products and apps:
Suunto compatible 3rd party partner apps and services. 

SuuntoPlus features in your Suunto 5 & 9 and downloadable apps via Wear OS by Google on your Suunto 7.

Compatible partner devices (i.e., sensors) and c

ommercial offers from our partners via the Suunto Value Pack. 
Assuming you have not used our services before, and you have just received your watch (Suunto 3, 5, 7 and 9) or you are just now reading about the partners, here is what you need to know to get started:
1. Your watch will connect to the Suunto app, which is the connector between what your watch records, or what you need your watch to show, and the platforms that might provide that information (be it a training plan, a route, temperature information, etc.).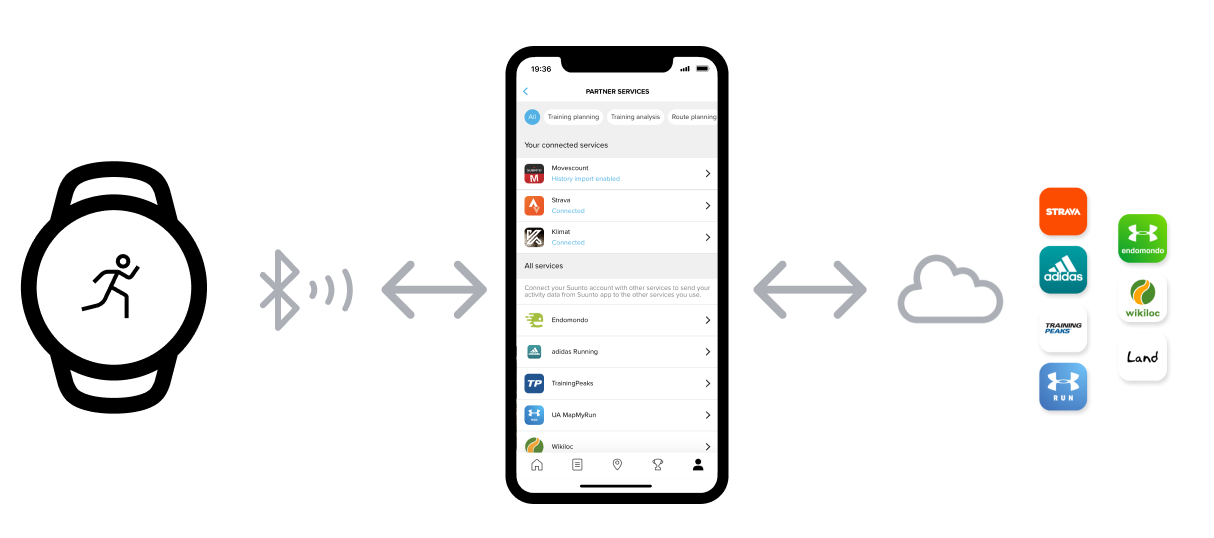 This means that you can use your Suunto app or our partners' online platforms/apps to analyze the information your watch recorded or to get the needed information for your training to your watch. 
Create an account with the Suunto app, pair your watch and start exploring. We've gathered here all the information to get you started with the Suunto app. All of our partners and their apps are available in the Suunto app, under the Partner services tab of your Profile. 
2. For our Suunto 5 or 9, we are continually improving the watch's software by adding SuuntoPlus features to it. They are specific 3rd party information your watch will be able to record if you select any of the options in the watch's dropdown menu before pressing the Start button. The data is displayed in the Suunto app and the respective partner apps after syncing your workout. Here is how you get started. 
There are also various apps that you can use with your Suunto 7. For example, you can keep track of the local weather forecast with the help of Myradar directly on your watch.
3. You can use your watch with different sensors such as cycling power sensors, smart trainers, running sensors and heart rate belts. Use critical information to better plan your workouts or understand what your body is going through when training. 
Who are our partners & what are the apps/platforms for?
In the past years, we have created fruitful connections with essential training and wellbeing service providers. You can check here a list with the current partners and a direct link to the Getting to know and started pages explaining how to get the app into use and what it will help you with. 
In case you have already created an account for the Suunto app, you can go to the Partner services tab of your Profile and filter all the apps that show up into categories. Just tap on the type you're interested in. 

The Suunto compatible apps and services have a wide variety of tools.  Get to work with your coach using TrainingPeaks or Today's Plan, prepare your routes using Wikiloc or Openrunner, view your hikes or rides with Relive or Adventurelog and virtually race your buddies with Ironman Virtual Club or UTMB. 
You might notice that some of the services have a distinctive sign next to their logo. These apps are included in the Value Pack you automatically receive when you purchase a Suunto watch. We will talk more about it in the next chapter. 
What is the Value Pack & how do I gain access to the apps?
The Suunto Value Pack is a collection of benefits offered by our partners. It comes with all the new Suunto watches and the deals vary from premium trials to free training plans and discounts.
We all want a free trial period for our subscriptions, a time in which we will be convinced (or not) by the value of the offered services. What the Value Pack does is: 
It gives you the chance to try the best services out there (free of charge).

It provides you with discounts, free trials and special deals created by our partners for Suunto owners.

It helps you get started in the world of sports with everything you need, from coaches and training plans to routing services, nutrition tips and more. 
After you've created your Suunto app account and paired your watch, an email will be on its way explaining to you how to redeem the Value Pack. The Valuepack is offered only for new products, so you will not receive the Valuepack email with the offers if you have a second-hand product. 
You can choose any of the available partner services and start a free trial. The deals vary depending on the services offered and you can choose to redeem any of them. You will be provided with "redeem" links and codes and have two months from the date of purchase of your device to activate the Pack. Otherwise, the offer will expire according to our Terms & conditions.

After the trial period has expired, you can decide which apps you wish to continue using and check their offers for premium memberships. Regardless if you choose to continue with a premium membership or not, you are still able to use the basic features provided by the partner together with your watch via the Suunto app. 
Note: for any issues or questions that might arise, you can find help via our own and partners' support pages. The Valuepack will change over time, so keep checking the Suunto.com/valuepack page for the latest offers.
Lead image by Philipp Reiter