Installing directly to high pressure port
Type A flow restrictor: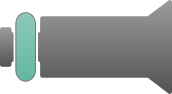 To install Suunto Tank POD directly to the first-stage high pressure port:
Write down the serial number. You will need it later to identify your Suunto Tank POD. You can find it on the metal base of the device.

NOTE:

Starting May 2021, all new Suunto Tank POD devices have the serial number on the metal base and on the cover, too.

Insert the Type A flow restrictor into the Suunto Tank POD.

Attach the Suunto Tank POD to the first-stage high pressure port.

Slowly and steadily open the pressure valve. Look away as your gear is pressurized.
WARNING:
Ensure there are no other people in close proximity when you pressurize scuba gear.
WARNING:
The battery level indication shown when pairing the Tank POD is an approximation only. The POD battery may deplete faster than the indication suggests.