Pairing POD/heart rate belt
Pair your Suunto Ambit2 R with an optional Suunto heart rate belt or Foot POD to receive additional speed, distance, and cadence information during exercise. Other ANT+ heart rate belts or foot PODs can also be used. Visit www.thisisant.com/directory for a list of compatible ANT+ products.
The heart rate belt and/or POD included in your Suunto Ambit2 R package are already paired. Pairing is required only if you want to use a new heart rate belt or a POD with the watch.
To pair a POD/heart rate belt:
Activate the POD/heart rate belt:
Heart rate belt: moisten the contact areas and put on the belt.
Foot POD: shake briefly or strike shoe (with POD) on the ground.
Keep
pressed to enter the options menu.
Scroll to

Pair

with and enter with .
Scroll the accessory options with
and .
Press
to select a POD or heart rate belt and start pairing.
Hold your

Suunto Ambit2 R

close to the POD/belt (<30 cm) and wait for the watch to notify that the POD/belt has been paired. If the pairing fails, press to retry, or to return to the pairing setting.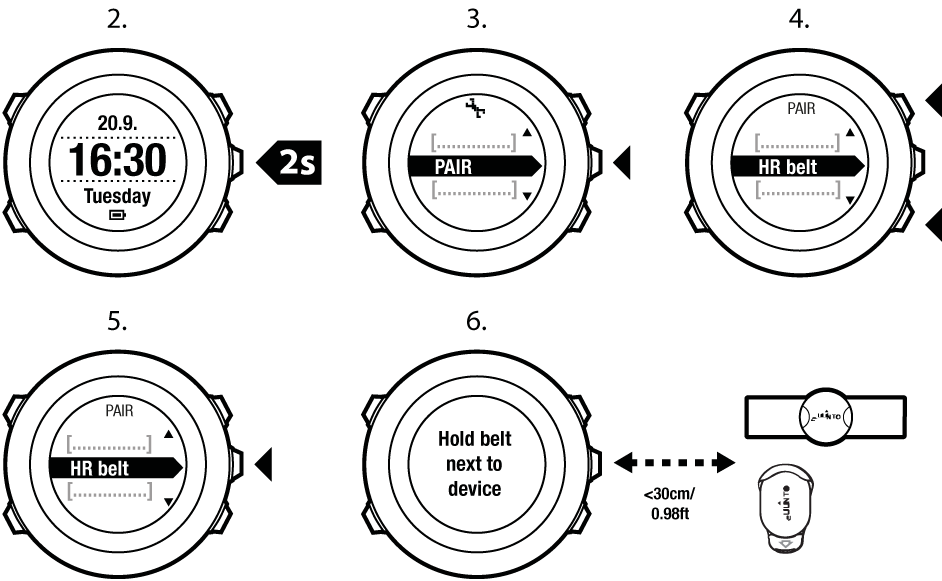 TIP:
You can also activate the heart rate belt by moistening and pressing both electrode contact areas.
Troubleshooting: Heart rate belt pairing fails
If the heart rate belt pairing fails, try the following:
Check that the strap is connected to the module.
Check that you are wearing the heart rate belt correctly (see Putting on heart rate belt).
Check that the electrode contact areas of the heart rate belt are moist.
For more information on pairing PODs, see the POD user guides.