Routes
U kunt uw Suunto Spartan Sport Wrist HR gebruiken om routes te navigeren. Plan uw route in Suunto Movescount en zet deze over naar uw horloge tijdens de volgende synchronisatie.
Een route navigeren:
Veeg omlaag of druk op de bovenste knop om het startscherm te openen.
Blader naar

Navigatie

en tik op het pictogram of druk op de middelste knop.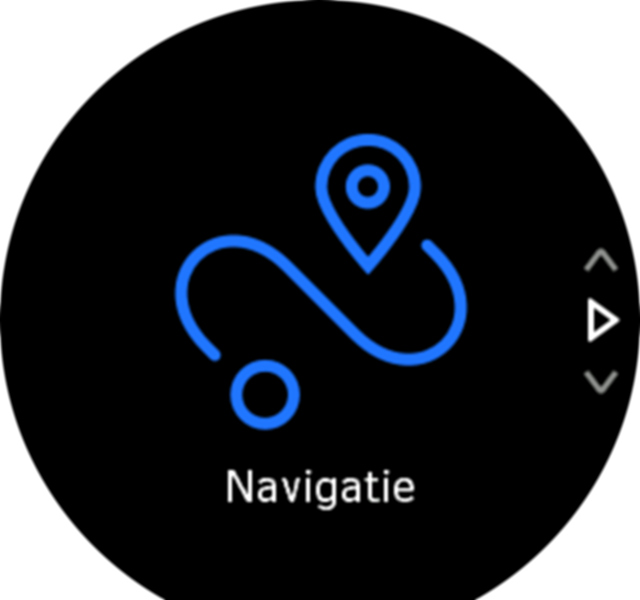 Blader naar

Routes

en druk op de middelste knop om uw lijst met routes te openen.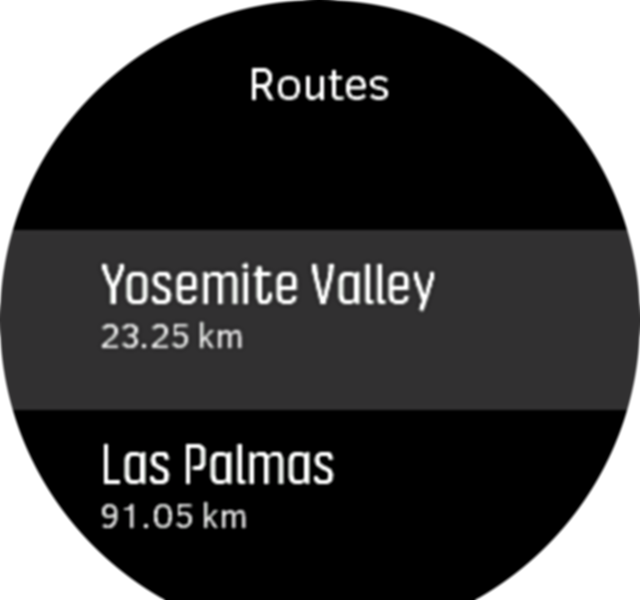 Blader naar de route die u wilt navigeren en druk op de middelste knop.
Druk op de bovenste knop om te beginnen met navigeren.
Druk op elk gewenst moment nogmaals op de bovenste knop om de navigatie te stoppen.
Tik op het scherm om tussen de overzichtskaart en een meer gedetailleerde weergave te schakelen.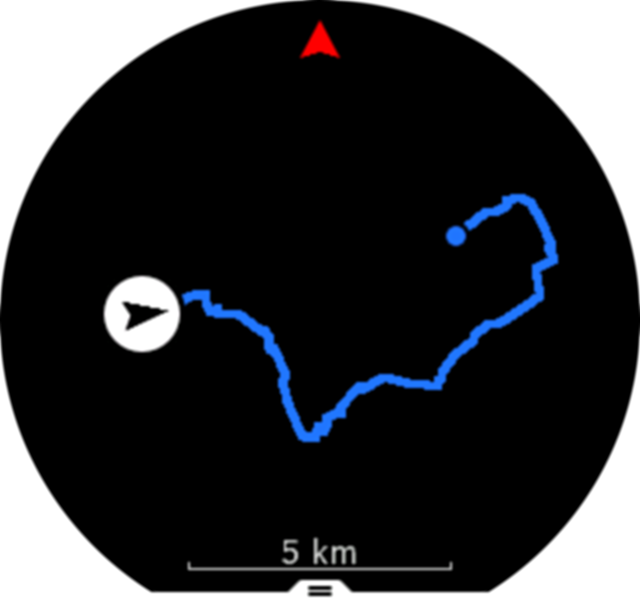 In de gedetailleerde weergave kunt u in- en uitzoomen door op het scherm te tikken of de middelste knop ingedrukt te houden. Pas het zoomniveau aan met de onderste of bovenste knop.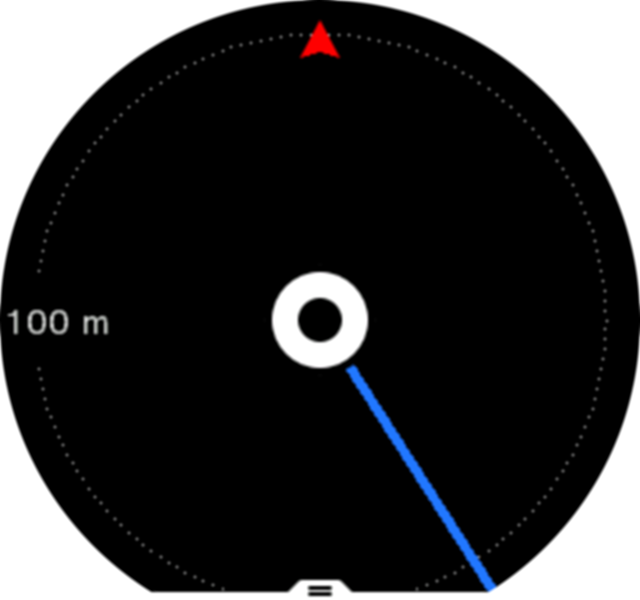 In het navigatiedisplay kunt u vanaf de onderkant van het scherm naar boven vegen of op de onderste knop drukken om een lijst met sneltoetsen te openen. De sneltoetsen geven u snelle toegang tot navigatiehandelingen, zoals het opslaan van uw huidige locatie of het selecteren van een andere route om te navigeren.
Alle sportmodi met gps zijn ook voorzien van de optie routeselectie. Zie Navigeren tijdens de training (ref.).
Navigatiebegeleiding
Tijdens het navigeren van een route helpt uw horloge u om op het juiste pad te blijven door extra meldingen te geven tijdens het afleggen van de route.
Als u bijvoorbeeld meer dan 100 m van de route afwijkt, geeft het horloge aan dat u niet op de goede weg bent, en het laat het u tevens weten wanneer u weer op de goede weg bent.
Zodra u een routepunt of een POI op de route hebt bereikt, krijgt u een informatieve pop-up te zien waarin de afstand en geschatte routetijd of tijd onderweg (ETE, 'estimated time en route') naar het volgende routepunt of POI wordt weergegeven.
OPMERKING:
Als u een route navigeert die zichzelf doorkruist, bijvoorbeeld een 8-figuur, en u maakt een verkeerde afslag op de kruising, dan gaat uw horloge ervan uit dat u bewust een andere richting op gaat op de route. Het horloge toont het volgende routepunt op basis van de huidige, nieuwe reisrichting. Houd dus uw broodkruimelpad in de gaten om er zeker van te zijn dat u de juiste richting op gaat wanneer u een ingewikkelde route navigeert.
Hoogtenavigatie
Als u een route aflegt die hoogte-informatie bevat, kunt u ook navigeren op basis van stijging en daling, met behulp van het hoogteprofieldisplay. Veeg vanuit het hoofdnavigatiedisplay (waar u uw route ziet) naar links of druk op de middelste knop om naar het hoogteprofieldisplay te gaan.
De weergave hoogteprofiel toont u de volgende informatie:
bovenaan: uw huidige hoogte
midden: hoogteprofiel dat uw huidige positie weergeeft
onderaan: resterende stijging of daling (tik op het scherm om van weergave te veranderen)
Als u te ver van de route afdwaalt tijdens het gebruik van hoogtenavigatie, zal een bericht Afwijking van route (Uit …) verschijnen in het hoogteprofieldisplay. Als u dit bericht ziet, gaat u naar het routenavigatiedisplay om weer op de route te geraken, alvorens verder te gaan met de hoogtenavigatie.