Different sports and measurements
Suunto Wear app provides accurate and insightful sports measurements via built-in GPS, barometer and wrist heart rate sensor. The way your exercise is recorded – what you see on the screen during your exercise and what data you can see afterwards – depends on the sport mode you choose.
Sport modes
Heart rate during exercise
Follow your progress with laps
GPS: speed, distance & location
Altitude, ascent & descent
Barometer
Sport modes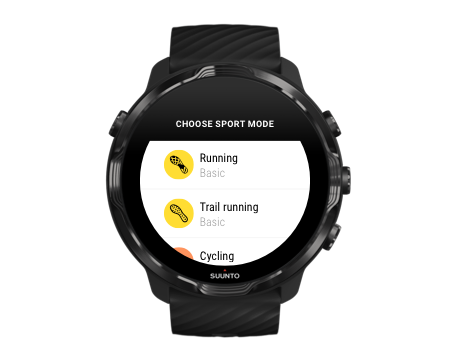 Suunto Wear app has over 70 sport modes (different sports), ready to track all your sports – run, bike, swim, hike – you choose. Each sport mode has 2 to 4 exercise views to show the most relevant stats during your exercise and a map when you are exercising outdoors.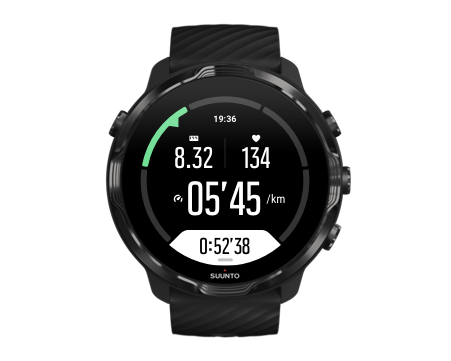 For instance, if you go running, you can follow your progress every kilometer or mile with automatic lap updates, see your running pace and view your track on the map. If you choose pool swimming, you get both your swimming intervals and overall progress tracked automatically. Easy!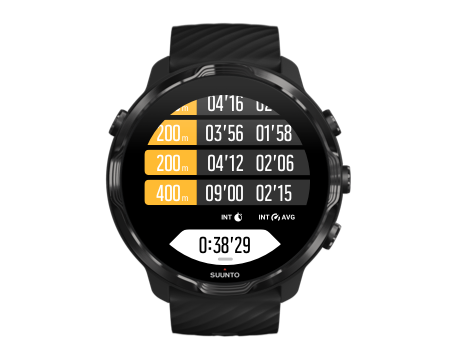 Customize sport modes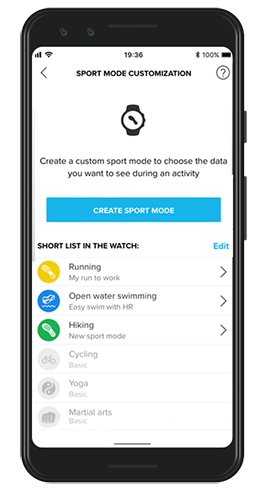 With a wide range of pre-defined sport modes, your Suunto 7 always shows the most relevant data during your exercise. In addition to the pre-defined sport modes, you can also create custom sport modes using Suunto app.
Learn how to create custom sport modes (Android).
Learn how to create custom sport modes (iOS).
Heart rate during exercise
Tracking your heart rate during exercise tells you precisely how hard – or easy – your heart is working. Measuring your heart rate can help you to avoid making one of the most common mistakes – training too hard too often, which puts you at risk for injury and burnout.
Sport modes in Suunto Wear app are tailored to show heart rate in a meaningful way for each activity. Depending on the sport mode you choose, you can for example follow your current heart rate, average heart rate, heart rate during specific laps, or at which heart rate zone you are exercising.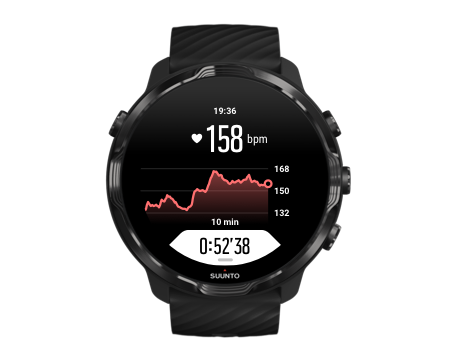 After your exercise you can see detailed information of your efforts and exercise intensity such as what was your average heart rate, what was the peak training effect (PTE) or estimated recovery time. If you are not familiar with all of the terms, you can learn more in the Glossary.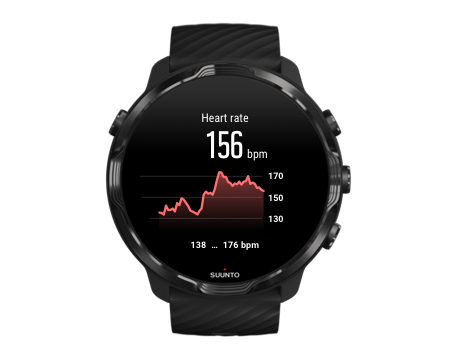 How to wear your watch to improve HR measurements
HR zones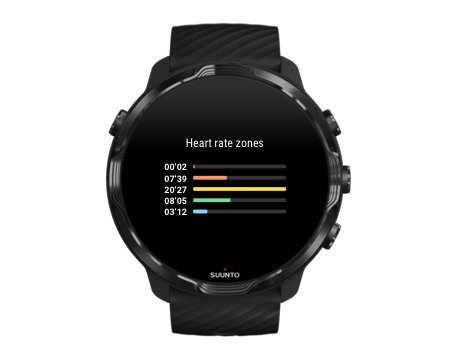 Suunto Wear app has five different heart rate zones, numbered from 1 (lowest) to 5 (highest), defined as percentage range based on your maximum heart rate (max HR).
Understanding heart rate zones when exercising helps to guide your fitness development. Each zone stresses your body in different ways, leading to different effects on your physical fitness.
ZONE 1: EASY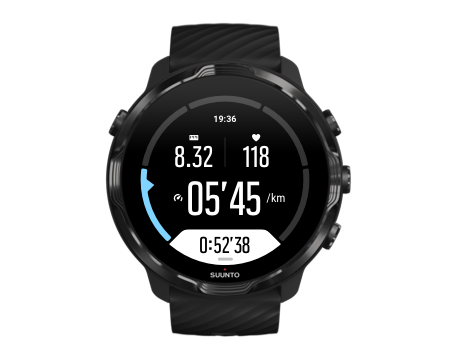 Exercising in zone 1 is relatively easy on your body. When it comes to fitness training, intensity this low is significant mainly in restorative training and improving your basic fitness when you are just beginning to exercise, or after a long break. Everyday exercise – walking, climbing stairs, cycling to work, etc. – is usually performed within this intensity zone.
ZONE 2: MODERATE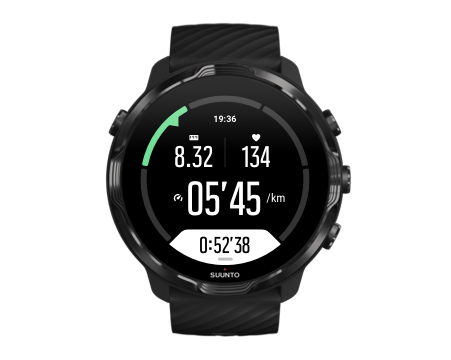 Exercising at zone 2 improves your basic fitness level effectively. Exercising at this intensity feels easy, but workouts with a long duration can have a very high training effect. The majority of cardiovascular conditioning training should be performed within this zone. Improving basic fitness builds a foundation for other exercises and prepares your system for more energetic activity. Long duration workouts at this zone consume a lot of energy, especially from your body's stored fat.
ZONE 3: HARD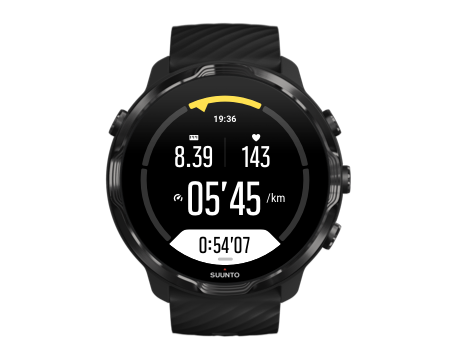 Exercising at zone 3 begins to be quite energetic and feels like pretty hard going. It will improve your ability to move quickly and economically. In this zone, lactic acid begins to form in your system, but your body is still able to completely flush it out. You should train at this intensity at most a couple of times per week, as it puts your body under a lot of stress.
ZONE 4: VERY HARD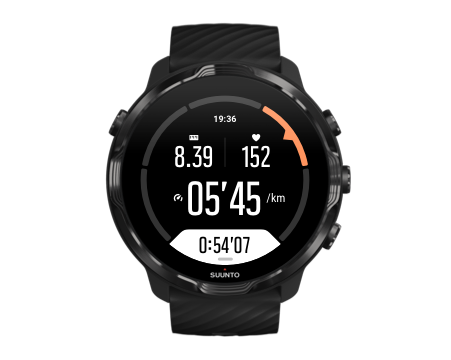 Exercising at zone 4 will prepare your system for competition type events and high speeds. Workouts in this zone can be performed either at constant speed or as interval training (combinations of shorter training phases with intermittent breaks). High-intensity training develops your fitness level quickly and effectively, but done too often or at too high intensity may lead to overtraining, which may force you to take a long break from your training program.
ZONE 5: MAXIMAL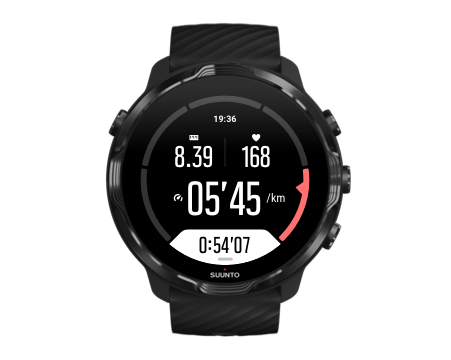 When your heart rate during a workout reaches zone 5, the training will feel extremely hard. Lactic acid will build up in your system much faster than it can be removed, and you will be forced to stop after a few minutes at most. Athletes include these maximum-intensity workouts in their training program in a very controlled manner, fitness enthusiasts do not require them at all.
How are heart rate zones calculated?
Heart rate zones are defined as percentage range based on your maximum heart rate (max HR). Your max HR is calculated using the standard equation: 220 - your age.
The default zones used in Suunto Wear app, based on percentages of your maximum heart rate, are:
Zone 5: 87–100%
Zone 4: 82–86%
Zone 3: 77–81%
Zone 2: 72–76%
Zone 1: < 71%
To adjust your max. heart rate, see Profile settings.
Follow your progress with laps
Laps are a great way to follow your progress during exercise and to analyze your efforts in more detail afterwards. With Suunto Wear app you can create lap marks manually or choose a sport mode that creates laps automatically for you.
Autolaps
Sport modes, like running, cycling, and indoor rowing, come with automatic lap updates to follow your progress based on certain distance or time. For instance, with running sport mode, your watch alerts you every kilometer or mile and shows your average pace and heart rate of your last kilometer on the screen.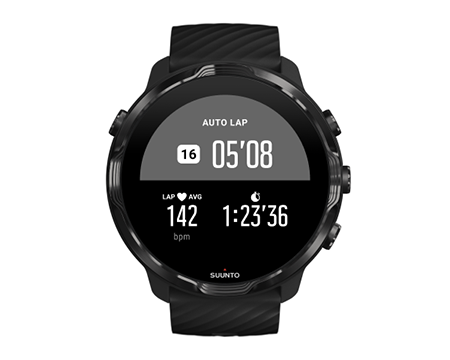 To follow and compare your efforts real-time between different laps, go to the dedicated lap table view. In most sport modes it is the second exercise screen.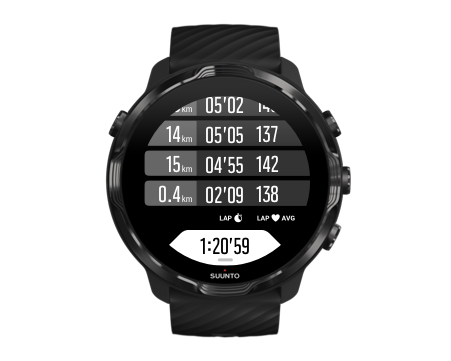 Mark a lap manually during exercise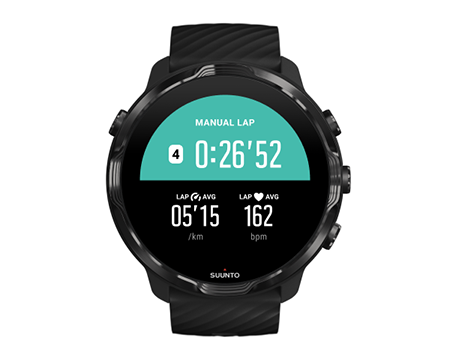 In addition to autolaps, you can manually mark laps to track different sections of your exercise. For example, during an interval session, you could create a lap mark for both your intervals and rest periods to help analyze your session afterwards or you could mark a lap to time reaching a milestone or a turning point on your regular training route.
To mark a lap, press the bottom right button when you are in an exercise view. You will briefly see the key stats for that section of your exercise.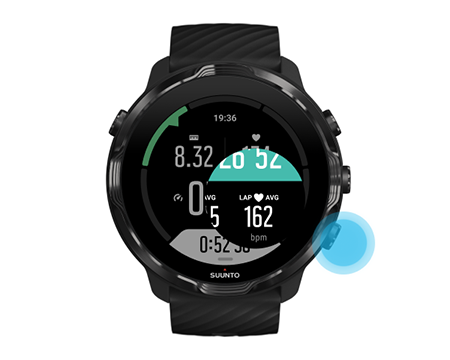 NOTE:
With some sport modes, such as Track and field, you can also compare your manually marked laps real-time in the lap table view.
View laps stats after exercise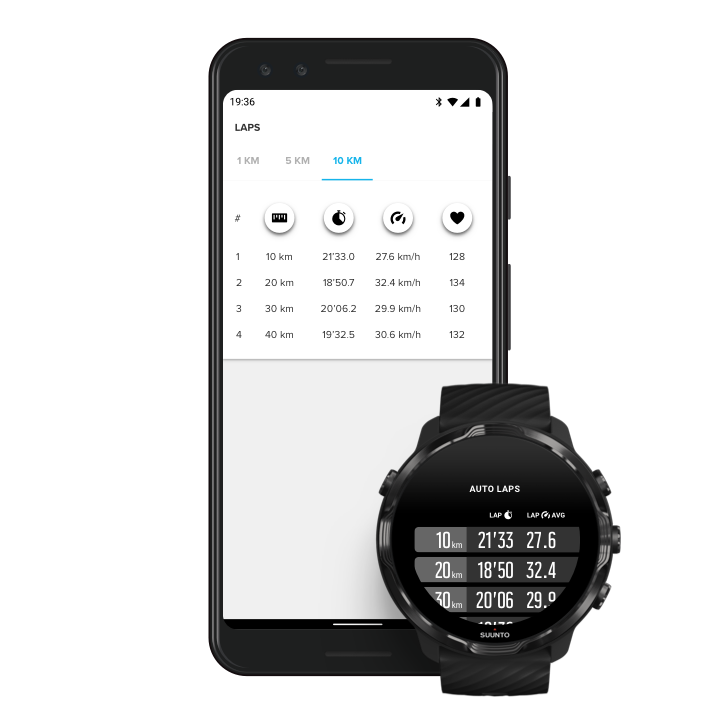 To see your lap stats after your exercise, scroll down in the exercise summary and select Laps.
Sync your exercises to Suunto mobile app on your phone to analyze your laps in more detail.
GPS: speed, distance & location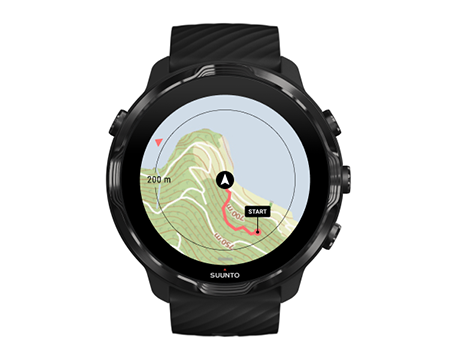 Suunto 7 uses GPS (location information) during exercise to draw your track on the map and – together with accelerometer data – for measurements like speed and distance.
NOTE:
Suunto 7 can also use Glonass and BeiDou for location information.
How to improve GPS accuracy
To provide the best accuracy for your exercise stats, Suunto 7 uses, by default, 1 second GPS fix rate to update GPS location information. However, there are several other factors that also affect the signal strength and GPS accuracy.
See Change the location accuracy to change the GPS accuracy.
If you notice challenges with GPS accuracy, try these tips:
1. Wait for GPS signal before starting an exercise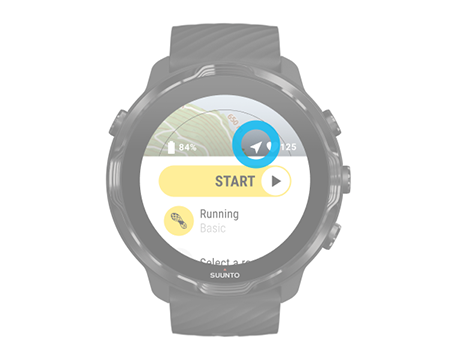 Before starting your exercise recording, go outside and wait for the watch to find the GPS signal. When the watch is searching for a GPS signal, the arrow icon in the start view is gray. Once the GPS signal is found, the arrow icon will turn white.
When you are open water swimming or exercising in difficult terrain, we recommend you wait a couple of additional minutes after the signal is found to allow the watch to download all needed GPS data to get a more accurate track.
2. Move to an open area
The GPS signal strength can be affected by your surroundings and terrain such as:
trees
water
buildings
bridges
metal constructions
mountains
gullies or ravines

thick, humid clouds

If possible, try to move to a more open area outside when starting your exercise and wait a couple of additional minutes after the GPS signal is found to allow the watch to download all needed GPS data to get more accurate exercise stats.
3. Keep your watch connected to Wifi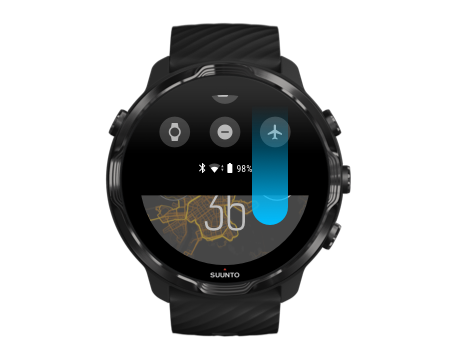 Connect your watch to Wifi to optimize your GPS with the latest satellite orbit data. Your watch can acquire a GPS signal faster when GPS data is up to date.
NOTE:
If you can't connect to Wifi, you get GPS updates once a week via Bluetooth.
4. Use the latest software for your watch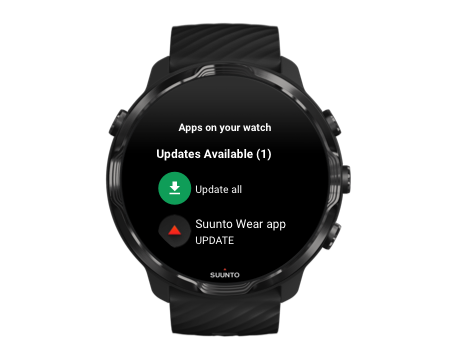 We continuously improve the software of our watches and fix possible bugs. Ensure you have the latest software installed on your watch.
Learn how to update your watch
Altitude, ascent & descent
Suunto Wear app uses FusedAlti™– a combination of GPS and barometric altitude – to provide an altitude reading and derived ascent and descent values during exercise.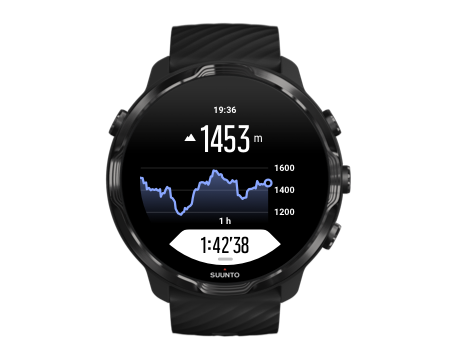 Barometer
Suunto 7 has a built-in pressure sensor that measures absolute air pressure. Suunto Wear app uses both GPS and air pressure data (FusedAlti™) to provide a more accurate altitude reading.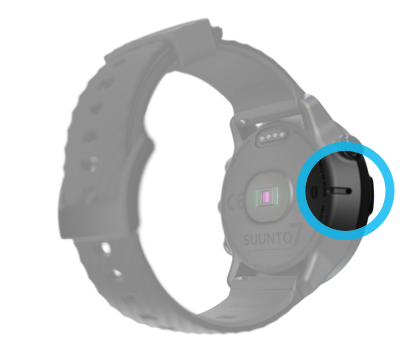 CAUTION:
Keep the area around the air pressure sensor holes on the left-side of your watch free of dirt and sand. Never insert any objects into the holes as this may damage the sensor.