Canadian cross triathlete Karsten Madsen is heading to Maui later this month for the XTERRA World Championships where he hopes to crush it, rather than being crushed by a race that has bested him twice before.
Karsten Madsen started out in road triathlon and cross-country mountain bike racing, and later progressed to off-road triathlon, where he is now competing in XTERRA's Pan American Tour.
Since going pro in 2014, the 26-year-old has become a four-time XTERRA major title winner and three-time national champion, and finished third overall in the XTERRA Pam Am Tour Point Series in both 2016 and 2018.
In 2017, he finished eighth at his first elite ITU Cross World Championships. Madsen now has set his sights on becoming the 2019 ITU Cross World Champion. When he's not racing or training, you can find him taking in mountain views with a coffee.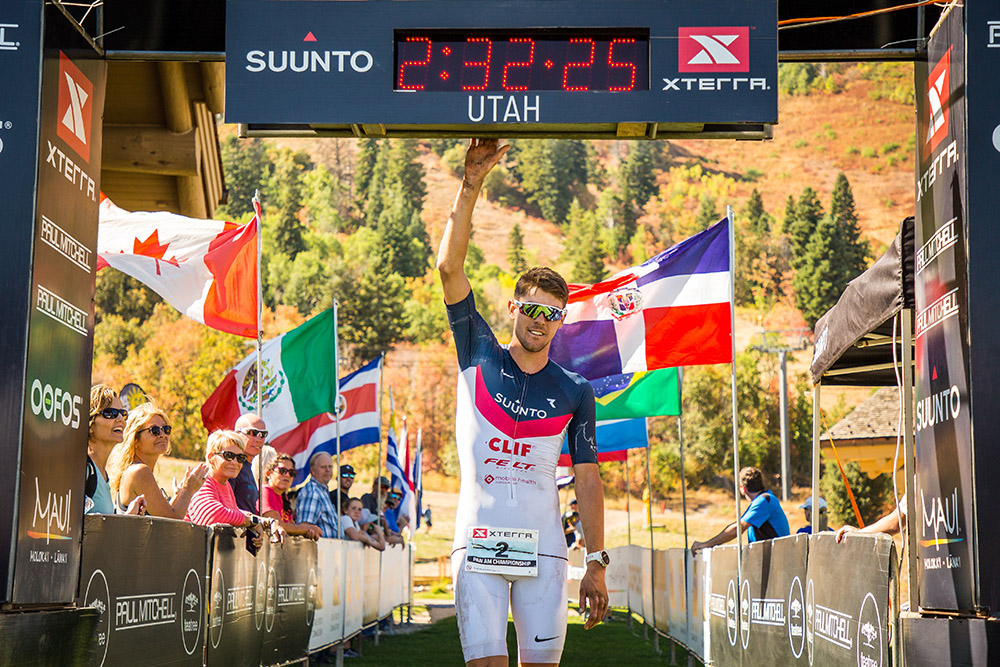 To bring everyone up to speed with your XTERRA history, how many times have you been to Maui for the World Championships, and what's the brief take on your performance each year?
I have been to Maui two times, in 2016 and 2017, and both years crushed me for different reasons. But both years resulted in DNFs (did not finish). I have changed a lot of things since then to better match myself for the demands of the course so I'm looking for big things in 2018!
Which of your competitors is going to give you the biggest challenge, and what elements of the course have you been preparing for most?
Going into Maui, I think Josiah Middaugh is the man to beat this year. His form is very good right now, and he bikes to another level. So really, it will come down to how well he swims. I've been working a lot on power-to-weight ratio. I've dropped some weight this year and am still biking with more power. Also, I do targeted workouts to fit the demands of steep climbing on the course in Maui.
What's your nutrition plan, and is it different for an off-road triathlon like XTERRA versus a road triathlon of similar duration?
My nutrition plan is somewhat straightforward: a bottle on the bike with 320 calories, three CLIF Shot gels (raspberry flavor is my go-to) taken just before aid stations to wash down with water. Then another half gel starting the run, washed down with water again. For XTERRA, I have usually one more gel than I would for a road triathlon of a similar duration. But my nutrition plan really flexes most around weather.
How about pre-race conditioning? How do you hold your fitness together, not taper too much, nor let travel take away from being ready? What metrics are you monitoring?
XTERRA World Champs is just a monster – everything about it is hard! The crazy waves in the swim, the steep, and hot climbs on the bike, and then if that's not enough, more of the same on the run. In XTERRA, you really earn every stroke, pedal and step you take. You just grind and suffer so much versus a road triathlon. The taper can really be the hard part, but I err on the side of "less is more" once I'm about 12 days out, always asking myself, "Does this help or hinder my race?" Travel is also a tricky part, but some easy tips: hydrate, eat clean, put down some extra vitamin C and D, stay stress-free, and relax!
What advice do you have for age groupers coming to XTERRA World Championships?
If you come any later than Wednesday before the race, don't ride the full course! Save it for the race! Don't give away all your hard work to fatigue. Less is more on race week. Also, stay hydrated!
How has this season gone, and what are your ambitions for the rest of this year?
This year by far has been my best season yet. It's been a year that has seen me race the most and travel the farthest. I had a lot of success on the Pan American Xterra tour, earning a third place overall finish in the tour standings. The real ambitions I set for myself this year were to race with intensity and find the joy of racing. I knew if I could nail those two things the rest would take care of itself.
Looking back now on this year so far, which setbacks seemed to have had the biggest impact, and what did you do to push through and get your season back on track?
Coming back from the bacterial infection at ITU Cross Worlds was my biggest setback. I got myself into great shape and had a fantastic opportunity to have success on that course. The illness really impacted me for the whole month of July — I was pretty useless! I rallied behind the idea that when I'm healthy I still have more opportunities to prove to myself that I'm one of the world's best. Having a positive outlook helped, and my parents and family really helped me through that rough patch.
When the Suunto 9 launched, you picked white instead of the classic black. Does that say something about your personality?
Typically I've always done everything in black so it was time for a change! White is just crisp and clean looking. I guess I like to think my style is pretty crisp.
What do you envision for 2019? What's on your schedule?
You'll see me around more XTERRA looking to build on this successful year.
Thanks, Karsten, and good luck in Maui!
READ MORE ABOUT XTERRA
6 reality checks for XTERRA warriors from a champion
Just getting started – and already full beast mode