The Finnish watchmaker Suunto has released a new collection of unique adventure travel watches, designed for people born with the urge to explore and the mindset of curiosity, entrepreneurship, and risk-taking that is driving world progress.
The first watch released in the Suunto World Collection, the Suunto Kailash, is named after the holy Tibetan peak, Mount Kailash. This revered 6000 m peak has never been climbed, but its powerful presence continues to awe those born to adventure. "Mount Kailash is forbidden to climb yet it's the mountain with probably the most energy around it and inspires in every alpinist the spirit of adventure", says the Spanish adventurer Kilian Jornet, voted as the People's choice Adventurer of the Year by National Geographic in 2014. Mount Kailash is a symbol of the sacred calling to reach our human potential. This calling is demonstrated by athletes like Kilian and by people who push the boundaries in science, technology and business and become beacons of human progress.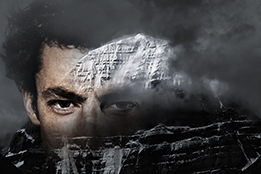 "The launch of the Suunto Kailash marks an expansion of Suunto as a brand for those who wholeheartedly live their life as adventure and strive for progress. For many people, adventure isn't something that can be reduced to a particular skill-set or outdoor discipline – first and foremost it's a mindset. The Suunto Kailash was designed and handcrafted with these people in mind", says Peter Nortmann, Business Director of Lifestyle Watches at Suunto.
Suunto's World Collection will be presented under the label of 'Suunto 7R' – 7R standing for the adventure gene that scientists identified people with an adventurous mindset carry. The Suunto Elementum and Suunto Essential will also become a part of the Suunto 7R offering.
The pure expression of sophisticated roughness
Since Suunto was founded almost 80 years ago, the Finnish watchmaker has been at the forefront of many pioneering innovations that have enabled great adventures; from compasses to dive computers and sports watches. Suunto Kailash continues the Suunto tradition of quality, innovation and reliability.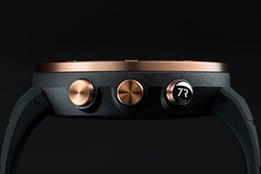 "The design of the Kailash watches aims for purity and modernity", says Timo Yliluoma, lead designer for the Suunto Kailash. "Premium detailing, the hallmark of Suunto watches, complements a discreet, classic form." With a bezel made of space grade titanium, the lightweight watch has sapphire crystal glass, an outdoor-proof composite casing and a soft and durable silicone strap. Detailing includes a special 7R button made out of sapphire crystal.
The Suunto Kailash family includes four editions: the Copper, Slate, Carbon and Silver.
Unique functionality for adventure travelers – integrated GPS, 7R Logbook, and Adventure Timeline™
The Suunto Kailash watch combines features that frequent travelers will enjoy – such as global, automatic time and location updates via GPS and a unique new adventure logbook that reveals a summary of your adventures – such as how many countries or cities you've visited and how far you've travelled – simply by pressing the 7R sapphire button. When you're experiencing a new city, the watch shows you the direction and distance to home or to your starting point (e.g. your hotel or your car).
With the Adventure Timeline™ display, you can see current time together with the information of your choice, such as altitude, sunrise/sunset, or your daily step count. When paired with the mobile Suunto 7R App (available for iPhone only), call, text and push notifications keep you updated via the watch and information collected by it is presented as an appealing visual timeline on your phone.

Weatherproof package
The Suunto Kailash watches are packaged in a weatherproof cylinder case made of black, anodized aluminum to keep the watch or other valuables protected during your travels.

The Suunto Kailash is available globally from selected watch retailers from the end of October 2015, and its RRP is 900 €.