The Suunto community shares how it's responding to lockdown.
Across the world athletes and adventurers are being confined at home. This does not come naturally to us, but like skilful outdoors people who know how to handle any eventuality in the backcountry, this situation also presents us with an opportunity to adapt, grow, and learn.
That's exactly what members of our Suunto community are doing. We reached out to a bunch of Suunto trail and ultra runners and asked how they are "making the best use of a bad bargain". And it turns out there are some unexpected upsides

Johan in France uses his trainer to stay active. 
Accept the disruption
Everyone we spoke to reported their goals for 2020 have been disrupted. Johan in Nice, France was looking forward to a cycling race and to hiking the famous GR20 trail across the spine of Corsica – the race has been cancelled and the hiking trip delayed. Joaquin in Spain is confined at home and all his plans have gone out the window.
"At first it took me a while to accept it, but after two weeks I am now quite well adapted," Joaquin says. "I am aware that we have to overcome this together, and the best thing at the moment is social distancing and being confined at home so the virus doesn't spread and affect more people worldwide."
Take it one day at a time
The temptation for many of us at the moment is to worry about the future and to compulsively follow the news about each twist and turn in the battle against coronavirus. Giving in to this temptation saps us of energy and creates anxiety. Instead, it's more helpful to relax and be in the moment.
Majo is living in Manila and is quarantined at home, and only permitted outside to pick up groceries and medical supplies. "Things may change in 24 hours so I'm just taking it one day at a time," she says. "I'm trying to make myself productive and sane until we can come back to our 'normal' life. We can use this time to reflect on what's important in life and how we will spend it well after all of these unexpected events."
To pass the time, Joaquin follows a daily routine, including cooking and exercising. "We're also playing a lot of old boardgames that I had forgotten about," he says. "It is really is incredible to rediscover these and play them with my wife so the hours pass faster and our confinement is more enjoyable."
Joaquin is using his balcony to good end!
Stay active
It's important to acknowledge training indoors just isn't the same as running in a forest or hills. Acknowledge, accept and then move on. All of our community is keeping active in one way or another. Fortunately for Tobias, he can still head out for runs in a nearby forest. Majo, on the other hand, is making the most of being confined indoors. "I'm doing strength and conditioning exercises such as high intensity bodyweight training or interval training with dumbbells, yoga and stair workouts for cardio," she says. "I don't have much workout equipment so I'm making the most of what I have."
Maja in Sweden is living in the countryside, which sounds idyllic, but actually involves a lot of work. "Our sheep will be having lambs any day," she says. "We have 33 chickens waiting to crack out of their eggshells (9 days left now!), we need to take home and chop/stalk firewood for next winter, plant all the veggies we're gonna grow this summer, do some renovations on and in the house. Plus, we have a one year old that doesn't always want to do the things above!"
Learn new skills
Based in the German Alps, Tobias is using the downtime to create his own topographical maps for future climbing trips. Majo is doing an online course to prepare in case her country requires more health workers to respond to the pandemic. She's also taking online cooking lessons. Johan has taken up meditation. "I decided to use this time to start things I've wanted to do or learn for years, but never had enough time for," he says. "There are tons of websites which give free online stuff to learn new skills."
Ryan has taken advantage of online communiation technology to build community. "One new item that I implemented three weeks ago is a virtual group run/walk for my colleagues," he says. "Every Thursday at 5:00 PM, I host a virtual group run where colleagues run/walk with me as I lead everyone through a workout. It is a fun way to get outside by yourself and meet new people!"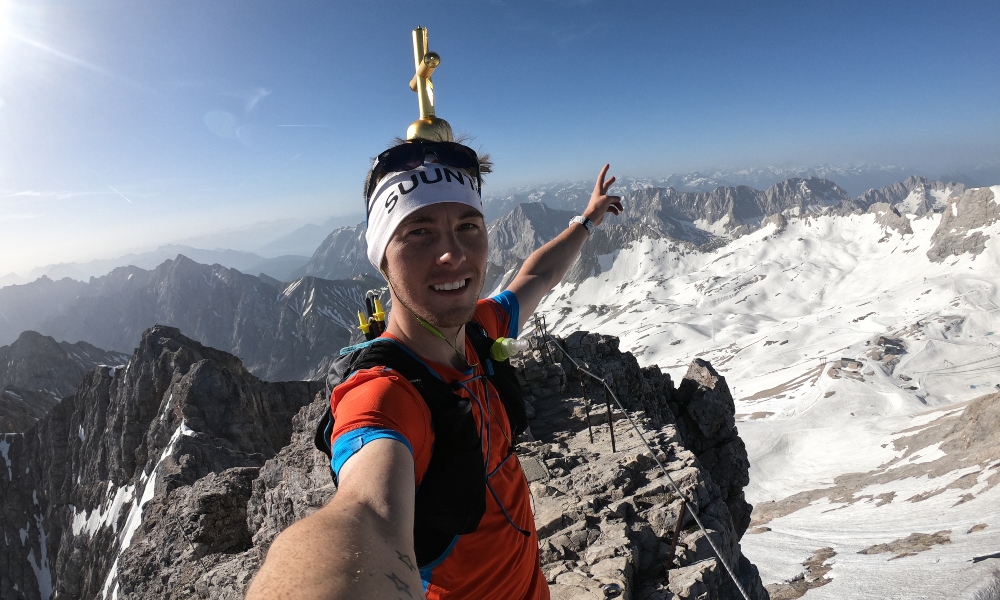 Fortunate to live in the German Alps, Tobias is still allowed outside to exercise. 
Get inspired
Joaquin in Spain says for him it's important to set and achieve a daily goal everyday. Ryan in California takes it a step further and says now is a time to set longer term goals, too. "This is a great time to set fitness goals!" he says. "Let's use this time to consider what we want to accomplish in 2020 and 2021? Make clear, actionable, and attainable goals this year, and find a way to make yourself accountable. Share your goals with friends, workout buddies, or prospective coaches in order to help you stay accountable. Just because you can't be in-person with someone right now does not mean you should lose your fitness accountability!"
To stay inspired, Joaquin also looks out for community initiatives to help out. "A good source of inspiration and motivation for the community are the multiple solidarity initiatives that exist, for example in Spain last Saturday there was an initiative to raise funds for COVID-19 research where more than 7,300 athletes ran in their homes and raised almost € 83,000," he says.
Maja is staying inspired by following other ahletes online. "A lot of athletes are doing live sessions and Q&As in social media channels so take the time to ask them questions, train with them and make plans for future adventures, " she says.
Look on the bright side
Every cloud has a silver lining, they say, and even though this pandemic is causing so much suffering it's causing a few positive things, too. Humans evolved what scientists call "negativity bias"; the tendency to be more attuned to spotting problems and threats than seeing the positive. This helped our species survive when we were regularly under threat. Now, however, we can turn this around and learn to focus more on the positive.
"Even though my heart is really breaking seeing people and health workers get sick, die and starve because of this pandemic, a positive side of the quarantine for most parts of the world is less pollution and more healing time for the Earth," Majo says. "Some families are spending more time together which is also priceless. We also get to realize we can live with less than the usual. Nevertheless, I am really hoping and praying desperately that this will end soon so we can get back to normal, whether that will be a new normal or not."
Lead image: © AlpineFex
Read more articles
4 indoor workout tips for endurance athletes
How to adapt your training when the unexpected strikes
7 indoor training exercises to stay in shape