Read our guide with everything you need to know to have your best experience at the Nordic Gravel Series.
If you've registered for one or more of the five races in the Nordic Gravel Series starting this June you've come to the right place. We've put together a series of articles that'll help you compete and have a blast.
With races held in Finland, Sweden and Norway, it's the largest gravel series in the Nordics. With a focus on providing fun, inclusive events, each event is open to beginners and seasoned riders, alike.
In this series, we'll look at how to physically and mentally prepare for the race, some specific workouts and drills that will help you progress, race day tips, and more. This first article introduces the world of gravel racing and the base training phase.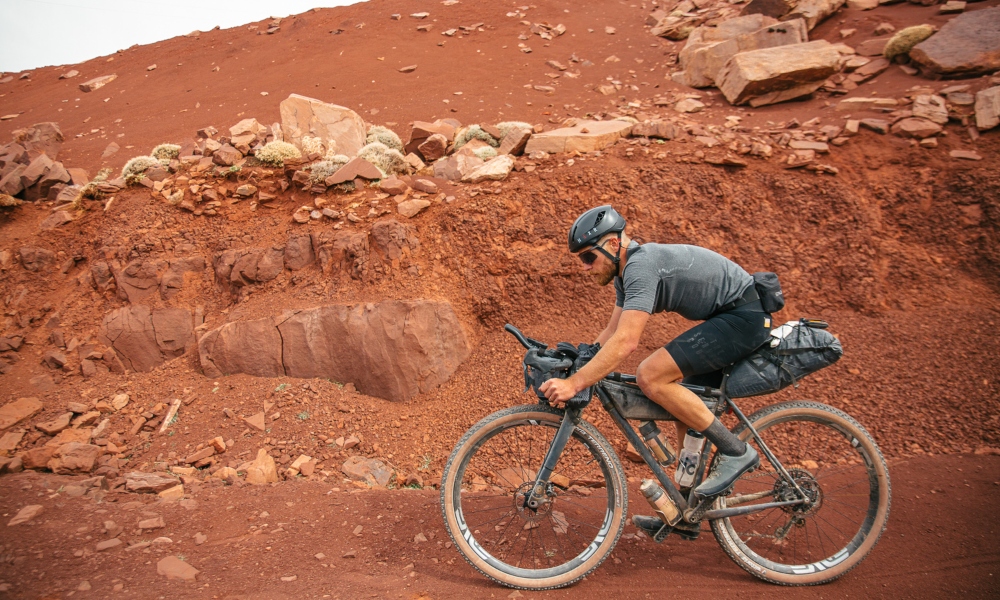 Christian competing at the Atlas Mountain Race in Morocco, 2019. © Lian van Leeuwen/Atlas Mountain Race
Your guide: the athlete-entrepreneur
Suunto ambassador and former road cycling pro, Christian Meier fell in love with bikes as a teenager in Canada. Coming from a hardworking family, he put in long hours in the saddle and eventually competed in Tour de France and Giro d'Italia. Now he lives in Girona, Spain where he runs a handful of businesses and continues to push himself as an allround cyclist and ultra runner.
Welcome to gravel
Gravel cycling is a fast-growing discipline of cycling that takes riders off the tarmac and onto unpaved roads. It's a hybrid of road and mountain biking, combining elements of speed, endurance, and technical riding. If you're looking for a new type of race to compete in, or simply want to try something new, the races offered by the Nordic Gravel Series will offer adventure, fun, community, competition and challenge.
"Having spent time on the gravel in Norway I think the Nordics have probably some of the best gravel riding around," Christian says. "There is so much diversity in topography and the people truly live for the outdoors, add in those never-ending summer nights and it adds up to something quite unique and special."
Know why you're entering
Entering the Nordic Gravel Series doesn't have to be about winning. In fact, gravel cycling races are often less competitive than traditional road races, making them a great opportunity for cyclists to connect with one another and have fun.
"Gravel races tend to offer something for everyone as the scene tends to be more experiential than purely performance-based as you may get in road cycling," Christian says. "Many of the gravel races these days have a festival feel with food, drinks and music around the events."
Before building your training plan, ask yourself what you want to achieve. Are you entering to race competitively or to have an awesome experience? Is it just about finishing the race or do you have a finishing time you'd like to achieve? The answer will determine how much training volume and intensity you'll need to complete before race day.
Base, build and taper phases
Gravel cycling races can be physically demanding, with long hours in the saddle over rough terrain.
To prepare for his races Christian follows a base, build and taper training structure. "For me, it's all about having the biggest aerobic engine possible," he says. "This engine is what allows you to push the big watts or to feel comfortable and have an enjoyable time if you are just there to enjoy with your friends."
Design your training plan
Ideally, you'll allow yourself about five to six months of training before the race. Most of that will be the base training phase, then the build training phase, and finally two or three weeks to taper before the race. Sit down and write it down. Assess the following:
Your fitness level
Before you begin your training, take some time to assess your current fitness level. This will help you determine what type of training is necessary to help you reach your goals and prepare for the race. Your Suunto watch can help you assess your fitness and find the right training zones. Learn more about testing your fitness with Suunto here.
Any work or family commitments
It's important to create a realistic, doable training plan that works with your circumstances and current fitness and experience level.
Your goal and what level of training is required to achieve it
Do you want to win it all, are you gunning for a particular time, or are you there for the experience?
If you are working with a coach – or want to find a ready made training plan – check out TrainingPeaks. Workouts planned there are synced to your Suunto watch for real time guidance.
Base phase
The base training period is the foundation for your race preparation. This period lasts about eight to 12 weeks, and the focus is on increasing your endurance, stamina and overall fitness. During this time, aim to ride four to five times a week, with one or two of those sessions being longer, endurance rides about three hours if your motivation is to have fun and four or more if your aim is to compete.
Focus on building your endurance and stamina. This can be done by doing long, steady-state rides (zone two training zone) on gravel roads, trails or on the tarmac if that's what's easily accessible. Build in longer rides on the weekend. Try to fit in two big base fitness days a week. 
During the week when you have less time Christian recommends focusing on quality sessions. On Tuesday and Thursday do some steady state work.Your effort should feel like you are pushing but can maintain the duration of the effort comfortably. Here's a starting suggestion: do a 15 min warmup, 2 x 20 minute intervals with a 10 minute recovery, then a 10- 15 minute cool down. "You want to feel like you have worked hard but that you could have done more" Christians says. "For the racer, make it 3 x 20 minutes. I would save any high intensity training for the build phase (covered in the second article of this series). Zone two training is the best bang for your buck for improving your aerobic engine."
Include hills in your training. But don't overdo it at this point.
Add in one session a week of off-the-bike strength training, such as core stability exercises and weight lifting, to build overall strength and prevent injury.
Monitor your progress and recovery
With a Suunto GPS sport watch, like the sleek and powerful Suunto 9 Peak Pro, you can record all your training sessions and monitor your progress. Are you hitting your targets? Are you giving enough time to recover between sessions? Is your power improving? Your watch will tell you and keep you on track.
Prepare your bike
During the base phase, take time to study the race course and prepare your bike.
"Six months out from a race I like to get a good idea of what the course will be like: the amount of climbing, and surface conditions would be key to understand," Christian says. "These will inform me of two important factors: gearing and tire selection. Both can have a huge effect on your race. Too small gearing on a flat course and you could find yourself spinning out when you're in a group and pushing the pace. Likewise, too big gearing on a hilly course could find you pushing too hard on the climbs, sapping power from your legs over the course of a long day. Take time to think this through."

Look out for the second article in our series about preparing for the Nordic Gravel Series. We'll dive into how to build power, improve your technical skills and more!
Lead image: © Nordic Gravel Series