As freediver William Trubridge embarks on his attempt to dive to 102m unassisted in a single breath, he speaks to us about the future of the sport and how deep human beings could go.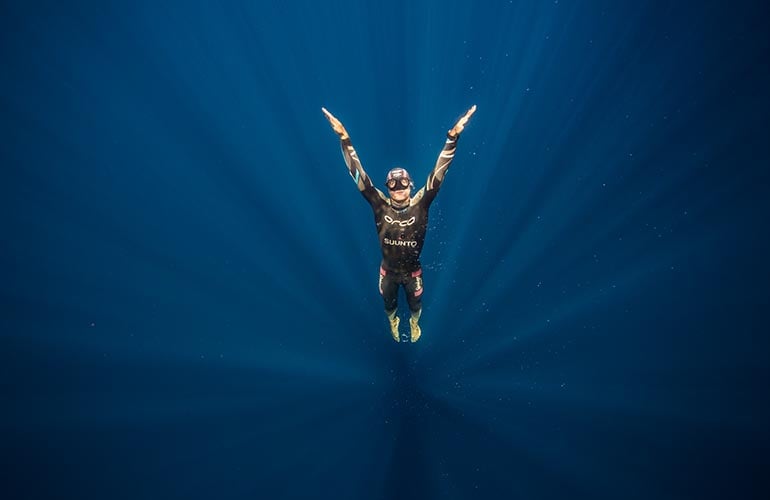 Image (and feature image) Alex St Jean
Freedivers are continually pushing their boundaries, reaching depths never thought possible. William, as ever is leading the way and will attempt to break his current world record of 101m for the CNF discipline (Constant Weight No Fins) when he dives in Dean's Blue Hole in the Bahamas on July 21,2016 as part of the Return To The Deep event produced by Steinlager Pure.
But what are the limits, will the point come when freedivers just can't go any deeper? William suspects the answer is yes, but it's not so clear-cut. He says: "I think we're starting to plateau now. I wouldn't like to speak too soon, but based on how I feel in my training, and what I've seen of results and performances over the last 15 years I've been involved in the sport, the rate of increase has definitely slowed down dramatically in the last five to eight years."
"I think we're starting to plateu now."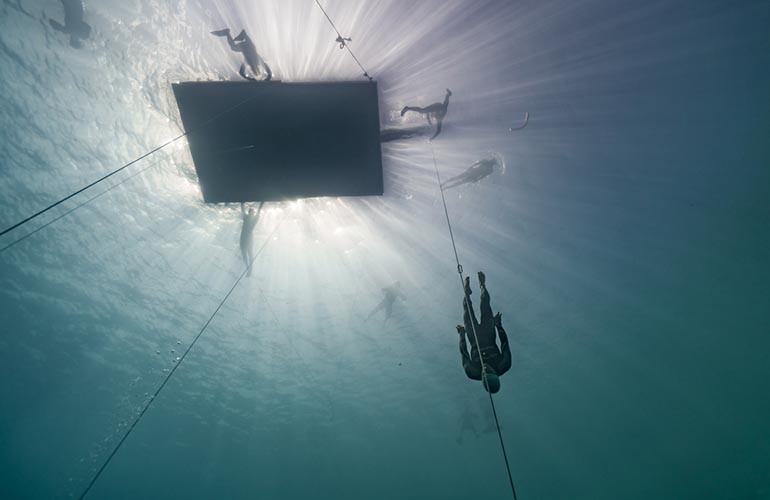 Image Daan Verhoeven
The records have moved quickly as the sport progressed, from 81m at William's first record, to 101m at his current standing. The chance of leaps like that being repeated could be slim he says: "I've added 20m and I don't think, I can say pretty much for certain, that I'm not going to add another 20m on to that myself in that discipline and I would be really surprised if even in my lifetime we get to that kind of depth."
Fellow freedivers are also less inclined to make predictions that they will reach greater depths, suggesting the industry feels a "natural limit" is nearing. That's not to say more records won't be reached, just not with the same frequency as previous years. William says: "I don't think anyone would disagree that we can add a few meters on all of the disciplines. The prospect of much greater depths has dried up to a large extent. It's hard to imagine an innovation that could change things."
The motivation for William hasn't abated, however, he still feels the drive to push himself further. "I definitely motivate myself and I feel like I have the same motivation now as I did 10 years ago," he says. "I feel like it's a sport where we peak a lot later in our lives than in other sports. It's more comparable to marathon running or other endurance sports because it requires a lower metabolism, as well as a maturity and patience that comes with age," he adds.
"I definitely motivate myself and I feel like I have the same motivation now as I did 10 years ago."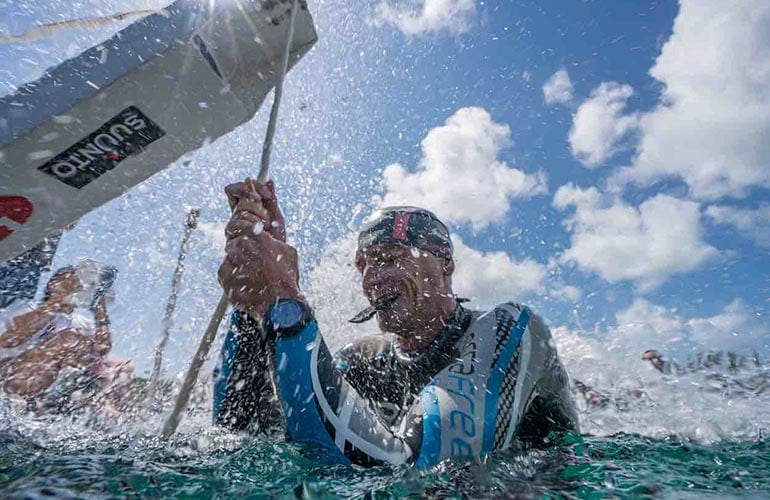 Image Daan Verhoeven
All this means the sport is changing; it's not the same steady pprogression that existed when William was first breaking records. It's allowing younger competitors to progress quickly, William says: "Once someone does a 100m constant weight dive, shortly after that you will have five people doing it. Paving the way is happening a lot in freediving and it's enabled a lot of younger competitors to improve a lot more quickly than when we were getting into the sport. Less feeling around and more concrete methodology."
There are some dangers with that too though, and William is keen for newer freedivers to remember it takes time to dive to greater depths. He says: "It means divers are getting to significant depths quite quickly and maybe they're able to do the depth in terms of breath hold, but their lungs and thorax aren't sufficiently adapted to accommodate the pressure so we're running into more problems with injuries."
Increasing depth gradually is key here, he says: "We always put the emphasis on the process and having a methodical and conservative approach to increasing depth. Better to take your time, building up confidence and adaptation to pressure slowly. "
Follow the record attempt live with Steinlager. Find out more about Willaim Trubridge on his website.