Freediving is a sport that attracts some of the most unique athletes on the planet — men and women who can hold their breath for several minutes and plunge to impossible depths of the sea. This weekend sees the start of one of the highlights of the freediving calendar — the Suunto Vertical Blue.
On November 9th, 36 athletes from 16 countries will join the event host and dual world record holder, William Trubridge, to compete in the nine day competition at Dean's Blue Hole, Bahamas. Along with an unmatched location at the world's deepest underwater sink hole, Suunto Vertical Blue offers the prospect of battles between the world's top freedivers. Among those attending this year is Alexey Molchanov, the current world record holder in Constant Weight (CWT).
His record breaking dive to an astounding depth of 128 meters (420 ft) is held in awe by the freediving community but there are hints of greater depths to come. Pursuing him is William Trubridge, current world record holder in the disciplines of CNF and FIM. Trubridge has his eye on reclaiming his national record in CWT as well as challenging his own, legendary CNF record of 101 meters (331ft).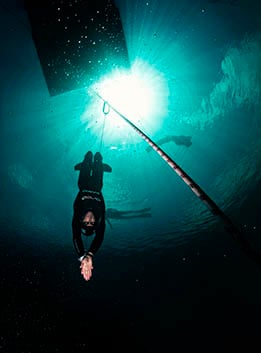 Says organizer William Trubridge: "The biggest names in men's freediving will be there and will go to their body's absolute limit in order to secure a title or medal! But Suunto Vertical Blue is more than just a competition — it has a convivial atmosphere that makes it special. We have people who haven't trained for long and are diving to 30-50m, right up to the biggest names in the sport, who are setting national or world records at almost every event."
Freedive depth disciplines consist of three categories:
Constant Weight No Fins (CNF): The freediver descends and ascends without any assistance (only using arms and legs without fins).
Constant Weight with Fins (CWT): The freediver descends and ascends using fins/monofin and the use of arms.
Free Immersion (FIM): The freediver dives without the use of fins/monofin, but pulls a rope during descent and ascent.
Says Trubridge: "CNF and CWT are the two most popular disciplines. CWT gives the deepest performances, while CNF is seen as the purest expression of human aquatic potential. FIM is more of a relaxed discipline, but there are definitely some very serious practitioners there as well!"
He adds that the sport has moved away from 'sled-diving' — where freedivers use artificial means such as a weighted sled and balloons to descend and ascend. It is seen as a more dangerous fringe activity and is not a discipline at regular freediving events.
Comments Mika Holappa, Business Unit Director, Suunto Dive: "Suunto Vertical Blue is a really unique competition. Dean's Blue Hole is an amazing location and the freedivers are some of the most inpiring athletes around. We're very pleased to be supporting this event once again and wish everyone the best of luck."
Competitors have six official dives to challenge themselves and their rivals to obtain the coveted Suunto Vertical Blue Championship title. There are also significant prizes on offer — including a purse of almost $20,000 in cash, as well as a selection of Suunto D4i and D6i dive computers.
For daily updates, latest news and spectacular images, check out the Facebook fanpages of Suunto Diving and Vertical Blue.