What a weekend for Suunto Ambassador, Kilian Jornet. His victory, combined with his remarkable Vertical Race win on Saturday, leaves the Catalan athlete as the interim leader in the overall rankings with two races left to go in the Championship.
An elated Kilian said afterwards: "A gold medal in the star race is very stimulating. I won this race in 2011 and attaining this medal after four years means something special to me. The Individual Race is the most important race and that is why I am so happy to have won a second gold medal in these Championships."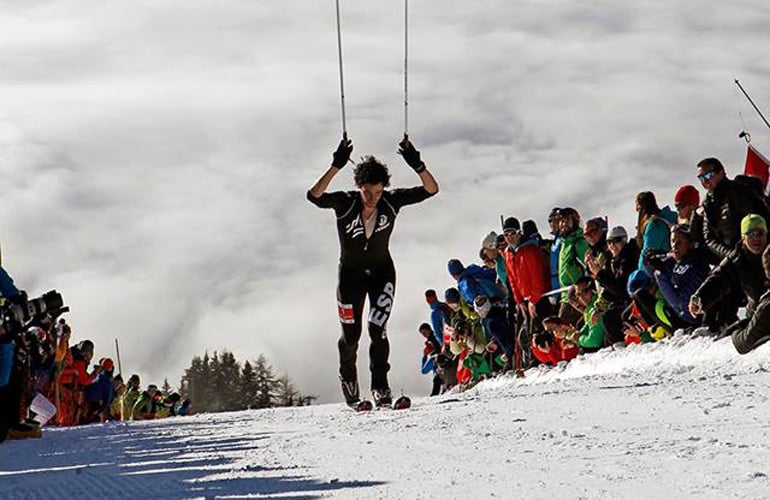 Kilian on his way to victory in the Vertical Race. © ISMF / Verbier 2015
Kilian still has two more shots of winning a medal when he participates in the Team Race with his friend and colleague Marc Pinsach on Wednesday, and the Relays to end the World Championship on Thursday.
Kilian added: "I am very pleased to have achieved the two victories. Now it's time to think about the Team race, which will surely be quite spectacular."

Emelie on the ascent in perfect conditions © ISMF / Verbier 2015
Jornet wasn't the only Suunto Ambassador tearing up the mountain on Sunday – Skyrunning World Champion, Emelie Forsberg competed in the ladies' Individual event, and managed to secure a 4th place finish.
She said: "I'm very happy with the results, especially after the individual race. I'm on my way back to shape after a long summer break. Also the ambiance and organization were perfect in Verbier. The crowds cheering us were so inspiring, I love all the things around races," she added.
For more race info go to: www.verbier2015.ch