With the new Suunto 9 Peak Pro and ActiveLook-powered smart sport glasses you can focus on what matters.
Suunto athlete and outdoor sports junky Gregor Strasser has been using ActiveLook-powered Julbo smart glasses with his Suunto for a few months, but is already liking what he's seeing. He's been testing them in the mountains above Salzburg in Austria and loves the way the most important performance data is always right there, displayed on a lens.
"I'm a technology freak and hoped they would make my everyday training easier," Gregor says. "Of course, you have to get used to the new field of view, but once everything is perfectly adjusted, you can hardly imagine it any other way."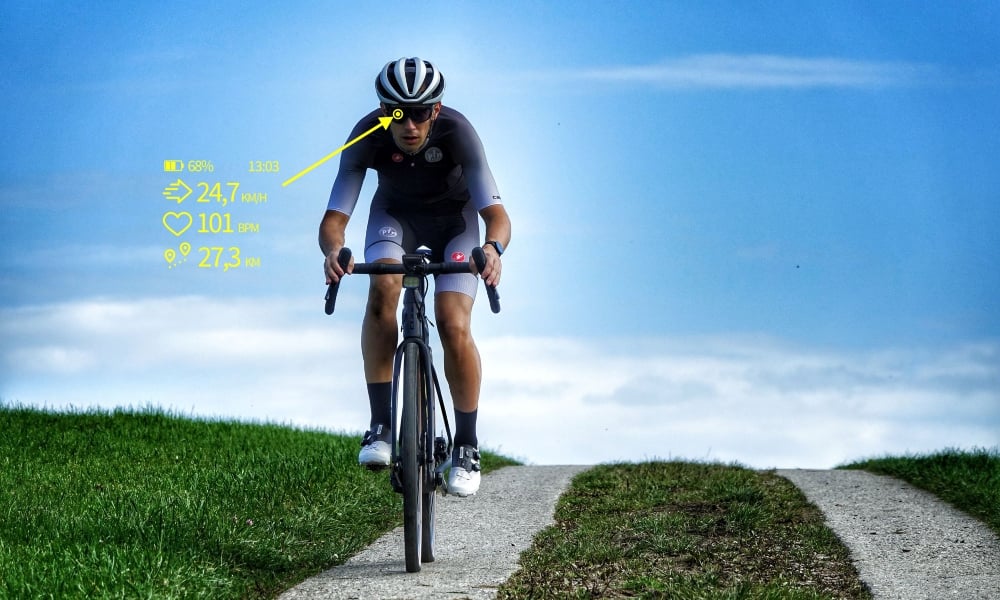 Focus on what matters
ActiveLook is a division of Microoled, the second largest micro OLED supplier in the world. ActiveLook produces an embedded head-up display technology that fits into sleek, lightweight frames and lenses. Marketing & partnerships director of ActiveLook, Xavier Bonjour believes smart glasses are going to revolutionize outdoor sports.
"When you have the data displayed in your field of vision, you can better manage your effort and no longer need to look at your watch anymore," he says. "We've tested our technology with athletes at the Copenhagen, Boston and Paris marathons. All the users beat their personal bests by two to five minutes."
All Suunto 9 and Suunto 5 watches are compatible
ActiveLook is a display technology used by various sport glass brands such as Engo, Julbo and Cosmo. And now this technology is compatible with the all the Suunto 9 and Suunto 5 watches, including the the new Suunto 9 Peak Pro. It gives Suunto watch owners their key data directly in their field of view, on the inside of their lenses.
"Thanks to the overhead display, you always have the most important training parameters in view," Gregor says. "Especially in urban areas with a lot of traffic or on rough trails in the mountains, it's great not to be distracted by having to look at my watch or bike computer. This increases safety during the training sessions because you always have everything in view and can fully concentrate. I have never been able to track my performance data in such detail and always stay up-to-date. The glasses give me completely new insights that I didn't have before."

How the technology works
ActiveLook display technology consists of the following components:
A high-precision micro-projector: the data is projected to the right eye, and the perceived position is between the upper center and upper left. It varies from user to user based on individual morphology, head size, and distance between pupils.
A low power display
Dialog based "Smart Wearable on Chip"
Custom lens coatings to maximize visual experience
Ambient light and gesture sensors
A battery with up to 12 hours power
A charge connection on the bridge
A high brightness, 304 x 256 pixel, yellow data display
Low power (1mW) thanks to a "memory pixel" that avoids the need for refresh scanning.
Smart sport glasses weigh between 30 and 40g
The miniaturized and invisible augmented reality technology displays essential performance data without obstructing the field of vision. A smart chip integrated into the eyewear projects data to a discrete near-eye display that "melts" into the optics. It gives access in real time to whatever data is monitored by athletes as they train or compete, such as distance, duration, speed, pace, power, or heartbeat.
Train smart and boost motivation
Activelook-powered smart glasses are the perfect gadget for activities when looking at a watch is difficult, such as mountain biking in technical terrain, running hard intervals, or cross-country skiing. The technology displays the essential workout data from the watch, such as heart rate, pace, power as well as turn-by-turn navigation information.
"When you have visual data right in front of you it can be very motivating," Xavier says. "Like your own personal coach."
Getting used to them
Xavier says it's hard to explain how they feel to wear. "It's a little like wearing a watch or a ring for the first time," he says. "The first time you put the glasses on it's a new experience , but once you start moving you forget about them and it becomes natural. When you look ahead, the display disappears - you intuitively learn where to look to see the data. And when you take them off again, you feel something is missing. Like misplacing your smartphone."
If possible, test them at a shop before you buy, Gregor advises. "Unfortunately, these glasses are not cheap and everything should feel good and fit perfectly."
How to use with Suunto

After turning on your ActiveLook glasses, simply open the SuuntoPlus ActiveLook sport app in your watch and start your activity. If you don't have ActiveLook sport app available in your watch yet, go to SuuntoPlus Store in Suunto app and select "Add to watch".
During your activity, the app will send data to the glasses (types of data available varies model to model). When using navigation with waypoints, notifications will be delivered ahead of the waypoint so you don't miss your turns.
Note: Make sure your Suunto 9 or Suunto 5 watch is updated to the latest software.
Discover ActiveLook-powered sport glasses
All images by Gregor Strasser