Get weather trends, storm alerts, and sun and moon phases straight from your wrist.
The weather is more than just a topic for small talk for outdoor people. It can directly impact our safety, or less dramatically, the awesomeness of an activity or adventure.
How many of you have ever been caught out by an April snowstorm when you were up in the mountains? Or how about running out of light before you made it to shelter or back to the road end? These can sometimes be alarming experiences. The good news is Suunto has solutions for these scenarios and more. Read on for some of our tools for weather intel.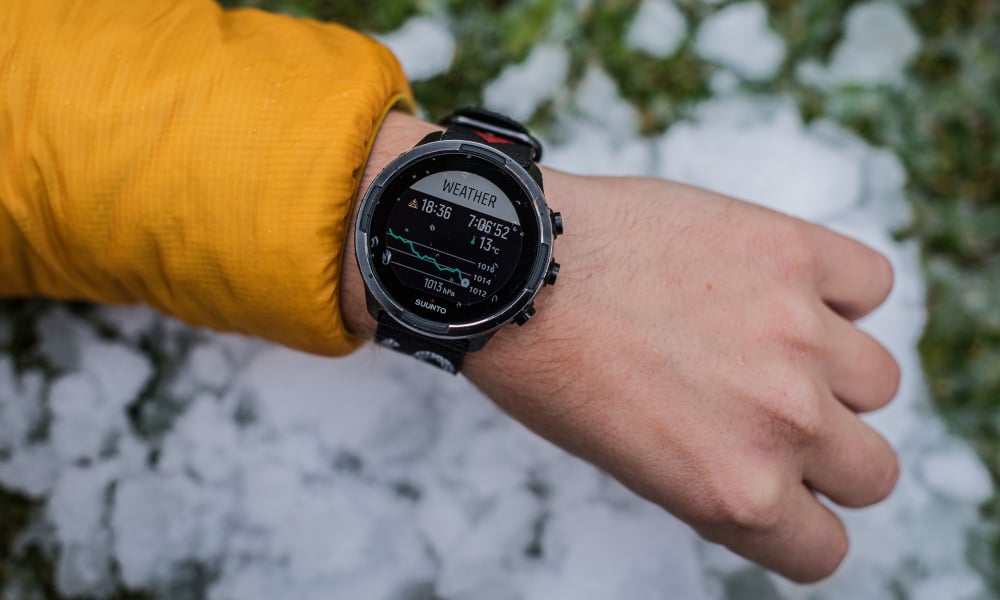 © wisthaler.com


SuuntoPlus Weather 
Whether you're out hiking, trekking, ultra running, climbing or mountain biking, it's wise to track the weather and environmental changes. That way there will be no unpleasant surprises. The Weather insights SuuntoPlus feature on Suunto 9 Baro helps you to do just this. It gives you a heads up on the conditions while you're out there.
A combination of functions – storm alarms, temperature readings, barometric trends, sun and moon phases and more – give you the intel you need to make smart and safe decisions in the outdoors. Here's an overview of the weather insights you'll get:
Sunrise / Sunset
The upcoming sunrise or sunset, depending on which is next. This tells you when to pack up and get going, for example, or how much daylight you have left to finish your activity for the day.
Temperature
Take your watch off to avoid your body heat skewing the results, and place it on something to get an accurate temperature reading.
To get a water temperature reading, place it underwater (below 10 cm/ 4 inches). After you remove the watch the temperature is shown for 30 seconds, and is indicated with a separate temperature icon.
NOTE: Measuring the water temperature will affect the ascent/descent values as these are pressure based.
Estimated time of arrival (ETA)
If the estimated time of arrival goes past sunset, it will be shown in red. This gives you heads up on how you are doing for time, whether you need to speed up or have enough slack to cruise.
Barometric trend and storm alarm
The barometric trend is shown on the bottom of the screen, with the current barometric value. The Suunto storm alarm is automatically shown if the pressure drops 4 hPa (0.12 inHg) or more during a three hour period.
Oxygen level
If you are above 2000 m (6 561 ft) your watch will give you a reading on the oxygen % compared to sea level.
Read how to use Weather on your Suunto 9 Baro here.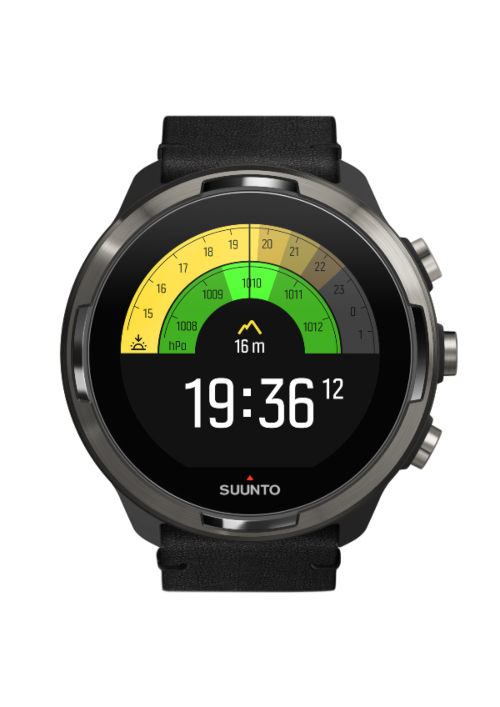 New outdoor watch face
The new Outdoor watch face on Suunto 9 and Suunto 5 gives you a heads up at a glance. No need to press any buttons; basic info is displayed right on the face in bright colours, including – depending on your watch – sunset and sunrise times, barometric trend, and more. Read more about it here.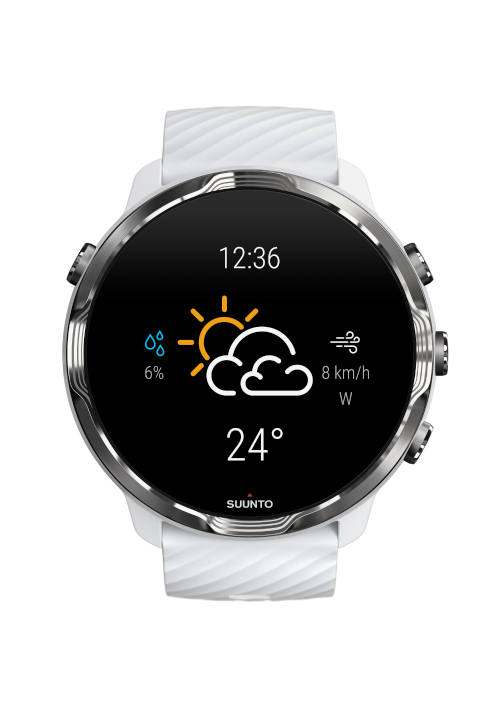 MyRadar
Get sophisticated weather forecasts on your Suunto 7 with MyRadar, a free Wear OS app. MyRadar has two components; conventional weather forecasting and also an impressive high definition radar display of your location with time lapse shots of the weather fronts moving around your location, as these two pictures illustrate.
The weather forecasting offers hour by hour updates, lightning and weather alerts, precipitation predictions, and conventional daily and hourly forecasting. The high definition view and the accuracy of MyRadar has made it the go to weather app for many outdoors people.
Get the app here.

Klimat
This cool little service automatically adds the weather conditions from the beginning of your activity to your training log. No need to install anything on your phone; just sign up online and you're in business. It allows you to look back and see when you braved the rain, or were out in that last horrendous storm.
You can choose the data and style, including emoji preferences, set the format and label it according to your purpose or aim. For an extra $5 a year, you get everything the free membership offers, plus some useful additional features such as air quality data, location info, and the removal of branding.
Start using Klimat here.

Sunrise and sunset alarms
This helpful feature gives you alerts when sunrise or sunset is approaching Photographers and fishermen, for example, won't miss the golden hour again! For Hikers, climbers and trekkers, an alarm will tell you when the sun is rising so you know it's time to pack up and get going. Conversely, an alarm lets you know when sunset is coming, telling you how much daylight you have to play with before finding shelter.
The alarms in your Suunto 9 and Suunto 5 are adaptive alarms based on your location. You decide when the alarm goes off, depending on how much in advance you want to be alerted before the sun rises or sets.
Set Sunset/sunrise alarms in Settings -> Alarms. Learn more about alarms on Suunto 9 here and alarms on Suunto 5 here.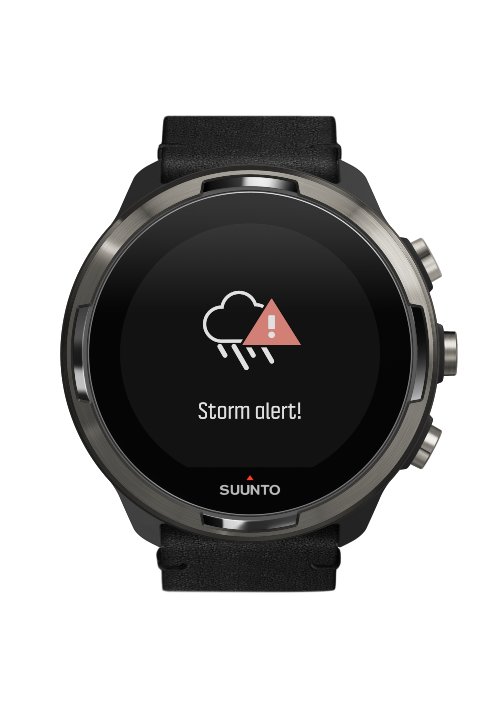 Storm alarm
A significant drop in barometric pressure typically means a storm is coming and you seek shelter. When the storm alarm is active, your Suunto 9 Baro sounds an alarm and displays a storm symbol when the pressure drops 4 hPa (0.12 inHg) or more during a three hour period.
Activate Storm alarm in Settings -> Alarms -> Storm alarm. Learn more about storm alarm on Suunto 9 Baro here. 
When your storm alarm sounds, pressing any button dismisses the alarm. If no button is pressed, the alarm notification lasts for one minute. The storm symbol remains on the display until the weather conditions stabilize.
Moon phases
In addition to sunrise and sunset times, your watch can track moon phases. Based on the date in your watch, this feature is particularly useful if you plan to be moving at night; it will indicate how much moon light you can count on for visibility. The moon phase is available as a view on the Outdoor watch face of Suunto 9 and Suunto 5 mentioned above. Tap on the screen to change the lower row until you see the moon icon and percentage.
Outdoor insights
Suunto 9 Baro constantly measures absolute air pressure using its built in pressure sensor. This sensor plays a key role in determining barometric trends, storm alarms, temperature and more. Based on this measurement and your altitude reference value, it calculates altitude, or air pressure.
Swipe up or press the lower button to view the Outdoor insights including current altitude and barometric pressure, the current temperature and the altimeter and barometer trend graphs. To see barometric trends on a Suunto 7, you can use the Baro Trends Wear OS app.