Some people choose to read boring product news – this is for those who choose adventure.
Made in Finland with 100% renewable energy, the large-screen Suunto Vertical GPS sport watch – with detailed offline maps and advanced weather forecasting – is designed for outdoor expeditions and committed training. The market leading battery life is supported by solar charging in the solar titanium variants.
VANTAA (May 9, 2023). Some people choose the beaten path while adventurers prefer going boldly where few have gone before and need a tool they can trust to guide them there. With the highest standard of toughness, offline maps, the best battery life and accuracy in the market boosted by solar charging, the Suunto Vertical is a reliable guide for exploring the highest peaks, the steepest valleys and everywhere in between.
"As its name states, the Suunto Vertical is a watch for those aiming to keep moving upwards and onwards, always improving their potential in the outdoors. Its robustness, its size – plus the free online maps wherever you are in the world – tell you everything you need to know; this is a watch for people who live and breathe adventure."
Petri Lehtovirta, Suunto's Head of Product
 
 
Suunto Vertical comes with detailed outdoor offline maps that are globally free of charge. The new maps build on Suunto's already advanced route navigation in Suunto app. Discovering and creating routes is easy with Suunto app's heatmaps, 3D maps and road surface type layers and syncing them into watch effortless. Now, users have offline maps to consult no matter where they are, offering them greater safety and confidence.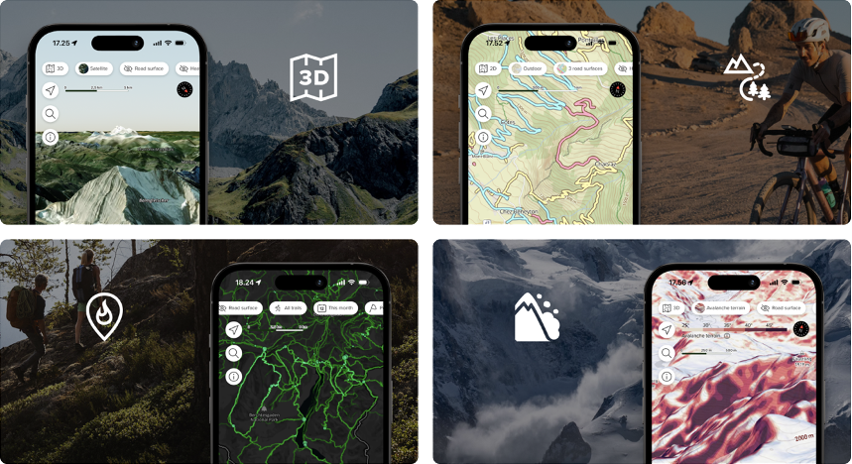 Plan routes with 3D maps, road surface type layers, heatmaps or avalance terrain maps.
Suunto Vertical packs a battery life that's ahead of its competitors: 85 hours of continuous exercise tracking on the most accurate location tracking with the titanium solar variant and 60 hours with the stainless steel variant. Tour mode, which still provides accurate tracking, offers 500 hours of continuous exercise tracking. In daily mode, Suunto Vertical accompanies you for up to 60 days – in the titanium solar variant even up to one year without charging.
 
The Suunto Vertical can connect with up to five satellite systems (GPS, GLONASS, GALILEO, BEIDOU, QZSS)and up to 32 individual satellites simultaneously.
 
"Suunto Vertical doesn't sacrifice accuracy for longer battery life. It communicates with all five major satellite systems via Dual Frequency –
an express lane for a faster, reliable signal. This is important, especially when running in the mountains and valleys or in a city between tall buildings."
Petri Lehtovirta, Suunto's Head of Product
"Map helps you to know what's around you. It's especially important during winter when you don't have a trail to follow but everything is white. You need to make sure there is no cliff nearby."
Phillip Reiter, Alpinist and Suunto ambassador
Suunto Vertical is made in Finland in Suunto's own factory with 100% renewable energy. With the new launch Suunto continues its work on sustainability and transparency. Suunto Vertical has its carbon footprint calculated and verified, and fully compensated with Verified Carbon Units.1 During its whole lifespan the titanium solar variant creates only 6.59 kg of CO2e – the equivalent of driving a combustion engine car for 39 km.2
Combining functional Finnish design with the highest quality materials, such as sapphire glass, stainless steel and titanium in selected models, Suunto Vertical offers military-tested durability validated by world-class athletes.
"Designed with great care and precision, Suunto Vertical's design and details pay homage to the ultimate instrument, Suunto's original compass. But when designing Suunto Vertical, we have also reimagined our design language."
Mikko Ahlström, Suunto's Head of Design 
"The entire case construction is extremely optimized for the best possible performance, and the clearly articulated buttons are easy
to find and press, even with gloves on."
 
Suunto Vertical is a premium adventure watch but this doesn't mean it wouldn't serve as a trustworthy companion for everyday exercise and training for races or adventures. The big screen makes it easy to follow metrics while moving. All the sport modes are equipped with sport specific data screens and there are more than 95 different sport modes to choose from everything from trail running, gravel cycling through to swimming. Those who want even more can create their own custom sport modes in Suunto app or visit the SuuntoPlus Store for additional sport apps and guides.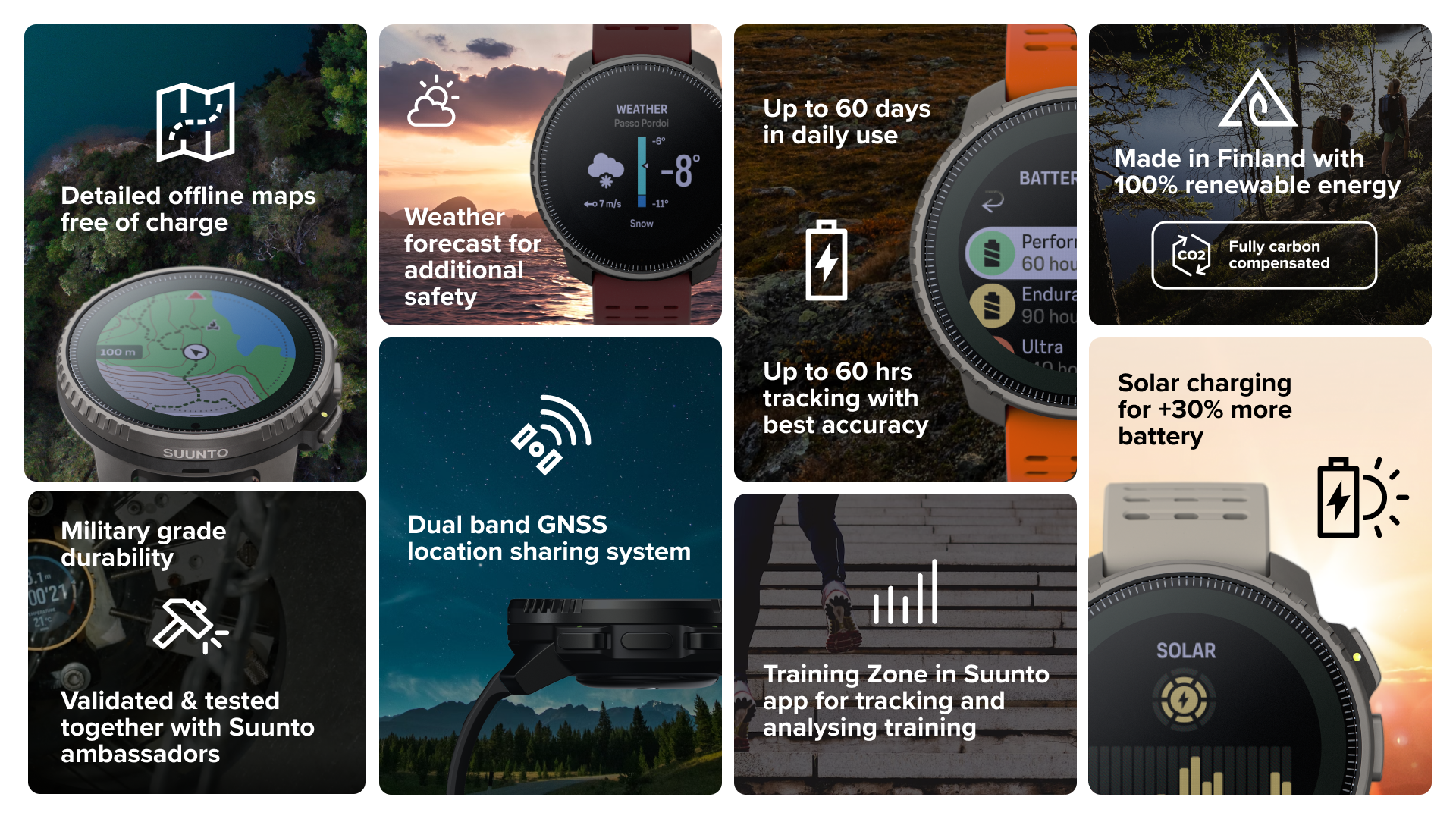 Suunto Vertical Key features: 
Free of charge outdoor offline maps on watch
Plan routes in Suunto app with sport-specific heatmaps and road surface type information and sync into watch
The best battery out there: Up to 85 hours with best accuracy, 500 hours in Tour mode, and 60 days in daily use
Solar charging in the titanium solar variants provides at least 30% more power on sunny days
Market leading accuracy provided by dual band GNSS system
Weather forecast, compass and barometer-based altitude readings and storm alarms help you to stay aware of your surroundings
Robust adventure watch with extruded buttons and large screen size of 1,4"
Made with sapphire glass, stainless steel, and four models with grade 5 titanium
Weight: the titanium model 74 g and steel model 86 g
Made and designed in Finland with 100% renewable energy
Fully carbon compensated in a Tree-Nation reforestation project with Verified Carbon Units (validated by an international verification program ensuring the quality of carbon offsetting projects)1
Tested to the highest military standard of toughness (MIL-STD-810H)
Daily activity tracking: steps, heart rate, sleep, calories, stress and more
Over the air software updates
Waterproof down to -100 m

97 sport modes to choose from and the ability to create custom modes
 
 
Combined with Suunto app and a huge array of partner services, the Suunto Vertical gives users a wide selection of customization options and advanced training tools. New to Suunto app is Training zone where users can follow their training load, progress, recovery and sleep analysis and benefit from training insights from AI-based Suunto coach. Partner services like Strava, Training Peaks and Komoot connect you to your community and inspires competition and adventure.
 
The Suunto Vertical will be available in eight different versions, four models built with stainless steel (599€) and four models built with titanium with solar charging (799€). The watch will be available in selected markets for pre-orders on May 9 and for purchase on May 16 2023.