How to set depth notifications (freedive only)
You can define a surface notification and five independent depth notifications for freediving, for example, to alert you to start free falling or mouth filling. Each notification has a defined depth and can be turned on or off.
In Free mode go to Main menu » Dive settings » NOTIFICATIONS.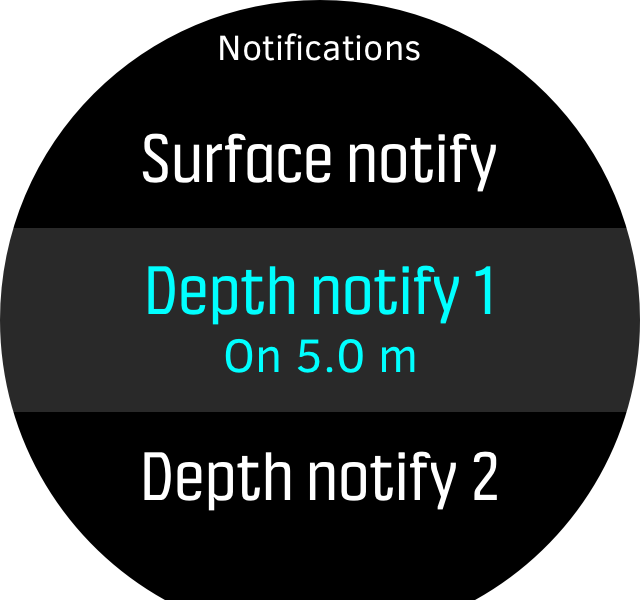 With the upper or lower button select Surface notify or Depth notify 1, 2, 3, 4, or 5.
The notifications are off by default. To define depth notifications:
Turn the notifications on with the upper button.

Use the middle button to switch among the fields horizontally to select the alarm type and the depth of the notification. You can select sound, vibration or both for the notification.

Move to the rightmost field with the middle button to set the depth in meters.
Note: The depth notifications can be set between 3 - 99 m. By default
Depth notify 1 is set to 3.0 m
Depth notify 2 is set to 5.0 m
Depth notify 3 is set to 10.0 m
Depth notify 4 is set to 15.0 m
Depth notify 5 is set to 20.0 m showing you the max value of the depth gauge.
When you reach the notification depth, the alarm you selected (sound, vibration or both) will alert you.