Suunto is rolling out its latest dive planner, Suunto DM5. The Suunto DM5 (Windows/Mac compatible) allows you to download your dive logs for advanced analysis and create dive plans.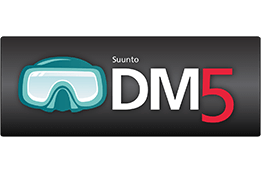 DM5 offers a quick and easy way to plan your profile and gases. You can also plan a series of dives. Transfer planned gases and settings to your compatible dive computer with a single click.
For the upcoming Suunto EON Steel, the fully customizable dive computer with a bright color screen, DM5 provides display customization and firmware updates.
DM5 supports the following Suunto dive computers: D4, D6, D9, D4i, D4i Novo, D6i, D9tx, DX, Zoop, Vyper, Vytec, Vytec DS, Cobra, Vyper2, Vyper Air, Cobra2, Cobra3, HelO2, EON Steel. Once installed, DM5 automatically recognizes your Suunto dive computer.
For further information about DM5, please click here.
Instructions for new users and current DM4 users:
Download Suunto DM5 for free here:
FOR WINDOWS
FOR MAC
Current DM4 users will automatically receive a notification to update to DM5.