Software updates enhance the functionality of the Suunto EON Steel through new features and improvements. We strongly encourage you to install updates as soon as they are available.
To update your Suunto EON Steel:
1. Install DM5 (if you have not done so already) and open it. If the DM5 offers you an update, please do the update before proceeding.
2. Connect your EON Steel to your computer with the supplied USB cable.
3. When update is available, an update button appears on the DM5 devices page. If you are using a laptop, connect it to your charger before proceeding.
4. Click the update button and wait for the installation to complete. This may take 10 minutes or more.
See also the video how to do an update.


SUUNTO EON STEEL SOFTWARE UPDATE 1.1, JUNE 2015
The software update 1.1 introduces gas time, rebreather (CCR) support and real-time gas consumption. The update also brings compass bearing lock and further improvements requested by divers.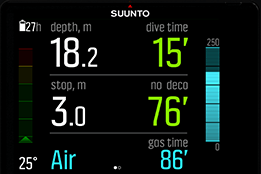 Gas time
In addition to tank pressure, the new gas time reading allows you to estimate how long you can continue diving with your current tank and breathing rate.
Note that gas time is highly dependent on your current depth. The deeper you are, the less gas time you have.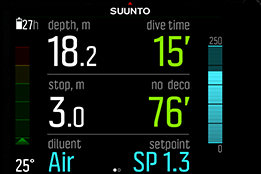 Rebreather mode
Closed-circuit rebreather (CCR) mode allows you to use Suunto EON Steel as a backup dive computer on rebreather dives. The new CCR mode features configurable setpoints, manual or automatic setpoint switching, diluent and bailout gases, as well as CCR-specific warnings.
Combined with the Suunto Fused™ RGBM, Suunto EON Steel CCR features give you extra confidence on your rebreather dives.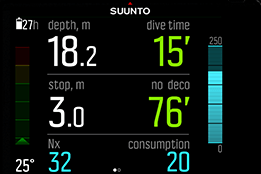 Gas consumption
A first for dive computers, Suunto EON Steel calculates real-time gas consumption (requires Suunto Tank POD). Gas consumption – also known as surface air consumption or SAC rate – is measured in liters per minute (cubic feet per minute). It is equal to the amount of air you would use in one minute on the surface.
As you improve your diving skills, you should see your comfort level reflected in your gas consumption rate – the more relaxed you are, the less gas you consume.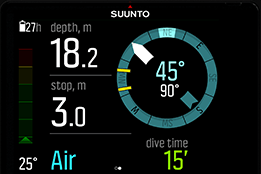 Compass bearing lock
The new bearing lock feature allows you to use the digital compass in Suunto EON Steel for more advanced underwater navigation. The bearing lock helps you orientate yourself underwater and ensure you maintain your direction of travel.
For example, you can set a bearing lock for the direction to the reef before leaving the boat, for mapping a cave or a wreck, as well as for following set patterns when shore diving. The bearing lock can be reset at any time. Each bearing lock is recorded in your dive log.
For full product information, please check out the user guide. Please register in the Suunto DM5 to keep up to date with latest product news.