Training a lot and want to power up? Then try cooking up this recipe for high-energy almond and banana pancakes from skyrunning champion Emelie Forsberg.

Eating healthy, nutritious food is essential for recovery after intense training. But it need not be boring! Suunto ambassador Emelie Forsberg spends her days running in the mountains and then making and baking delicious, energy rich food to help her recover.
The morning after a big race, for example, the world and European skyrunning champion likes to enjoy a big plate of healthy pancakes.
"After an ultra, when your body is drained and you've eaten a lot of chocolate or gels, I like to eat fresh and healthy, at least on the first and second day," Emelie says. "But pancakes are my standard breakfast the morning after a race, and yes, I think pancakes can be healthy. Especially my banana pancakes!"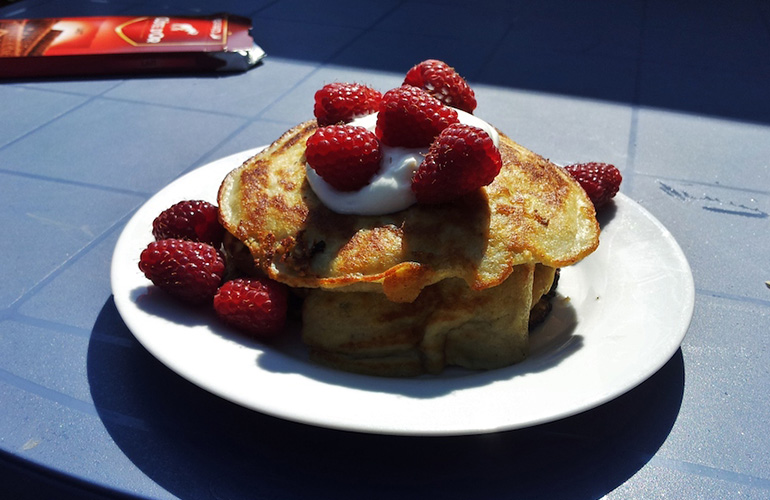 Who could say no to these? © Emelie Forsberg
Emelie Forsberg's power pancake recipe!
Ingredients:
3 organic bananas
3 tbsp coconut oil
3 eggs
1 tbsp honey or 1 tbsp bee pollen ( If you don't have pollen, it doesn't matter, I just like the taste of it)
200 ml oat flour
100 ml almond flour
100 - 200 ml almond/rice/soy milk
1 tbsp honey + 1 tbsp pollen
1/2 tsp salt
1/2 tbsp cinnamon and cardamom if you like that
1 tsp baking soda
Method:
Grind the oat and almonds to flour. Or, if you prefer, use bought oat and almond flour. Add all the dry ingredients. Mash the bananas and blend with the eggs, oil and the honey. Add the milk (or if you want the pancakes more solid you skip the milk).
Emelie's favorite toppings:
1. Fresh strawberries, rasberries, blueberries or cloudberries
2. Bananas and honey
3. Good cheeses
4. Whipped cream with jam or fruit