Inspiring adventure film "Electric Greg" proves an adventurous life can also be sustainable.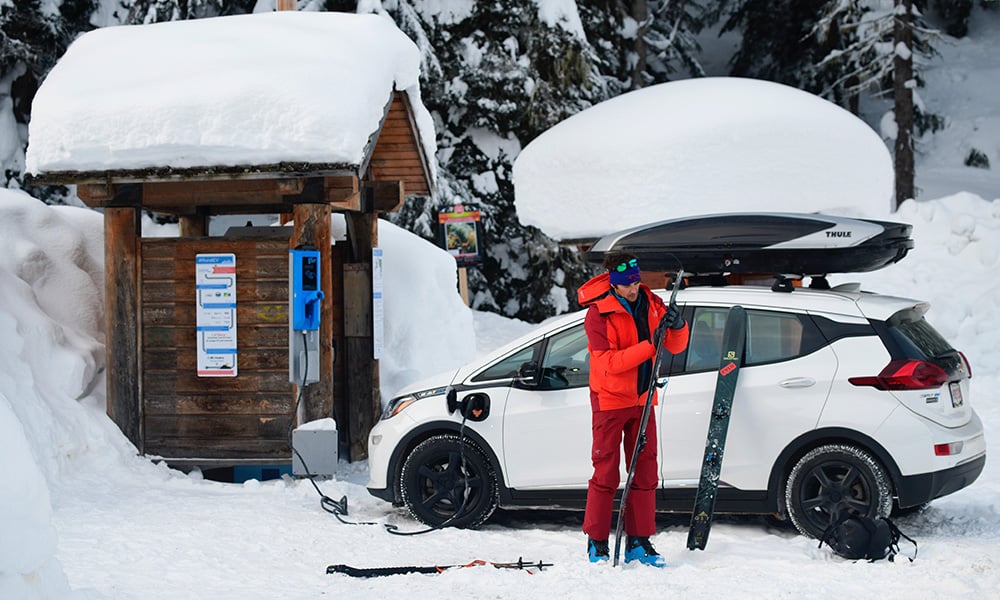 Greg charges his electric car on route to the mountains. © Greg Hill


Record-breaking ski mountaineer and Suunto ambassador Greg Hill is no stranger to pushing the boundaries. In 2010, he climbed two million feet (610,000 m) in a year, and in March, 2014, he skied 100,000 ft vertical. This time around he has climbed 100 summits without using any fossil fuel, demonstrating that one can be a mountain mad adventurer and also care for the planet.
"I really care about the environment and I really want to walk the talk," Greg says. "We have to be conscious about our impacts on Earth."
"Electric Greg" premiered at the Banff Mountain Film Festival this year. Watch below and see Greg and his adventure buddies test the limits of an electric car designed for the city in rugged backcountry.
Electric Greg premiers online at 9 p.m. CET on December 3rd. Stay tuned and join Greg and the film's director Anthony Bonello for a live chat!


What inspired the project?
It was a long time coming. Forever I've recognised the hypocrisy of being an outdoorsy person and yet the vehicles we use for our means of access aren't great for it. It's been a struggle in the back of my mind for a long time.
What changed?
When I finished my two million feet project I knew my carbon footprint had been huge. I was driving my big truck all over and had a trip to South America. So in April 2012 I decided to cycle to all my adventures and not use any gas that month. It was a fun month. I climbed 11 summits and had an incredible journey. But it was pretty challenging because nobody joined me. It's not something anyone is going to jump on board with because it's just too hard. It was a great month, but I wasn't able to inspire anybody.
Then I broke myself in an avalanche in 2014. I spent hours, days and months sitting on the couch recovering and reflecting and thinking about what I could do to make a difference. Finally in 2016 electric cars were coming on to the market. The technology was finally there. I sold my truck in 2016, and gave up heliskiing. Finally we had the technology to get us to the trailhead and allow us to be a little bit better. It took the big crash in the avalanche to really stop and look at my kids and realise that if I had any influence I should try to influence a more positive change.
Is electric adventure the future?
I love the fact that I've been an explorer of first ascents and traverses and stuff, pushing human limits, but I love the fact that I'm also an explorer of this whole new way of adventuring. I'm pushing that and hopefully it becomes the norm. I'm not perfect, but humans are great at evolving so lets put our minds to doing that. There is a great emotional reward. We all have to stand strong and battle.
The technology is changing so rapidly. The ability to recycle batteries is getting better and better. It's the future. In March next year I'm getting an electric snowmobile. This is my third winter with my little electric car and I definitely can't wait to get to more trail heads. Your circle of access is much smaller if you are only accessing trail heads off the side of the road. A snowmobile gets you deeper, and keeps the exploration fun. My circle of adventure will widen. I'm ready to adventure deeper!
Tell me about your electric city car?
It has a range of about 150 km. I've driven it down to Jackson Hole, which is 2000 plus km, and down to California. It's done close to 100,00 km now. When I go on trips in it, I definitely have a little bit of a grin, they call it the "electric smile". It's offered a way to help me be better, to reduce my carbon footprint.
What has been most challenging about this project?
My family was worried about what it was going to change for them. Not flying for vacations and so on. I do my best to make it less hard on them. They have had to adopt all the challenges that come with the electric challenge. Some of my sponsors were initially skeptical, too. There is so much fear around change.
I have received offers to go and explore the world, to ski and summit peaks in remote places, there has definitely been lots of trips I've had to say no to. As good as I try to be I do sometimes fly. I went to a Utah athletes summit, but once I landed there I rented an electric car. There are always options to be a little better.
Lead images: © Bruno Long
Read other articles:
7 tips for running in the dark
7 great things about running in winter