Got a new Suunto 3 Fitness? Here's what you'll need to know to get started smoothly and effectively with your new watch.
Welcome to the world of Suunto. In this article we will guide you through some of the key steps in getting started with your Suunto 3 Fitness watch. Get ready to meet your better self! 
Once you have taken your watch out of its box, connect it to a computer with its USB cable to wake it up. The cable is also used to charge your watch. In daily use with 24/7 activity tracking the battery will last up to five days. 
You will be guided through the initial settings on the watch and the app. 
DOWNLOAD AND INSTALL SUUNTO APP 
An essential part of Suunto 3 Fitness is Suunto app. Suunto app provides a log of your activities and rest, and connected GPS for tracking speed, distance and your route, a way to communicate with your friends and a place to learn more about using your watch. 
Suunto app for iOS is available at App Store and for Android at Google Play 
Once you have Suunto app installed on your phone, open the app and pair your watch with the app. The app will guide you through the pairing process and help you get started. 
Learn more about pairing with Suunto app for Android or Suunto app for iOS 
USE SUUNTOLINK TO UPDATE YOUR WATCH 
The software of your Suunto 3 Fitness is updateable. You will be informed about possible software updates through Suunto app and suunto.com. If an update is available you will need to install a small piece of software called SuuntoLink on your computer. To update open SuuntoLink, connect your Suunto 3 Fitness watch to your computer with its USB cable and SuuntoLink will prompt for an update – if one is available. 
Read more about software updates 
MAINTAIN A BALANCE BETWEEN ACTIVITY AND REST 
Your watch keeps track of your overall level of activity throughout the day. This is an important factor whether you just aim to be fit and healthy or you are training for an upcoming competition. It is good to be active, but when training hard, you need to have proper rest days with low activity.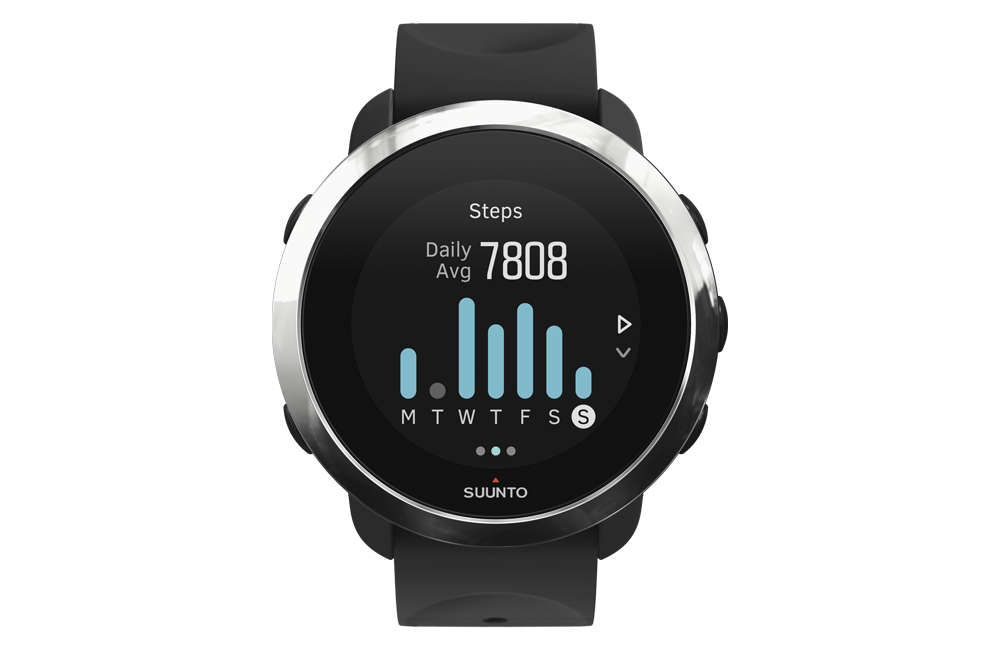 The watch automatically counts your daily steps and calories, and easy-to-follow summaries offer a view of your overall activity, helping you balance activity and rest. Wear it at night to also track your sleep. In the sleep summary you'll see how long and how well you slept. 
Additionally, the watch measures your stress and recovery throughout the day to help you ensure you have enough in the tank to make it through the day. 
Read more about activity and sleep tracking
WEARING YOUR SUUNTO 3 FITNESS 
Suunto 3 Fitness is water resistant to 30 meters and ready for all your adventures. Go swim with it, don't worry about a shower or a spa, it is up to the challenge. It can also operate in temperatures down to -20°C (-5 F°). 
Wrist-based (optical) heart-rate measurement is a convenient way to track your heart rate and an alternative to the traditional chest-strap HR measurement. It also enables Suunto 3 Fitness' 24/7 activity tracking and sleep tracking. 
Wrist-based heart rate is at its best in activities that enable the watch to consistently read HR data from user's arm, i.e. when blood flow is steady, and when the watch itself is constantly in touch with skin. For optimal performance of its wrist heart rate sensor, you may need to wear the watch higher on your arm than where watches are normally worn. The sensor reads blood flow through tissue. The more tissue it can read, the better. 
And should you engage in activities where you cannot have your skin exposed, like cross-country skiing in cold weather, you can wear your watch on top of your sleeve and use a heart rate belt and still see your HR on the watch screens. This is also useful if you ride your bike and wish to mount your watch on the handlebar with a Bike Mount.
Read more about optical heart rate measurement
TRACKING YOUR TRAINING SESSION 
In addition to daily activity tracking, you can use your watch to record your training sessions or other activities to get detailed feedback and follow your progress. Scroll up to the exercise icon and select your preferred sport mode. 
Your watch comes with a wide range of pre-defined sport modes and each one has a unique set of displays and views. The sport modes you have used recently will be shown on top of the list. 
Your Suunto 3 Fitness automatically generates a 7-day training plan to help guide you to improve your fitness. The training plan adapts to your personal needs based on your profile, recorded exercises and fitness level. 
Read more about the Adaptive training guidance  
CALIBRATING YOUR WATCH FOR SPEED AND DISTANCE 
Suunto 3 Fitness is able to record speed and distance when running and walking based on your wrist movement, but this must be calibrated to your personal stride length and movement. To calibrate, connect your phone to Suunto app (see above) and allow location services. The wrist-based speed and distance are automatically calibrated whenever you use connected GPS. 
USING YOUR PHONE'S GPS CONNECTION 
When your watch is paired with Suunto app and you have allowed the location services on the app you can use your mobile phone's GPS connection for more accurate speed and distance. With connected GPS you also get a track from your exercise that you can view on a map in the Suunto app. 
Please note that connected GPS will also calibrate your watch to your personal stride length and movement to show your running and walking speed also when not using the GPS connection. 
Learn more about Connected GPS  
For product guidance and support, please go to suunto.com/support