Suunto Wear app on your watch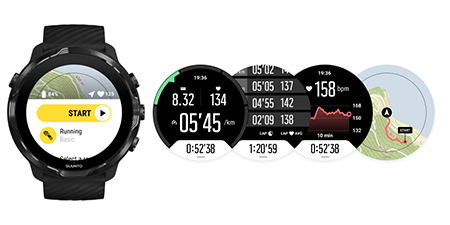 Suunto 7 comes with Suunto Wear app – your sports and adventure companion on your watch. Suunto Wear app has over 70 sport modes to track all your sports and free Suunto maps and heatmaps for exploring the outdoors – even when you're offline.
With Suunto Wear app on your watch, you can:
Record all your exercises – running, swimming, cycling, hiking, yoga – you choose
Follow your exercises with stats tailored to your sport
Get accurate and convenient sports measurements with GPS, barometer and wrist heart rate
Track your training, daily activity, sleep and body resources to help you maintain a good balance between being active and recovering enough
Enjoy easy access to maps during your exercise and see your track on the map
Navigate with routes and explore new places with heatmaps
Download Suunto offline maps to your watch and use maps without an Internet connection
Have easy access to your exercise diary with your watch
Control your exercise with buttons when you're wearing gloves or underwater
Get started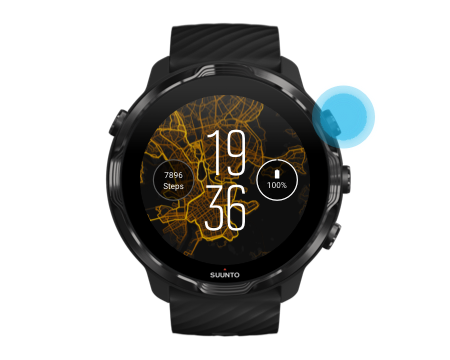 Suunto Wear app is designed for sports and outdoor use. You can use the buttons instead of the touch screen when needed. If you're wearing gloves or underwater, you can use the three buttons on the right to navigate Suunto Wear app, track your exercise and zoom in on the map.
Press the top right button to open Suunto Wear app.

The first time you open the app, follow the on-screen instructions to set up your personal profile to get accurate and personalized measurements during exercise. Use touch or buttons.


Scroll up and down: use the top right and bottom right buttons or swipe up and down
Select: press the middle button or tap
Go back: swipe right

Use Suunto Wear app to: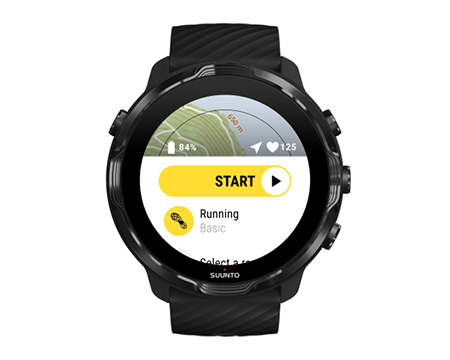 NOTE:
To edit your profile information later, open Suunto Wear app, swipe up and go to General options.