Suunto maps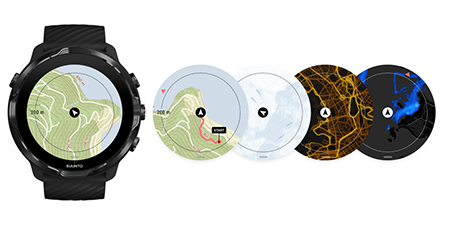 Suunto Wear app has free outdoor maps and 15 sport-specific heatmaps to explore – even when you are offline. Optimized for the outdoors, Suunto maps highlight altitude differences with accurate contour lines and show popular cycling and skiing tracks in addition to basic trails. Heatmaps visualize where others have trained so that you can follow the most popular routes.
With Suunto maps, you can:
See your location and direction
Explore your surroundings with outdoor maps
Navigate with routes and explore new places with heatmaps
Have easy access to maps during your exercise
See your track on the map during your exercise
Download custom offline maps on your watch and use maps without an internet connection
Get local offline maps downloaded to your watch automatically when connected to Wifi while charging
Get started
Map gestures
Map view
Map styles
Heatmaps
Offline maps
Can't see the map?
Exercise with maps
Route navigation
Get started
To use Suunto maps, you need to be connected to the Internet or have offline maps downloaded to your watch.
Press the top right button to open Suunto Wear app.
Press the top right button or swipe down to view the map.
Be patient, activating the map can take a few seconds.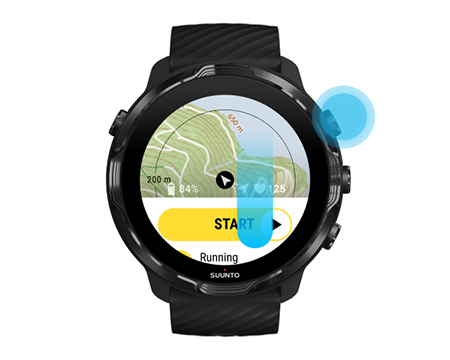 Browse the map to explore your surroundings.
To go back to start, keep the bottom right button pressed or swipe up from the bottom of the screen to close the map.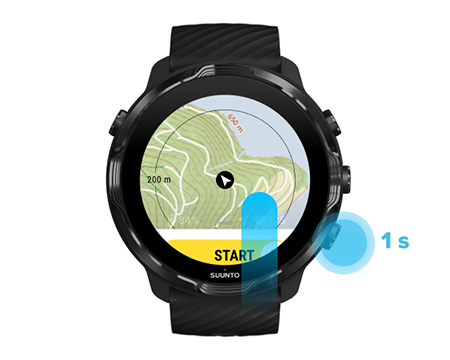 To exit Suunto Wear app, press the Power button or swipe right.
Map gestures
Zoom in and out
Use top and bottom right buttons.
Pan the map
Touch and drag the map.
Center the map
When the map is panned, tap the map.
NOTE:
During exercise, the map will automatically center in a couple of seconds after you start moving.
Map view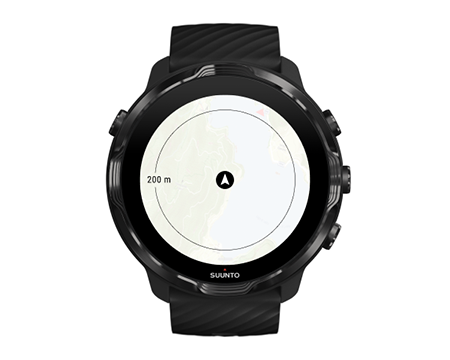 Location
The black circle indicates your current position on the map. The circle is gray if the watch does not have accurate current location.
Heading arrow
The heading arrow inside the location indicator displays the direction you are headed.
Map scale
The numeric value at the bottom of the map screen displays distance from your current location to places around you. The distance is measured from the center of the screen to the thin circle on the outer rim (radius).
Map styles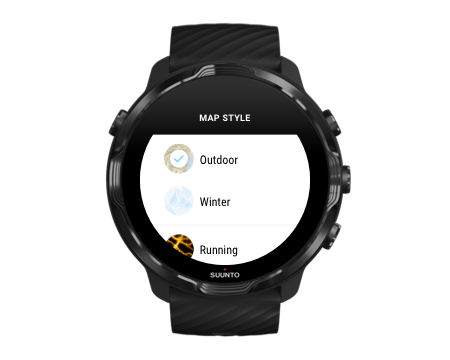 Suunto Wear app has several map styles to choose from – an outdoor map, a winter map and 15 types of heatmaps for different sports like running, trail running, cycling and swimming. By default, the map view displays the Suunto outdoor map.
Heatmaps
Heatmaps show the most popular tracks explored by the Suunto community around the world, based on millions of exercises. Discover new places to train in your own neighborhood or find out where the locals train when you are somewhere new. You can also explore heatmaps directly on Suunto mobile app.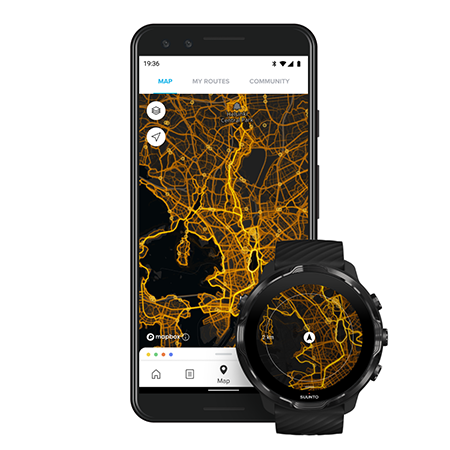 Suunto Wear app has heatmaps for:
running
trail running
cycling
mountain biking
all trails
all walking
mountaineering
swimming
surf & beach
all paddling
cross-country skiing
downhill
ski touring
roller skiing / skating
golf
NOTE:
Heatmaps are created based on exercises that are shared publicly.
Popular starting points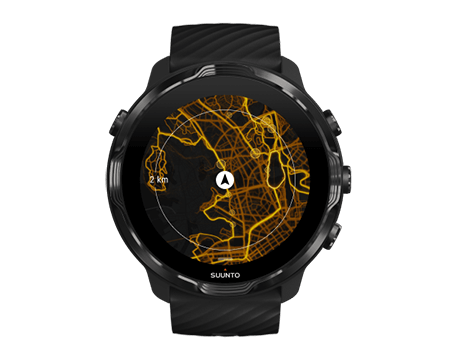 When heading to a new place or route, it's often hard to figure out where to start. Check out popular starting points in Suunto Wear app or Suunto mobile app. The popular starting points are visible on the heatmap as small dots.
Offline maps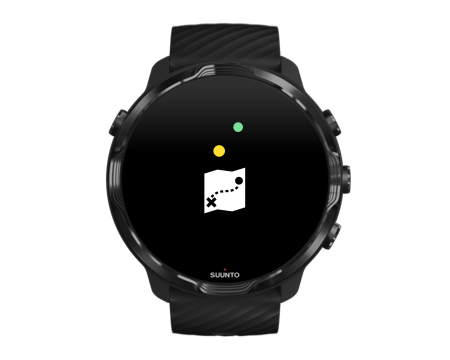 With Suunto Wear app you can have Suunto maps downloaded on your watch, leave your phone behind and use maps without an Internet connection. Suunto Wear app downloads and updates local offline maps with heatmaps for you automatically when your watch is charging and connected to Wifi. You can also create custom offline maps for your travels and adventures away from home.
With offline maps you can:
use Suunto maps and heatmaps without a phone or an Internet connection
enjoy a faster maps browsing experience
avoid roaming and data costs
NOTE:
All heatmap styles are included in offline map downloads.
Download a custom offline map
Get offline maps for routes
Connect to Wifi
Get local offline maps automatically
Local offline maps and heatmaps are updated and downloaded automatically from an area around when your watch is charging and connected to Wifi based on your last known location. The downloaded map area varies from 35 km × 35 km to 50 km × 50 km (from 22 mi × 22 mi to 31 mi × 31 mi) depending on where you are located.
You will get a notification on your watch when the map download is complete.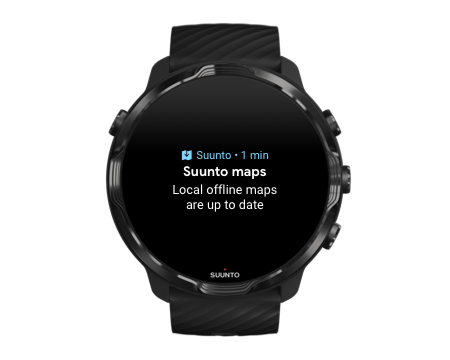 Can't see the map?
Be patient, activating the map can take a few seconds. If you still can't see the map after waiting:
Make sure your watch is connected to the Internet.
If there is no Wifi available, check that your watch is connected to the Wear OS companion app on your phone and that your phone has an Internet connection.
Learn more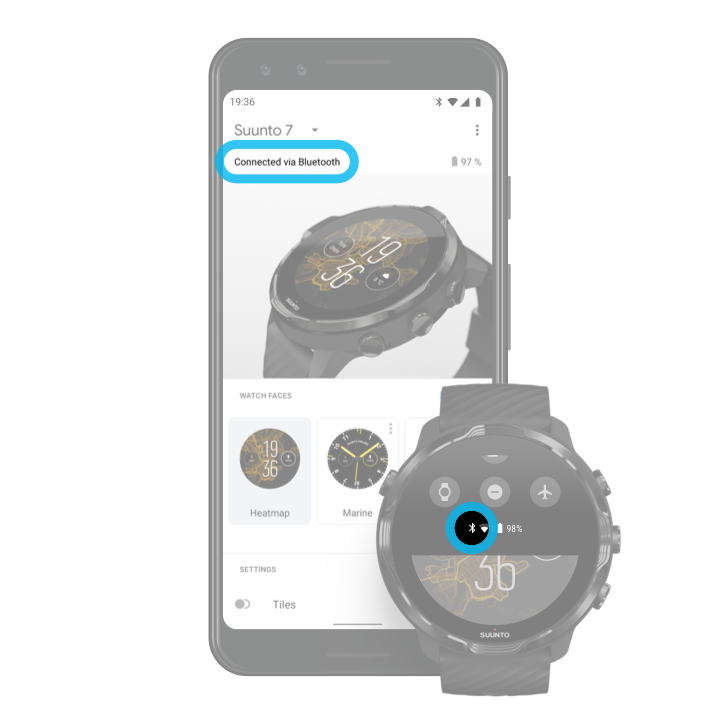 Make sure your watch has found a GPS signal.
Suunto Wear app needs to know your location to show you the right map. If your watch keeps searching for location, make sure you are outside in an open area.
Learn more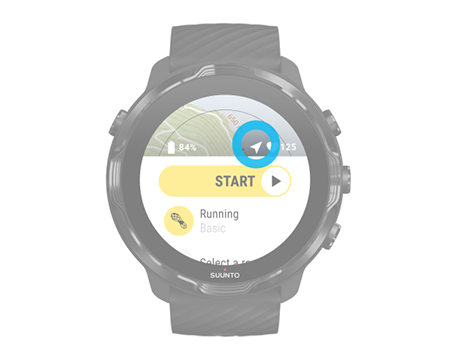 Get offline maps.
With offline maps, you can enjoy a faster and smoother map experience without being connected to your phone or the Internet.
Learn more