Philipp Reiter and Adrian Zurbrügg overcame one obstacle after another to set a new record in the Alps. Learn more and watch the video now!

Watch how Philipp and Adrian's project unfolded!
Reaching the summit of Mont Blanc took everything Philipp and Adrian had in the tank. They began their climb of the highest mountain in the European Alps at 01:30 AM and, even though they had worked on acclimatization, they suffered on their way up and faced icy conditions. The ski down, involving crossing crevasses, took a brutal three hours.
"When we arrived back at the car 11 hours and 30 minutes after we had set out we were both super done," Philipp says. "We both had headaches and had to travel by car for two and a half hours to Zermatt, sleep for two to three hours and get up at 2 AM to start over again to climb Dufourspitze.
"It was crazy, because for many mountaineers just doing one of the highest summits in the Alps is a big achievement, but we climbed seven in five days. For me, it's still unbelievable because it happened so quickly that it hasn't really sunk in yet."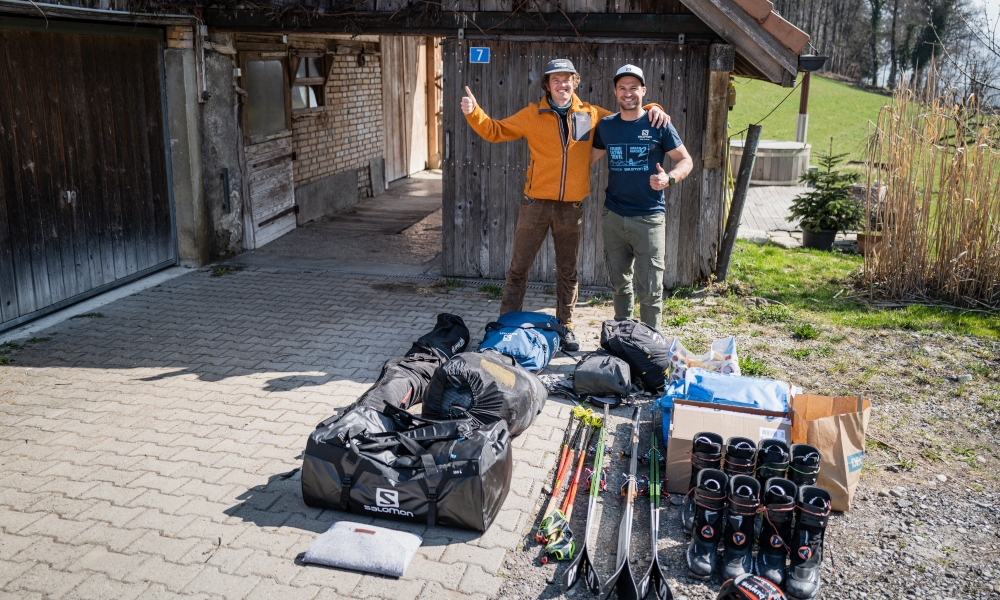 The 7 summits project
They started their adventure on March 26 at 06:00 AM, first climbing Italy's Gran Paradiso. The goal was to climb the highest summit in each of the seven alpine nations - Italy, France, Switzerland, Liechtenstein, Germany, Austria and Slovenia - in seven days. However, weather forecasts predicted snow and harsh conditions on the last two peaks, leaving Philipp and Adrian no choice but to do all seven summits in five days, in this order:
March 26: Gran Paradiso (4061 m), Italy.
March 27: Mont Blanc (4807 m), France.
March 28: Dufourspitze (4634 m), Switzerland.
March 29: Vorder Grauspitz (2599 m), Liechtenstein.
March 29: Zugspitze (2962 m), Germany.
March 30: Grossglockner (3798 m), Austria.
March 30: Triglav (2864 m), Slovenia.
The project was a year in the making and originally involved a team of four, but a sickness and a death in one of the team's families meant two of the four had to withdraw at the last minute, leaving Philipp and Adrian to scramble to keep the project from collapsing. To avoid piling pressure on themselves, they decided to keep their goal quiet until they reached the summit of Liechtenstein's Vorderer Grauspitz.


Battling the conditions and sleep deprivation
They realized they needed to climb all seven summits in five days rather than seven after climbing Vorder Grauspitz and seeing a weather forecast predicting snow in the Alps. At that point, it was full steam ahead, with little time for rest and recovery. They only slept 14 hours over the five days, which included napping in the car - with damp clothes and cold bones - while driving from one mountain to the next.
"We had to be really focused because of the route navigation," Philipp says. "We followed the tracks on our Suunto watches. This helped a lot because it gave us confidence and saved time."


The stats
187 km
17,001 m
111h40m
All images: © Philipp Reiter