Your Suunto Spartan, 5/5 Peak, 9/9 Peak have predefined Triathlon sport modes that you can use to track your triathlon workouts and races; if you need to track another sort of multisport activity, you can easily do so directly from the watch.
Start an exercise as you would normally do, using the sport mode that you will use for the first leg of your multisport activity (e.g. running if you are starting a swimrun or duathlon). As usual, wait for GPS to be found and set the options you need before pressing start


When it's time to switch sport mode, hold the upper button for two seconds to enter the multisport menu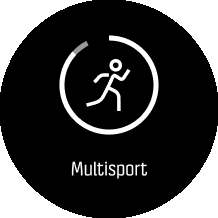 The list of sport modes in your watch short list (except the one you are currently using) will come up. Scroll the list with the upper and lower right button to get to the sport you need for the second leg of your multisport workout, then press the middle button to select it. The new sport mode will start immediately.
TIPS:
You can do this however many times you need during one single recording, including repeating a sport mode you used previously (e.g. it's entirely possible to record a run/walk/run/walk/run multisport exercise)
Sport modes will have the same displays and settings they have when used as a standalone sport mode: check out how to create customized sport modes in Suunto app on iOS and Android.
Only sport modes that are in the short list will appear as options when starting a new multisport activity: if there are only two sport modes in the short list, you will not have to press any additional button to switch to the only one available
NOTE: Suunto 7 does not support multisport
NOTE: To record a multisport session on a Suunto Ambit2 or Ambit 3 Sport/Peak/Vertical watch (Ambit, Ambit 2 R and Ambit3 Run do not support multisport), check out the instructions in the user guide of the relevant model here and in this article. 
READ MORE: