Interval workouts are a common form of training consisting of repetitive sets of high and low-intensity efforts. With your Suunto Spartan, Suunto 5 and Suunto 9 watch, you can define in the watch your own interval training for each sport mode.
Getting started:
Choose the preferred sport mode: predefined vs. customized
Interval training is a default option in all the predefined sport modes in your watch. Go to Exercise, select the sport mode, and in the sport mode options, select Interval. Tap the toggle to add the interval display to the sport mode. This allows you to start your training directly after you create the interval training plan.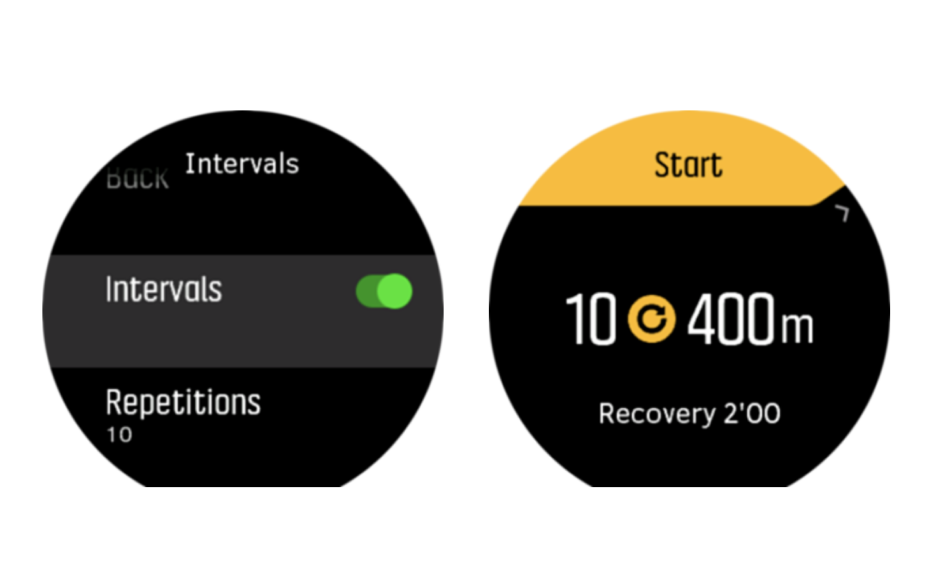 Intervals aren't, however, available by default in customized sport modes. If you want to train with intervals while using a customized sport mode, make sure one of your sport mode displays is an "interval" display. During the sport mode customization, you will need to add the above-mentioned interval display - via the Suunto app. Sync the changes to your watch and go through the steps mentioned above. 
How to add an interval display using the Suunto app for iOS: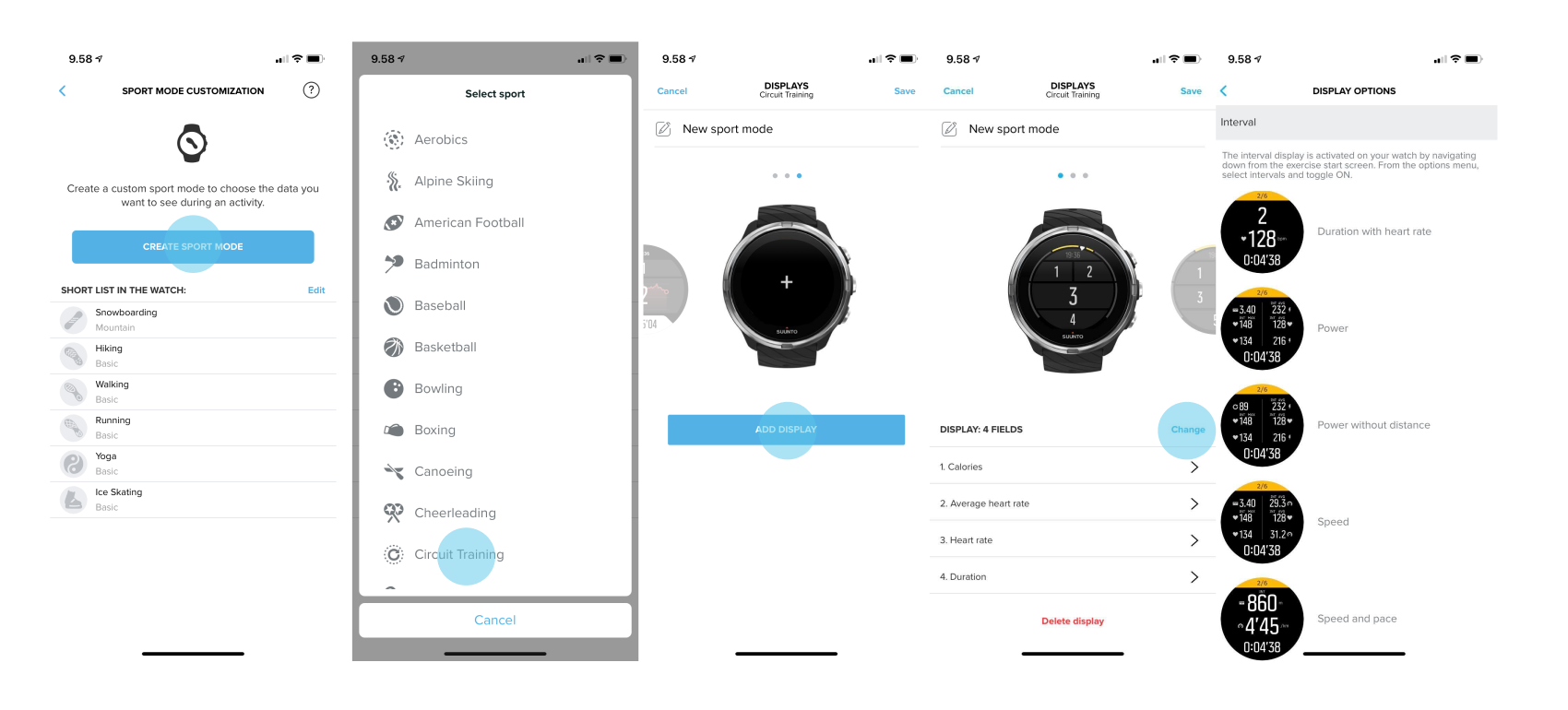 How to add an interval display using the Suunto app for Android: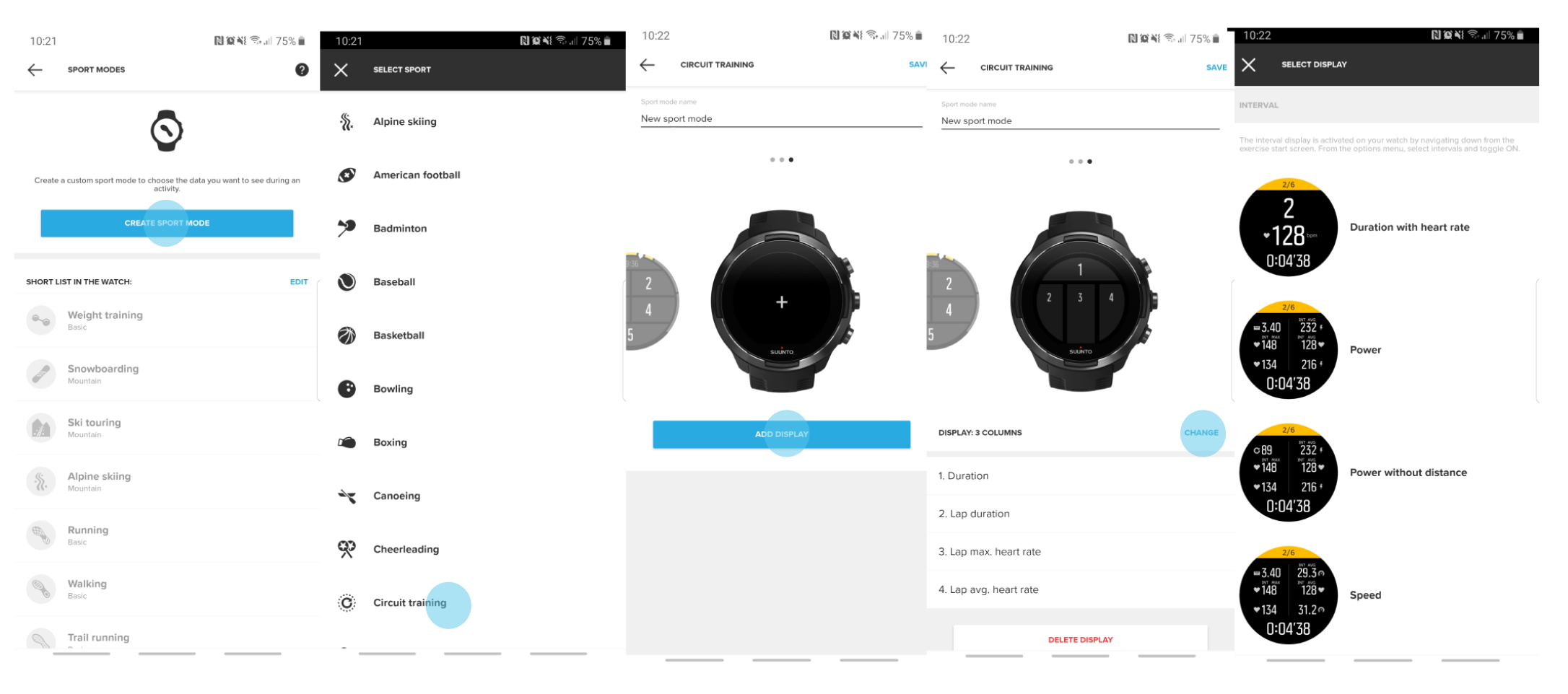 Plan the training: the intervals, the repetitions and the recovery 

Interval: the length of your high-intensity segment, based on either distance or duration.
Repetitions: the number of intervals + the recovery sets you want to do.
Recovery: the length of your rest period between the intervals, based on either distance or duration.
How to control your interval training: button presses and settings
Your interval training doesn't start automatically. After you press Start for your exercise, to start your interval training, swipe through your screens until you reach the interval display. Press the upper button when you are ready to start. 
If you want to stop the interval training before completing all your repetitions, keep the middle button pressed to open the sport mode options and toggle off Intervals. You can continue your exercise after you've finished your interval training. 
Whenever you define your intervals by distance, you need to be in a sport mode that measures distance. The measurement can be based on GPS, or from a foot or bike POD, for example.

NOTE: On Suunto 5, Suunto 5 Peak, Suunto 9, Suunto 9 Baro, Suunto 9 Peak and Suunto 9 Peak Pro you can create more complex structured workouts by using Suunto app's in-built workout planner or by using one of our partner services that support this feature (such as Training Peaks or intervals.icu) to create a SuuntoPlus™ guide. 
READ MORE: