Suunto EON Steel, EON Core and D5 dive computers with Suunto FusedTM RGBM 2 and Suunto FusedTM RGBM algorithms provide 5 personal setting options (+2, +1, 0, -1, -2).
These options refer to decompression models, which can be conservative (+2 and +1) or aggressive (-2, -1, 0). Generally speaking, conservative means safer. In practice it means that a dive at a given depth is shorter due to the decompression obligation (the no decompression time is short).


Personal adjustment value
Condition
Description
-2 (P-2)
Ideal conditions, excellent physical fitness, highly experienced with a lot of dives in the near past
Progressively less conservative
-1 (P-1)
Ideal conditions, good physical fitness, well experienced with a lot of dives in the near past
0 (P0)
Ideal conditions
Default
+1 (P1)
Some risk factors or conditions exist

Progressively more conservative

+2 (P2)
Several risk factors or conditions exist
Conservative also means that the time the diver needs to spend on decompression is longer. For recreational divers, a conservative model means less time in the water in order to avoid decompression requirements. For technical divers, however, conservative means more time in the water because of the longer decompression requirements imposed during ascent.
Aggressive models, on the other hand, increase the potential health risks of a dive. For recreational divers, an aggressive model allows more time at depth, but may significantly increase the risk of DCS. The Suunto Fused™ RGBM and FusedTM RGBM 2 adapt its predictions of both the effect of microbubble build up and adverse dive behaviour in the current series of dives. The default setting for the Suunto Fused™ RGBM and FusedTM RGBM 2 is to use a compromise (0 setting) between conservative and aggressive. With the personal setting, you can select gradually more conservative or more aggressive calculations.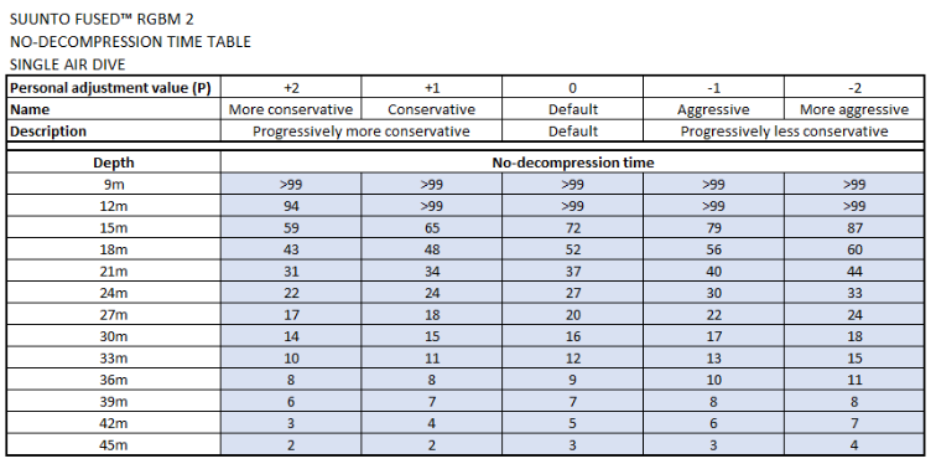 The personal setting reflects the fact that personal health and behaviour have an impact on your DCS susceptibility. Therefore, we recommend consulting your physician regarding your fitness before diving. Any of the following can potentially increase your risk for DCS:
BMI that is considered obese
Poor physical fitness
Age, particularly for divers over the age of 50
Fatigue, for example from over exercising, strenuous travel, or lack of sleep
Cold water exposure, which can cause the blood vessels at the body's extremities to close down and maintain the body's core temperature
Exercising before or after a dive, which can increase bubble formation
Strenuous activity during a dive, which can increase blood flow, bringing additional gas to tissues
Tight fitting equipment, which can slow off -gassing
Dehydration, which effects circulation and can slow down off -gassing
For more information about the conservatism settings and the RGBM model in general, see our Suunto Fused RGBM brochure (English only).
Learn how to create a dive plan with Suunto DM5.
RELATED ARTICLES