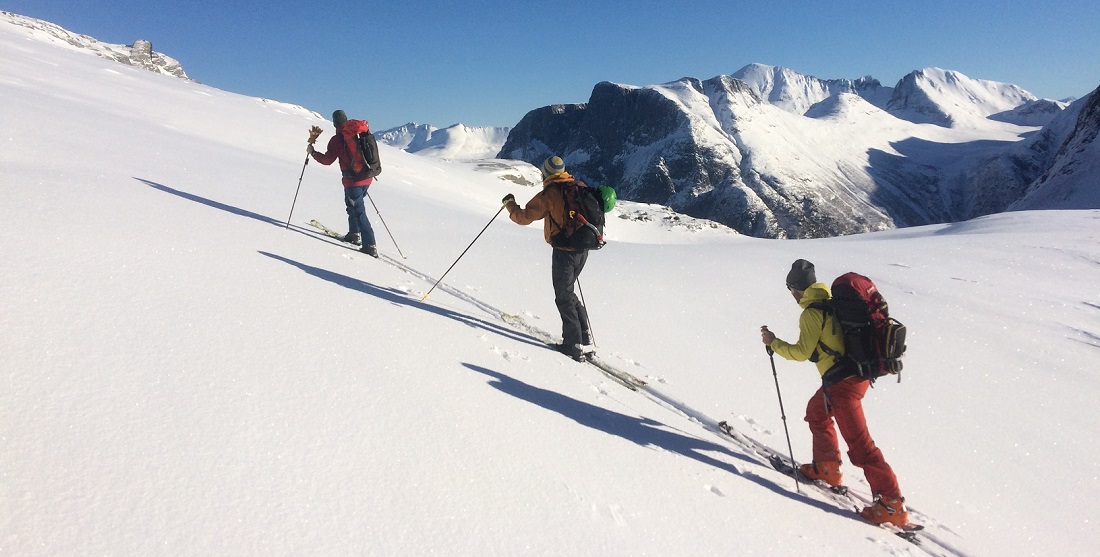 The popularity of alpine ski touring has increased dramatically the last couple of years. Norway has unlimited possibilities, and one of the top destinations is Romsdalen. Using a guide is always recommended when venturing into new territory. Here is a new tour that is open to the public through one of Suunto's partners in Norway www.romsdallodge.com "Høyt I Romsdal – Alpinruta". A three day tour in some of the most spectacular alpine surroundings in the mid-west coast of Norway. This tour uses cabins offered by the Norwegian Trekking association (DNT)
| | | | | |
| --- | --- | --- | --- | --- |
| | | | | |
| | | | | |
| | | | | |
| | | | | |
DAY 1
An early start is required for the first leg in to Grøvdalen and the ascent up to Svartvassbu (999 masl). A few hundred altitude meters through the woods before the alpine terrain opens up and we are amidst some of the majestic peaks in Romsdal. At the cabin we eat some lunch, and leave what is not required for the day's tour. Depending on conditions, we aim for either Nyheitind (1598 masl) or Sjøvdøla (1719 masl) which are both great skiable peaks in this area. The day's leg is long, but in return we get a lot of great skiing! Back at the cabin we prepare dinner and plan for the next day's route.
DAY 2
After breakfast we pack up and start off towards Styggeværshaugen (1371 masl). With good conditions we could do a few laps on the face of Gråfjell before moving on to the top. From here we ski down the west face towards Horndalen where we eat our lunch under Melkallen. This day offers plenty of options for great skiing and as we work with exposure and snow conditions, in addition to multiple faces to choose from we can easily get the best ski day of the trip. The next ascent is long going up the SE face towards Vasstindbu (1190 masl), A DNT cabin situated in one of Norway's most impressive locations. The cabin is the stop for day two, and dinner is prepared followed by planning next day's leg.
| | | | | |
| --- | --- | --- | --- | --- |
| | | | | |
| | | | | |
DAY 3
The day starts with some steep skiing down Kalvgjelbotn right behind the cabin. However, conditions were not ideal down this face so a safer route was chosen down the NW face towards Kjøvdalsvatnet. From here we traverse SW across the lake and start on an ascent rarely visited by ski tourers. We are now on the back side of one of Norway's most known ski touring peaks, Kirketaket. Our ascent takes us up to Hesteskoen, a horseshoe shaped ridge where the day's lunchbreak takes place. From here conditions needs to be evaluated closely before deciding where go. Either a hike up an exposed ridge up to Kirketaket, or ski down towards Hestebotn if conditions are good there. We decided to attempt the ridge to Kirketaket but halfway up the conditions made us to choose riding down the northern face towards Hestebotn. This gave us 1100 meters vertical down back to Romsdal lodge and the end of an amazing trip with a three course dinner.
Movescount routes:
DAY 1 https://www.movescount.com/moves/move96414613
DAY 2 https://www.movescount.com/moves/move96414573
DAY 3 https://www.movescount.com/moves/move96414538