Værindikatorer
I tillegg til barometergrafen (se Bruke barometerprofilen), har Suunto Traverse Alpha to værindikatorer: værprognose og stormalarm.
Værtrendindikatoren vises som en visning på tidsvisning, og gir deg en rask måte å sjekke om været forandrer seg.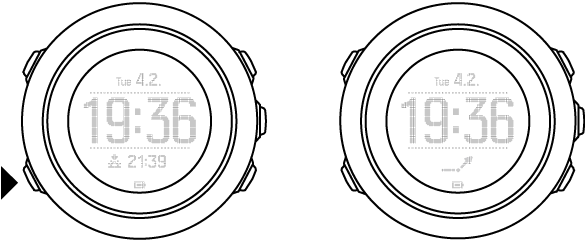 Værprognoseindikatoren består av to linjer som danner en pil. Hver linje representerer en 3-timers periode. En endring i barometertrykk større enn 2 hPa (0,59 inHg) over tre timer utløser en endring i retning av pilen. For eksempel:
| | |
| --- | --- |
| | trykket faller kraftig i løpet av de siste seks timene |
| | trykket var jevnt, men stiger kraftig i løpet av de siste tre timene |
| | trykket steg raskt, men har sunket kraftig i løpet av de siste tre timene |
Stormalarm
Et betydelig fall i barometertrykk betyr vanligvis at en storm er på vei, og du bør ta dekning. Når stormalarmen er aktivert, avgir Suunto Traverse Alpha en alarm og et stormsymbol blinker når trykket synker 4 hPa (0,12 inHg) eller mer i løpet av en 3-timers periode.
Stormalarmen er av som standard. Du kan slå den på i innstillingsmenyen nedenforGENERELT » Varsler » Stormalarm.
MERK:
Stormalarmen fungerer ikke hvis du har høydemåler-profilen aktivert.
Når stormalarmen utløses kan du trykke på hvilken som helst knapp for å avslutte alarmen. Hvis ingen knapp trykkes, gjentas alarmen en gang til etter fem minutter. Stormsymbolet forblir på skjermen til værforholdene er stabile (trykkfall bremser ned).
En spesiell runde (kalt 'stormalarm') genereres når en stormalarm oppstår under registrering av en aktivitet.