Run with us around the world in our favorite cities!
New York City. It can be daunting to figure what to do and  where to go when visiting New York City, especially on a tight schedule, this includes fitting in a run. We understand and have done the scouting and compiled your go-to route guide to running in the city on a timeline. 
Whether you are looking for a sight-seeing route in Central Park, a local favourite track along the shoreline that makes up Hudson River Park, or a long run/urban adventure into Brooklyn we've got the routes to give you that runner's high in the Big Apple. This list is focused on Manhattan, though the final route does make a brief and memorable stop in Brooklyn.
To follow these routes with your Suunto watch or mobile device, please follow these instructions:
1. Press download GPX.
2. Go to Suunto app and press + button in app map and press 'import route'.
3. Find the route, press it. The app opens the route, press 'Done'.
4. You can modify name and details. The route is saved. Keep the 'Use in Watch' toggle on to have the route in watch. 
Note: If you are not reading this on a device with Suunto app installed, download the route file and save it in a location you can access on your mobile device. Then follow the guidance above.
In the middle of it all: Central Park (2,9–9,8 km)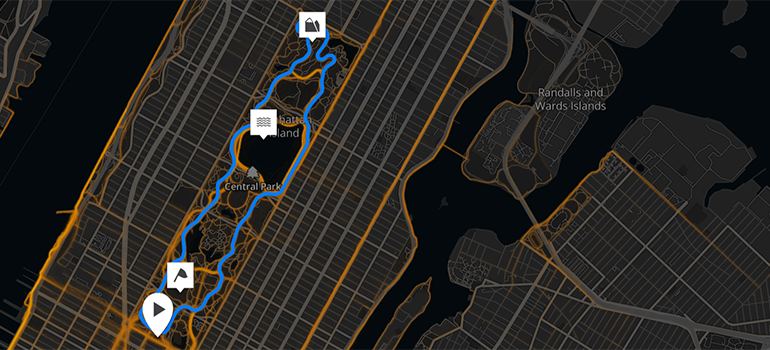 Download the GPX file here.
Who is it for: 
Tourist run/walk route, you could say a wonder overload!
Description:
Central Park is the quintessential running track in Manhattan. It is the home of the NYC Marathon finish line, countless events throughout the year and countless options for short or long loops. There is an energy in the park that is unique, people from all walks of life, tourists and elite runners; everyone runs here and the park is almost always busy, but rarely crowded, especially at the northern end.
Most running groups, clubs and organizations meet at Columbus Circle and head off together, generally moving counter-clockwise around the park. Our route starts here as well. As you begin, you head east, some of the most recognizable skyline immediately becomes visible. You're now on the route of the NYC marathon (though in the opposite direction). As you track left on to Terrace Dr., you'll pass Bethesda Fountain and Strawberry Fields before making your way back towards your starting point, watch out on your right for the famous Tavern on the Green. 
Starting Point Note:
Columbus Circle is the corner 59th Street & 8th Ave and is reachable simplest via train (A, B, C, D, 1).  When you are on the southern half of the park, it's like having aid stations, as vendors lining the main route have stands where they sell water and gatorade, which comes in handy on those hot summer days, so bring a couple bucks, there are also a handful of water fountains.
An excellent time to run is when the park is closed to traffic, Monday through Friday from 10AM-3PM and 7PM-10PM and also on the weekends starting at 7PM on Friday through 6AM on Monday. If you can't fit in a run during these times, a runner's lane (the innermost recreation lane) is always available. It is recommended, for safety reasons, that you run against the traffic. 
Finishing Point Note:
Typically ending at Columbus Circle provides the best end-point and access to transportation, and other amenities, including a Whole Foods in the lower floor of the mall, with its own pub, perfect for post-run refreshment and snacks!
Possible route extensions and alternatives:
Central Park provides countless different routes through it's beautiful grounds, with different sights and appeals for the runner, you really can't go wrong. There is a main route (paved road) that is the most popular, as well as multiple transverses that cut across the park, providing more options. Paths and trails also criss-cross the park, leading to sights including The MET, the Reservoir, and the Central Park Zoo.
The Reservoir Loop:
This route gives runners a soft surface cinder path about 3km around the Jacqueline Kennedy Onassis Reservoir. It is a mostly flat track and offers incredible views of the city, particularly picturesque at sunset. Try to remain on the right side of the path and run counterclockwise. This route is best accessed by taking the train to 86th Station (A,B,C trains) and following 85th St Transverse or paths to the reservoir.
Full Loop:
For the full experience (and the biggest hills) follow the main paved road throughout the park. The full loop measures just under 10km, and will give your legs a good work out. 
Locals Route: Hudson River Park (6,3 km)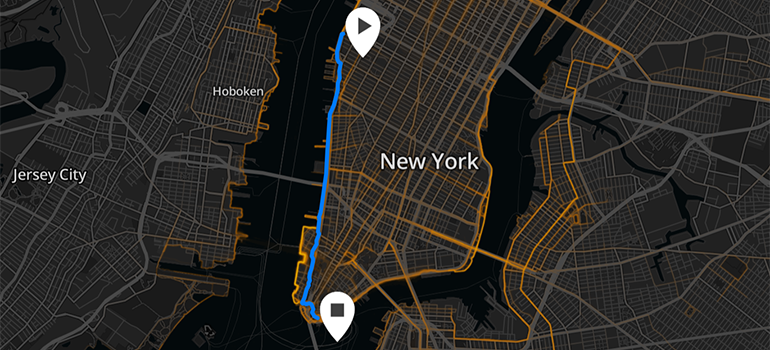 Download the GPX file here.
Who it is for: 
For runners looking for a speedy shoreline and abundant attractions.
Description:
Hudson River Park is the longest waterfront park in the US. While part of the attraction to this path is the shoreline of the Hudson river, in recent years, significant development has taken place making the run more pleasant, and more interesting. It is hard to beat the crisp morning miles with the sun peacefully rising over the bustling city, peaking through the towers, but there really isn't a bad time to enjoy this route. With runners able to jump into the path anywhere along the length of Manhattan, it is also easy to meet up with others or adjust your distance should you like to. The path is flat, and heads downtown to the tip of Manhattan, Battery Park. From here you have a nice vantage point to the Statue of Liberty.
In true NYC fashion, you can also find a myriad of activities to go along with your run including kayaking, beach volleyball, golf driving ranges, ice skating, Chelsea Brewing Company, outrigger canoeing and even sailing lessons!
Starting point note:
We have built this route to deliver the most interesting sights in a short distance. Beginning at Chelsea Piers, an activity and amenity hub and an attraction in and of itself.  23rd St has Subway stations at 7th Ave & 8th Ave with trains coming from all over Manhattan, from those stations head west (larger Avenue #s)
Finishing point note:
When you're done, Table Green in Battery Park (open seasonally) offers a full compliment of beverages and snacks in the beautiful Bosque Gardens.  To return to the start of the route, walk north to Rector St and jump on the Uptown 1 to 23rd St and this will put you back in Chelsea, a few blocks east of where the route began. Lower Manhattan has efficient train access to all parts of the island.
Possible route extensions and alternatives:
A nice cool down route, is to follow the High-line which runs parallel to the park and is particularly close to the route from the neighbourhood of Tribeca to 23rd St. Join it from Gansevoort St & Washington St and enjoy the stroll uptown passing the Chelsea Market (@ 15th St.).
Should you want to run longer, start further uptown; at the Intrepid Sea, Air & Space Museum (46th St and 12th Ave) and run downtown towards Battery Park. Or even start at Battery Park and run all the way to the George Washington Bridge and the "Little Red Lighthouse" (20km).
Adventure Run: Mid-town to Brooklyn (14,6 km)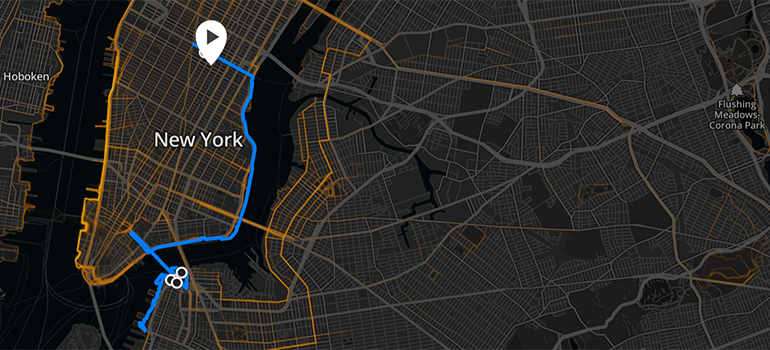 Download the GPX file here.
Who is this for: 
Runners looking for some urban adventure on their run. 
Description: 
Sunday morning long run in NYC? Want to walk out the front door and go? Here's a route for you!  Starting in mid-town, at Herald Square, you'll pass the Empire State building, run along the East River, crossing over the Iconic Brooklyn Bridge, take a loop quick through DUMBO, pause near Jane's Carousel for a view with BK bridge and the Manhattan skyline together. Plenty of visual inspiration to keep you moving!
Running in mid-town is only really advisable in the early mornings and preferably on the weekends. Sidewalks are characteristically uneven and unpredictable, so keep aware of where your feet are falling, with the usual pedestrian traffic, this becomes difficult to navigate safely and to enjoy a good flow to your run.
Starting point note:
Herald Square (34th St and Broadway) is always busy, full cafes, shops (including the largest in the world - Macy's - in case you forgot your runners). Most subway lines stop here within in a block or two. Begin by heading east (towards smaller avenues) and you'll pass the Empire State building. When you hit the East River, turn right (downtown).
Finishing point note:
Brooklyn Bridge Park, end at Grimaldi's Pizza, or the Shake Shack next door and re-fuel, then jump on the East River Ferry half a block away and enjoy the view of Manhattan on your left and Brooklyn on your right ($4 on weekdays/$6 on weekends), the boat will drop you back at 34th St, head across town and you'll find yourself back at Herald Square. 
Discover new routes with heatmaps. Heatmaps show the tracks frequently used by the Suunto App community all over the globe, based on millions of moves. You can plan your own route with the help of rich, topographic maps, transfer it to your compatible Suunto watch and start exploring. 

With Suunto 5 and Suunto 9 watches, you can add these routes directly to your device and track your progress.

 Lead image: Photo by Becky Phan on Unsplash