Dominica was supposed to host a world-class dive contest. Instead, it hosted a hurricane.
To say Jonathan Sunnex's life has taken a few unexpected turns is a bit of an understatement. How else would a Kiwi from Ngaruawahia, New Zealand come to be living on the little bay of Soufriere, in one of the least-known islands in the Lesser Antilles? But that question was hardly at the forefront of his mind while he sat at the airport in Miami – stranded thanks to a little storm called Hurricane Maria.
The entire Caribbean and much of the southeastern United States had a tense hurricane season – first Hurricane Irma barreled its way across multiple islands, then just five days later Hurricane Maria sprung up in its wake. While Dominica dodged a major hit with Irma, Maria was another story. The island suffered a direct hit – and almost three months later, much of Dominica still is without power or running water.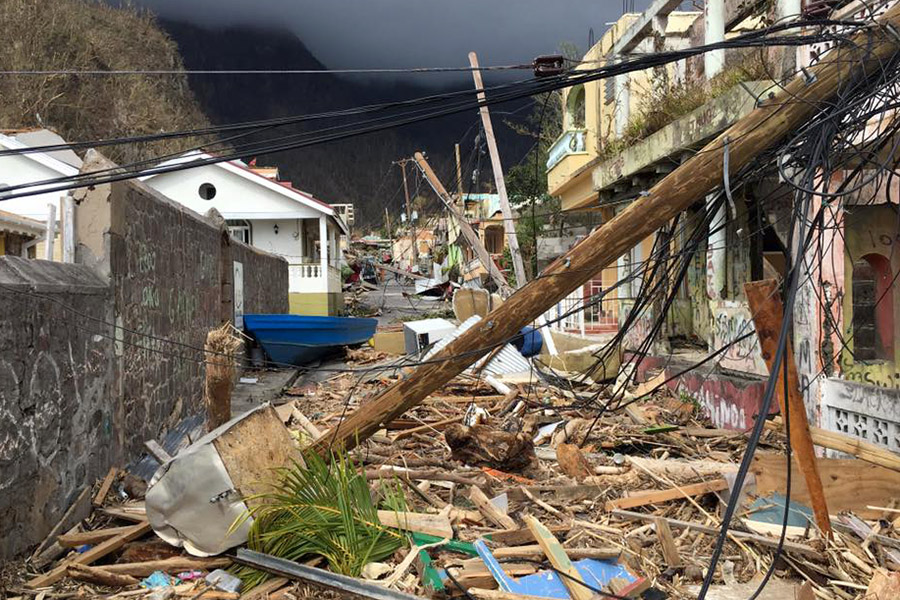 The fact that it was a pretty big wrench in the works of Sunnex's biggest project of the year – the Blue Element Freedive competition – was essentially an afterthought. For Jonathan and girlfriend Sofia Gómez, it was a tense two-week wait in Miami, wondering if when they returned home they'd find their dive school – and their home – still standing.
"We were in Roatan for the World Championships," says Sunnex. "We wanted to get back early to prep for Blue Element. It was scheduled for the 11th – 17th of October, but Maria hit at the end of September. It went from tropical storm to category 5 in just a few hours."
At first he was hopeful the event could still go on – but as reports came in about the damage done to the island, expectations were quickly lowered. "We were really hoping our dive platform was still there," he said. "Communication with people onsite was impossible." But one of the first things he did? He set up a GoFundMe and reached out to the free dive community – hoping to raise a €1,000 of donations for food, water and other supplies. They ended up hitting their goal, and even bettering it – raising $26,000. The highlight moment? Jonathan – whose long, flowing hair had been growing for ten years – got on Facebook Live and shaved his head and cut off his beard, raising $700 in just twenty minutes.
With the bounty of the successful fundraiser ready to share with the island, he started making his way home – but it wasn't a straight shot. "I flew to Martinique, and just started picking up supplies – water, chainsaws, literally thousands of dollars' worth of food – whatever we thought we could fit on a boat," says Johnny. "Then I hitched a ride with Piwi Croisieres Calypso over to Dominica."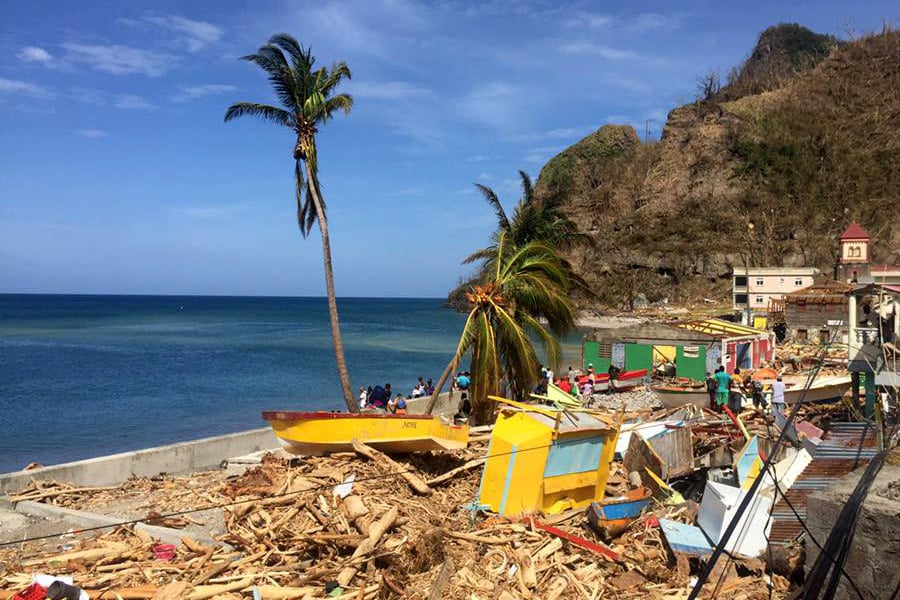 When he arrived on the island, he was 'mostly speechless'. "The island is the greenest tropical forest – super dense bush – it looked more like a firestorm hit it," he says. "No foliage. Bark ripped off of trees. No green left. It was a dry dusty desert. Piles of debris. Giant trees on the beaches, debris two meters high." The damage to their home was real – the house/school was flooded, and the platform had been dislodged and blown to shore. They lost their competition rope, worth about $1500 – although it was later recovered, and they hope to repair it.
Without a doubt, the competition was off – so Sunnex and the competitors already on the island diverted their attention to clean-up and aid, cleaning beaches, roads and helping repair the island's infrastructure.
There's still much to be done – but Sunnex is confident the Blue Element freediving contest will return next year – and probably not during hurricane season. "The conditions here are impeccable," he says. "Calm and flat, no current, water's warm, perfect."
Want to pitch in and help Dominica? See the Blue Element GoFundMe page here.