Careful route planning and terrain management are essential for safe travel in the backcountry. Suunto app's Avalanche terrain maps are here to help.
Avalanches are an integral part of the natural cycle in the mountain environments. The potential for avalanches exists on steep and even moderately steep snow slopes. When the terrain and the snowpack are right (or wrong for the backcountry travelers) avalanches can happen.
While the snow changes throughout the season, the terrain doesn't. For snow to slide, the slope must be steep enough. Most avalanches occur on slopes between 30 and 45 degrees. That's why we have added a new map layer in Suunto app highlighting those critical slope gradients.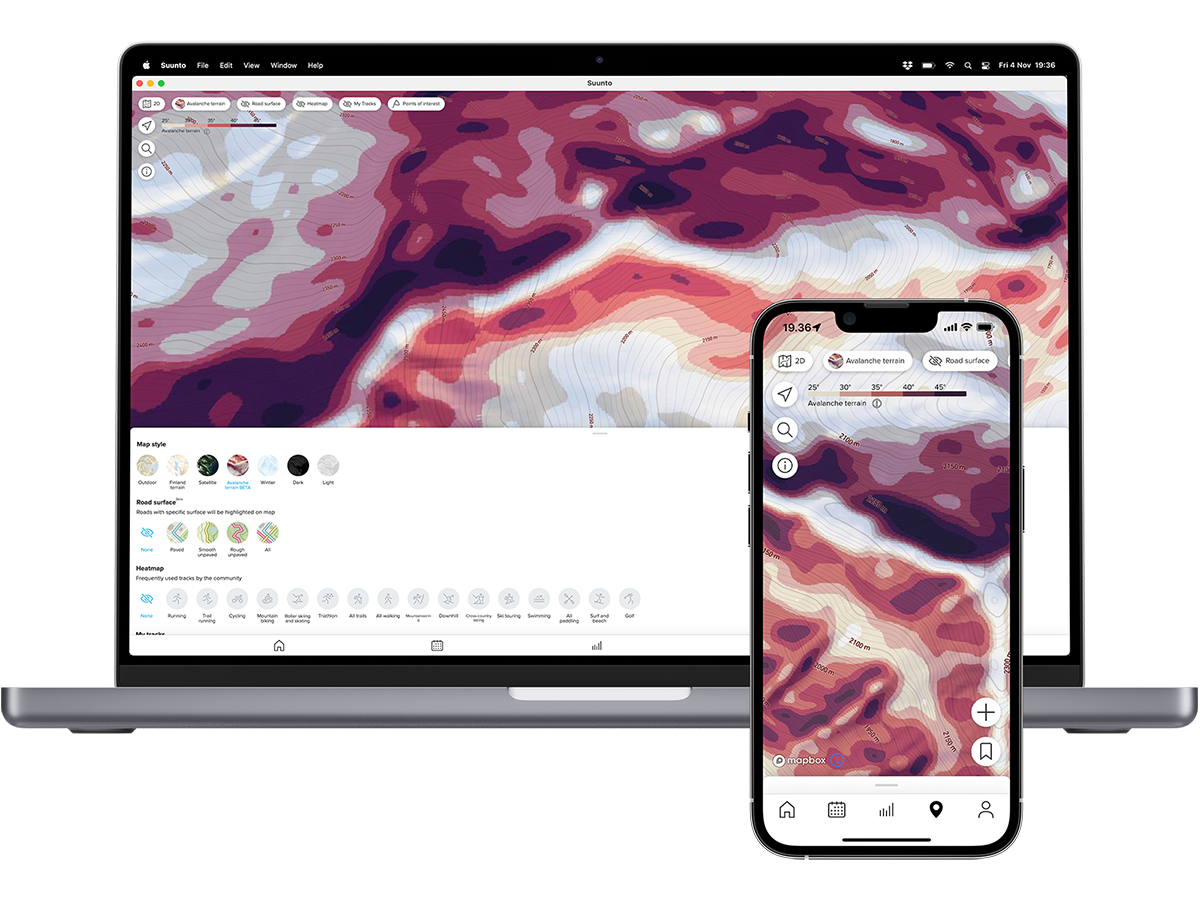 You can use Suunto app and the Avalanche terrain maps on your phone, Android tablets, iPads and even newer Mac computers (Mac's with a M1 or M2 processor).
You can find the Avalanche terrain map layer in Suunto app: Go to the map view, tap the map layers button, and select the Avalanche terrain map layer. The darker the color, the steeper the slope. This information will help you plan your routes in the mountains. While planning the route, you can change between the different layers, like a regular outdoor map, the Avalanche terrain map, a ski touring heatmap and more.
A very important thing to understand about the Avalanche terrain map – and avalanches in general – is that avalanches may run out on flat and low-angle terrain. So, in addition to thinking where you are or where you plan to travel in the mountains, pay attention to what's above you. Especially slab avalanches can be triggered remotely. A fracture in the snowpack can propagate along a weak snow layer until it reaches a part of the slope that is steep enough to slide.

Antti Autti studying the snowpack in Northern Norway.
Backcountry snowboarder and Suunto ambassador Antti Autti says he aims to plan his routes with as little exposure to avalanche danger as possible. "The further I can go without being in any avalanche terrain the better," he says.
After planning a route using Suunto app he syncs it to his Suunto 9 Peak Pro for navigation.
"But no app alone is gonna keep me safe in the mountains. It is important to constantly educate myself and learn about snow safety so I can make the best possible decisions in the mountains," he notes.

Images by Jaakko Posti
READ MORE
Follow Antti Autti's adventures in his Arctic Lines video series where he ventures deep into the Arctic Circle in search of epic, unique and unridden lines in the frigid reaches of the Nordic north.