How to customize dive modes with DM5
To customize Suunto EON Core:
Download and install Suunto DM5 from http://www.suunto.com/DM5.
Connect your

Suunto EON Core

to a computer with a USB cable.
In the devices window, select

Suunto EON Core

.
Select the

Customization

tab. You can create new dive modes and modify existing ones.
NOTE:
When creating or modifying dive modes, you need to synchronize the changes with your Suunto EON Core before disconnecting the USB cable to save the changes to your device.
Customization is divided into four categories:
Dive mode name
Dive algorithm
Gas settings
Customize views
To customize categories:
Dive mode (name)
Use something short and simple that helps you identify easily the features and information that you have customized on this mode.
Maximum length of the name is 15 characters.
Dive algorithm
Select to use

Suunto Fused RGBM 2

or

No algorithm

(see Decompression algorithm).
If you select

No algorithm

,

Suunto EON Core

functions as a gauge (bottom timer) in that mode. Further option to set is only:
If you select

Suunto Fused RGBM 2

, you have additional options to set:

Dive type: OC (Open Circuit Diving) / CCR
Personal (algorithm conservatism - for more information see Personal setting)
Altitude (For more information see Altitude diving)
Gas settings
Configure what you see under the Gases menu in Suunto EON Core.
Turn the Multiple gases option on or off. When on, the Modify gases while diving option becomes active.

When turned off, the gas menu is simplified and easier to use with only one gas.

Helium can also be activated here.

Set the Gas max pO2 to manual or fixed:

Set to fixed to have the selected value used for all gases. You cannot manually edit them in the

Gases

menu as it is disabled. You can select from:

Fixed to 1.2
Fixed to 1.3
Fixed to 1.4
Fixed to 1.5
Fixed to 1.6

Set to manual to edit the gas max pO2 for each gas individually in the

Gases

menu.
Customize views
You can create up to four custom views for all dive modes.
The style of the mode can be prominent, graphical or classic.
Prominent style presents key information with large numbers: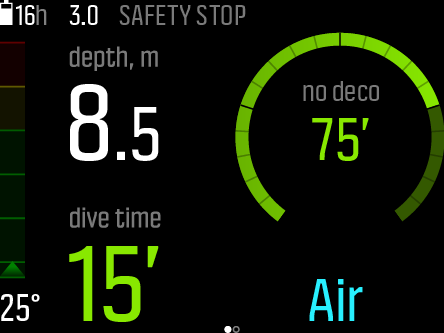 Graphical style presents information with additional visual elements: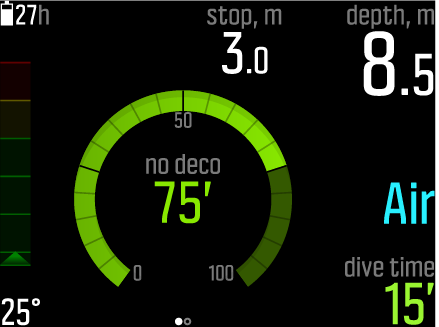 With classic, information is presented in the traditional manner using numbers: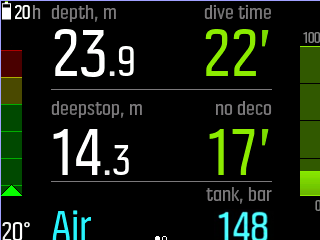 In prominent and graphical style four different views are available: no deco, tank pressure, timer and compass. In classical style you can use no deco view and compass view.
Within each view of the mode, you can define what information is shown in customizable fields. When editing the view in DM5, you get a preview of how it will look on your Suunto EON Core.
In each view, you can define switchable fields on the screen. In the selected view, you can cycle through these values by pushing the lower button. These customizable data fields are different from each other depending on the layout selected (classic, graphical or prominent). Use DM5 to customize these fields and learn more.