Swimming with Suunto 7
Suunto 7 is a great companion for swimming with tailored sport modes for swimming exercises in pools or in open water. You can take your watch under water without a worry and even press buttons – your watch is waterproof for up to 50 m.
Pool swimming
Open water swimming
NOTE:
To avoid unwanted touch actions caused by wet conditions, the touch screen is disabled by default when using swimming sport modes.
Pool swimming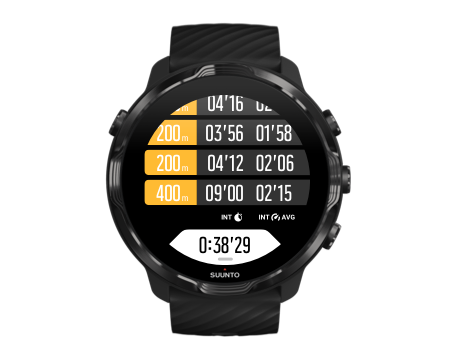 With pool swimming sport mode, it is easy to follow your overall progress as well as your swimming intervals. Whenever you stop for a rest at the end of the pool, your watch marks a swimming interval for you and shows it real time in the lap table view.
Your watch relies on the pool length to determine the swimming intervals and to measure your swimming pace and distance. You can easily set pool length in exercise options before you start swimming.
Learn how to set pool length.
NOTE:
You can analyze the laps later in your exercise summary on the watch or in Suunto mobile app on your phone.
Open water swimming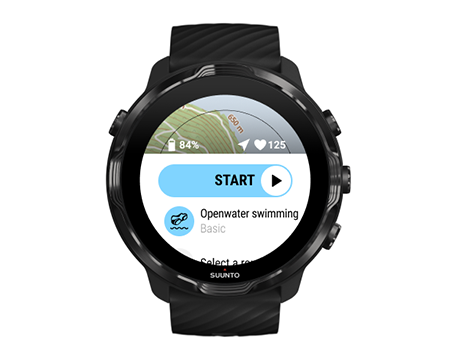 With open water swimming mode, you can follow your swimming pace and distance as well as see your track on the map. To find the best open water area near you, check the swimming heatmap on your watch or explore heatmaps in Suunto mobile app.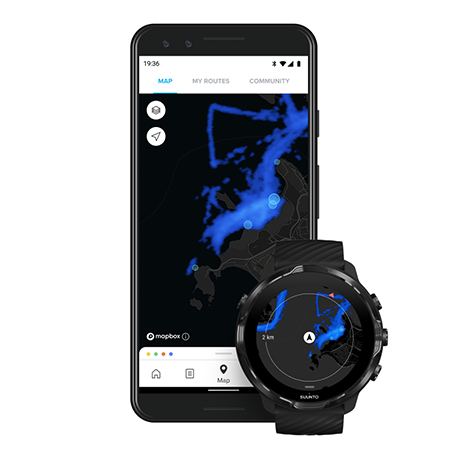 Open water swimming relies on GPS to calculate distance. Because GPS signals do not travel underwater, the watch needs to come out of the water periodically, such as with the freestyle stroke, to get a GPS fix.
These are challenging conditions for GPS, so it is important that you have a strong GPS signal before you jump in the water. To ensure good GPS, you should:
Connect your watch to Wifi to optimize your GPS with the latest satellite orbit data.

Wait at least three minutes before starting your swim after you select an open water swimming sport mode and a GPS signal is acquired. This gives the GPS time to establish strong positioning.