The Movescount exercise history transfer is an important part of our digital service transition.

We started a gradual roll-out to our community back in May of 2019 by enabling the transfer for Suunto 9, Spartan, Ambit3, Traverse and Traverse Alpha family watches and EON Dive computers.
The service is now enabled for all Suunto users to import their Movescount history to the Suunto app. Make sure you have downloaded the app.
The transfer might take some time, depending on how much information there is to transfer.
How to get started? 
Open Suunto app, and go to you user profile
Select "PARTNER SERVICES"
Movescount should be there. Tap on it and the app will guide you through the flow.
Tap on "IMPORT EXERCISE HISTORY"
Enter your Movescount email address and tap on "SEND VERIFICATION CODE".
Once you get the code, copy/paste it in the dedicated field and tap on "SIGN IN".
After entering your Movescount credentials, the data import will start automatically, and your Moves will be added to your Diary in the Suunto app. This can take between several minutes and several days, depending on the volume of data being transferred by the community at a given point in time.
We will send you an e-mail confirmation when the transfer is completed, and you'll see "connected" under Movescount.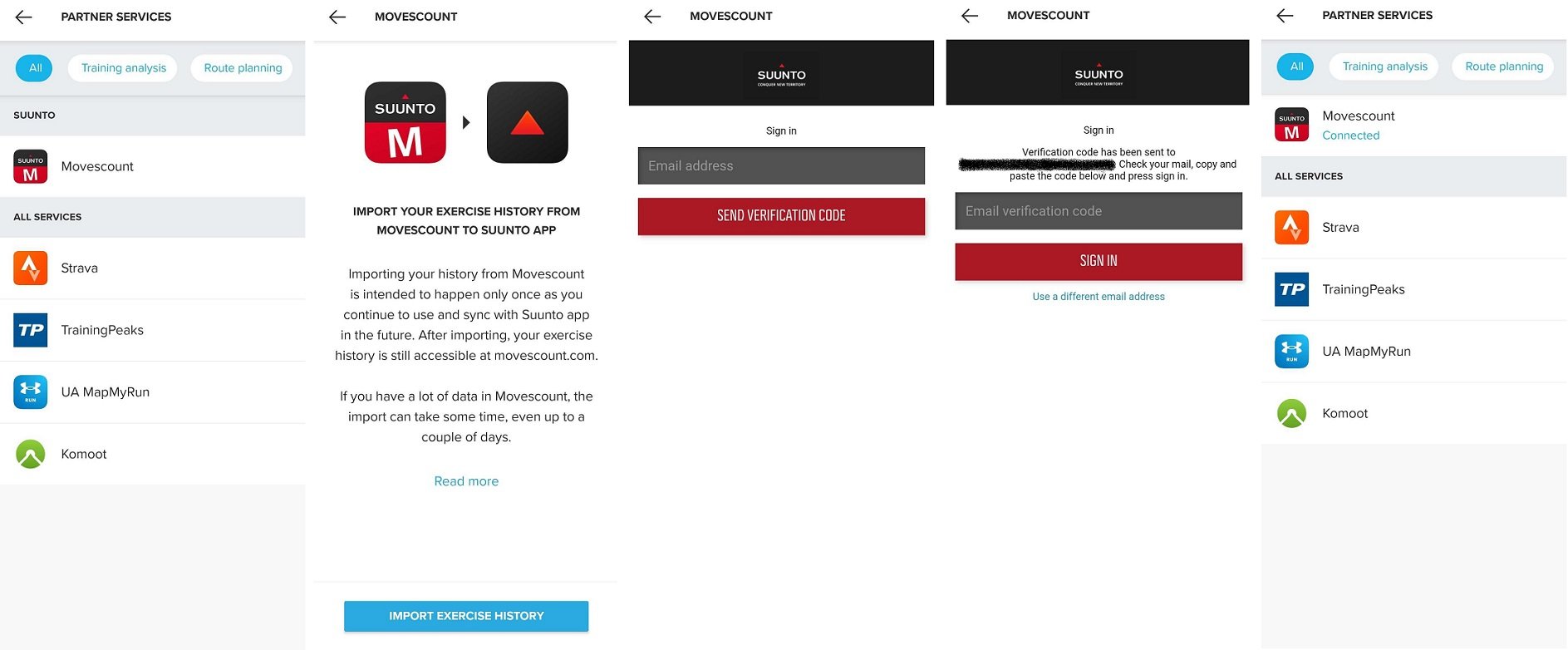 Do you see duplicate Moves in the Suunto app? If you have used the Suunto app and Movescount in parallel and synced to both services, some Moves may be imported and create duplicates. If this is the case, we kindly ask you to manually delete the copy: Select the activity, tap Edit and Delete.  
Did you receive the confirmation and some Moves are missing from your history? You can re-create them manually in the Suunto app. Here is how you do it: Open the Suunto app, tap the + icon and choose "Add activity manually". Fill in all available exercise data. 
What do I need to know? 
The transfer is only one way – Movescount to Suunto app.  
The data transfer is intended to be done only once.  
It will contain all Moves synced to Movescount before the moment you start the transfer. 
Imported exercises will be private by default in the Suunto app.
Public exercises from Movescount will remain a data source for Heatmaps.
Moves synchronized after enabling the transfer will not be synchronized to the Suunto app. 
Moves that have been deleted in Movescount after May 2019 will be transferred to the Suunto app and may still appear in the Diary. If this is the case, we kindly ask you to delete them in the Suunto app manually.
What data will be transferred? 
The data transfer includes your Moves and the associated exercise data, including images.
The data transfer does not include: 
Personal information, including body metrics 
- 

Suunto 9 and Spartans:

 Your personal information will be synchronized to Suunto app once you connect your watch with the app. 
- 

Ambit3 and Traverse watches:

Currently, it is not possible to synchronize personal information to the Suunto app or edit the app's info. 
Routes 
- 

Suunto 9, Spartans & Suunto app for Android:

 Routes stored on your Suunto watch will be synchronized to Suunto app for Android once you connect your watch with the app. 
- You can manually export all our routes from Movescount and import them to the Suunto app.  
POIs 
Suunto Movies 
To create videos of your training, we recently introduced a partnership with Relive. Learn more. 
Groups
They will not be available in the Suunto app. Still, with our connected partner services, there are many opportunities to join highly-engaged groups like, e.g., SuuntoRun on Strava and build your digital community. 
Events that you are attending 
Training programs 
They will not be available in the Suunto app. Still, with our connected partner services, there are many opportunities to use training planning and programs with TrainingPeaks or Strava and others. 
Suunto Apps for your watch created by the Movescount community 
Device settings 
RELATED CONTENT