The Suunto watches are reputable adventure partners. Whether you are going for a walk, doing your daily exercises, or running an ultramarathon, your Suunto companion is going to offer you invaluable information for your activity.

There are, nevertheless, a few instances in which a type of device, namely the pressure sensor ones, also known as barometer watches, can become more relevant for the kind of activity you are engaged in. 
How do the watches work? 
The Suunto GPS watches like Suunto 9, Suunto 5, Spartan Trainer, Sport, and Sport WHR, Ambit3 Run and Sport:
Calculate altitude and altitude changes (ascent/descent) based solely on the GPS data received by the watch. 
They will not give you any outdoor insights like sea level air pressure, temperature or storm alarms.
Suunto GPS watches with barometer like Suunto 9 Peak and Suunto 9 Baro, Spartan Sport Wrist HR Baro and Ultra, Ambit3 Peak and the Suunto Traverse collection:
Have a built-in pressure sensor that measures ambient air pressure resulting in barometric altitude measurements.
The altitude and ascent/descent values are more accurate by combining the GPS data with the barometric data collected - a process called FusedAlti™.
A watch with a barometer can display outdoor-related insights like sea level air pressure, temperature and sound storm alarms.
It can also display altitude information as part of the watch face in time mode.
About GPS watches
How do GPS watches measure altitude and altitude changes (ascent/descent)?
GPS watches base the altitude information and the ascent/descent values only on the Global Positioning System (GPS) data provided by satellites orbiting Earth. The accuracy of the altitude information is highly dependent on the number of available satellites, the quality of the GPS reception and the GPS settings the user has set for themselves (battery modes or GPS accuracy). 


Recommendation:
For the most reliable GPS altitude data, we strongly encourage you to select the Performance battery mode on the Suunto 9 and Suunto 5 watches and the best GPS accuracy for all the other models. When using other battery modes/GPS accuracy settings, cumulative altitude changes ascent/descent will not be calculated. It's also essential to sync the watch to the Suunto app to optimize the GPS performance of your devices.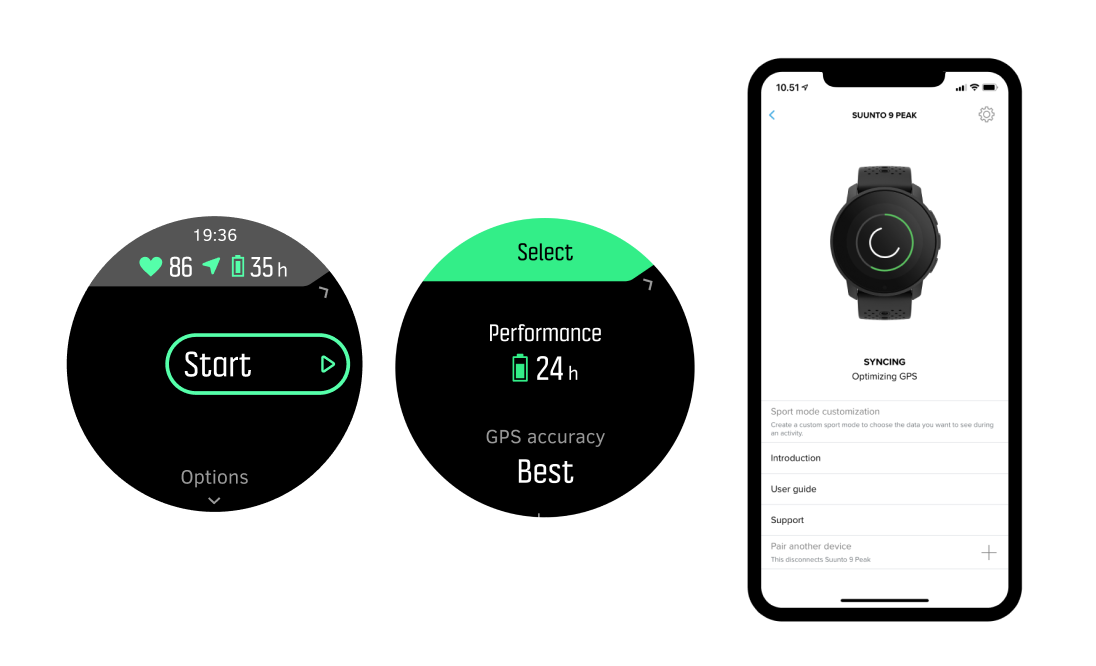 Which factors influence or affect GPS reception?
The GPS signal strength can and will be influenced by various factors. Same as with light, GPS reception can be partly or entirely blocked or reflected by: 
trees
water
buildings
bridges
metal constructions
mountains
gullies or ravines
thick or storm clouds


Nevertheless, even with good reception conditions and with the best accuracy, GPS altitude should always be considered an estimation of your actual elevation, always taking into account a reasonable margin of error. 


About GPS and barometer watches
How do GPS + barometer watches measure altitude and altitude changes (ascent/descent)?
GPS with baro watches measure ambient air pressure to calculate altitude, ascent and descent. Air pressure will vary according to your relative altitude, ascent and descent and weather changes. 
The watch calculates your current altitude based on two important numbers:
The surrounding air pressure (hPa) 
A known altitude reference value (that you can manually or automatically add to the watch). 
The altitude reading will not be correct without setting an altitude reference value (known altitude or the sea level pressure). You can learn more about inputting an altitude reference value and the automatic calibration in your device's user guide. 
After setting the altitude reference value, the watch will reflect changes in altitude or weather in the altitude reading, meaning the watch needs to be calibrated regularly, especially during training or during your adventures (e.g., trail running, hikes). Nevertheless, the watches with FusedAlti™ technology (Suunto 9 Peak and Baro, Spartan Sport Wrist HR Baro, etc.) will automatically calibrate the altitude during the recording of your exercise. 
What are the advantages of a GPS watch with a barometer?
More accurate altitude information - using FusedAlti™
GPS watches with barometers use FusedAlti™, a technology developed by Suunto to combine GPS-based altitude with barometric altitude. FusedAlti™ combines the benefits of both measurement methods and provides more accurate altitude readings and ascent/descent values compared to watches with GPS only.
GPS-based altitude readings are slower than their counterpart and help barometric readings. Nevertheless, weather changes will not interfere with the former, so there is a good balance between the two combined. Barometric altitude readings are faster in reacting to fast altitude changes in terrain. FusedAlti™ utilizes the accurate and fast-reacting profile of barometric altitude and uses GPS altitude to set the altitude reference for the profile.


Recommendation:
It would help to calibrate your watch by setting the reference of your current elevation. Without regular calibration, the altitude readings may be wrong. You can find your current elevation on maps, trail signs, and on different websites. 
Learn more about how Suunto barometer watches work by watching this video. 
Outdoor insights in time mode
GPS watches with a barometer have the ability to offer you real-time elevation and weather data, including a storm alarm whenever the watch detects a significant drop in barometric pressure. 

Learn more about the outdoor insight here. 
Altitude readings in time mode
The built-in barometer watches will display altitude information as part of watch faces or on the outdoor insight. They use an automatic alti-baro profile to determine if a change in air pressure was caused by either a change in weather or altitude.GPS watches will display altitude information only while actively using GPS during an exercise. GPS is turned off in time mode to preserve the battery. 
Learn more about different watch faces here. 
READ MORE: