A cheesy summit, line scribbles and homemade sandals: see the winners of the World Vertical Week photo competition.
We have been blown away by the community participation in the first ever summer-fall World Vertical Week. In seven days, more than 70,000 Suunto users got involved. And we saw massive increases in individual performances compared to the previous winter edition of World Vertical Week.
As usual, we ran the World Vertical Week photo competition with three lucky people winning a Suunto 9 Baro. We asked our Instagram followers to share an image with a Suunto app data overlay from one of their ascents over the week and tag #verticalweek. We received a ton of entries so it was tough selecting three winners. But in the end, three unique and amusing images jumped out at us - read on to see!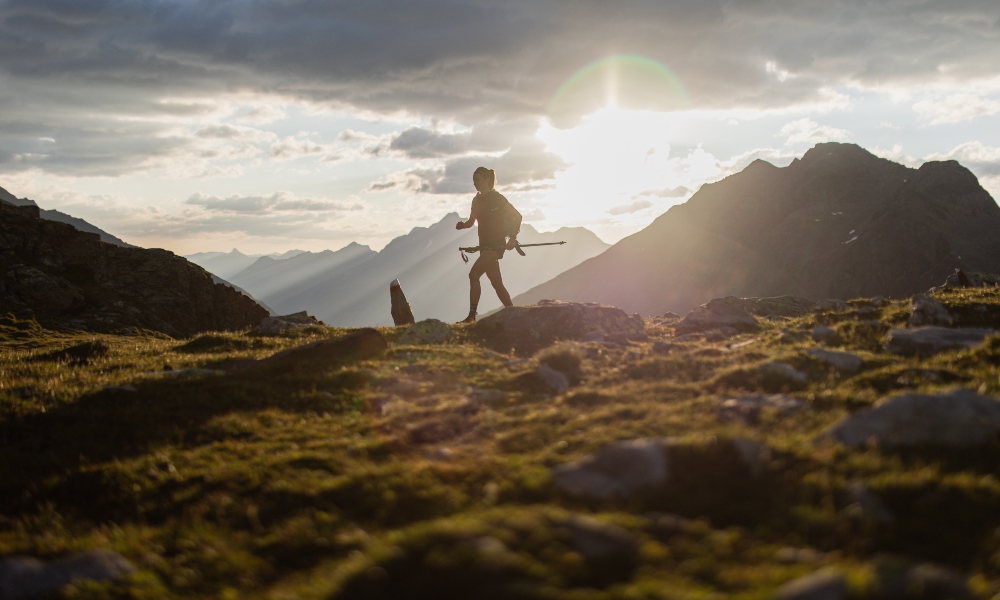 Cheese on top!
It was Frenchman Quentin Simon's first World Vertical Week, and what a way to make a splash! That week he also had his bachelor party and his buddies did a great job of embarrassing him. They dressed him up as a big slice of cheese and hiked up a mountain with him. "All the people we crossed on the mountain wondered why there was a guy dressed up as cheese," Quentin says. "They were surprised because we were on small tracks and the costume wasn't appropriate for hiking."
How does he feel about climbing hills after his first World Vertical Week? "I love going uphill for many reasons: the feeling when you arrive at the top, the view (not always), the speed when you go down and the feeling of having achieved something when you get back home!"
Double congrats, Quentin - for winning a watch and for tying the knot! 
Creative overlay
It was also Austrian runner Juliane Költringer's first World Vertical Week. She found out about it on Instagram and got creative: scribbling her own overlay that indicates the equally creative way she chased vertical meters over the week: "I went for a trail run, did some hill sprints and went mountain biking after work," Juliane says. "I convinced my best friend to take a coffee to go and walk up the Schlossberg (473 m) in Graz instead of sitting in a café. And on the weekend I went for a hike with my neighbors. For me, sometimes it's just the little things, like always taking the stairs instead of the elevator! Or grabbing a sandwich and walking up the Schlossberg for lunch instead of sitting down. It's nice!"
"Oh, and getting a Suunto watch is really awesome - I'm so excited!" Juliane continues. "I never had a sports watch before. I am curious to find out about my heart rate while working out. I am definitely going to use it when I'm out running to see my pace and then hopefully adapt my performance. Who knows, maybe this new Suunto watch will get me to a new level of training?"
We hope so, Juliane! Congrats, and happy training!
Homemade sandals
This was Eiji Shibuki's second World Vertical Week. After participating in the previous winter edition, he wanted to see how much he could improve. Based in Saitama, Japan, Eiji comes from a road cycling background and only recently made the transition to trail running after competing in a unicycling mountain race in which he had to run technically difficult sections. In the process, he discovered he loved trail running. "But I kept hurting my legs even though it was a short distance," Eiji says. "My knees hurt, my nails peeled, and so on."
This is what eventually led to him making his own homemade running sandals. He discovered barefoot running, Vibram FiveFinger shoes, and found this helped him avoid injuries and discomfort while trail running. "Just as humans used to go barefoot in the past, I have learned how to run efficiently and without breakdowns by devising ways to run in sandals or Vibrams without hurting my soles, and this is the reason why I use sandals," he says. "There are two main types of sandals: sandals that are sold and homemade sandals. Mine are self-made, cut from 6mm thick Vibram sheets."
We're impressed by your ingenuity Eiji! Congrats, and happy running!
Main images: Photos by Philipp Reiter