Freezing temperatures and strong winds scuttled the Swiss Machine's attempt to climb 7861 m Nuptse in Nepal. Is he disappointed? No, he feels stronger than ever!

Suunto ambassador Ueli Steck and climbing partner Colin Haley reached 6900 m on Nuptse before abandoning their attempt to reach its summit.

Nuptse. © Ueli Steck

While a borderline weather window opened on October 23 and 24, conditions were poor with a temperature of -28°C and a 50 km/h winds at the summit. The weather report for the following days predicted worse; -35°C and 80 to 100 km/h winds.

"We decided to give it a go on the south face anyway," Ueli says. "We scooped a fast, less technical line and hoped to at least reach the top. But from the beginning the meteorological test wasn't positive."

No one has successfully climbed Nuptse via its highly technical south face since Russian climbers Valeri Babanov and Yuri Koshelenko first did it in 2003.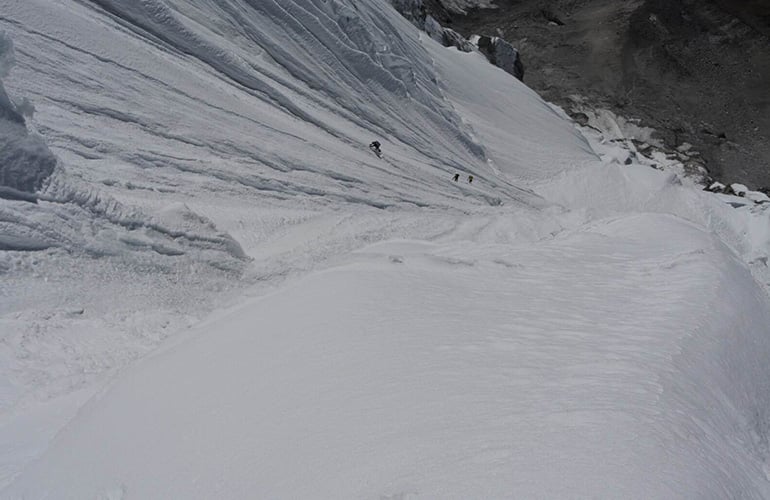 Climbing the south face. © Ueli Steck

Ueli, Colin and two French climbers began the attempt from Chuckung valley at 04:30 and reached the base of the south face two hours later. After changing boots, they began the climb, which included sections of ice at 75° degrees, but mostly between 35° and 45° degrees. "It was beautiful climbing," Ueli says.

At around 14:00, they reached 6900 m and set up camp for the night. The following day they planned to summit and return to camp. But it wasn't to be. Strong winds that night and in the morning made it too dangerous to continue so they packed up and returned to Chuckung.

"It's just impossible with 50 to 60 km/h winds to climb at that altitude without getting frostbite," Ueli says. "There was also a significant amount of fresh snow so avalanche danger was also a factor."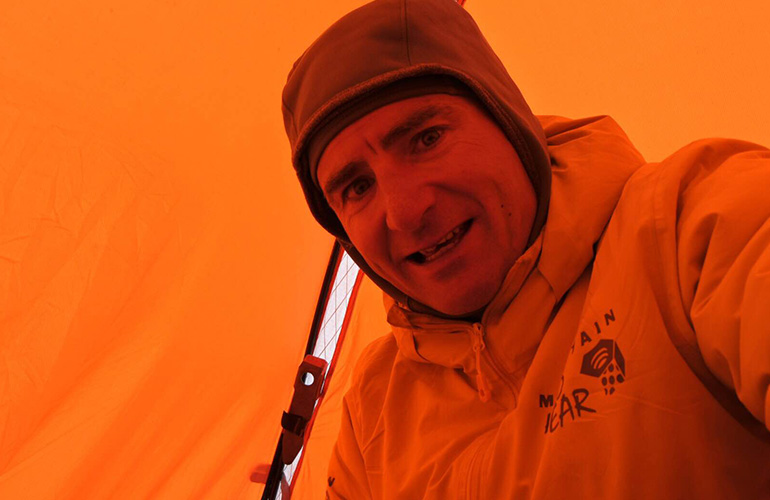 © Ueli Steck

Despite not achieving his goal, Ueli says he learns and grows as a climber from every climb, whether successful or not. Another attempt on Nuptse is on the cards in the future.

"It's the perfect mountain to me," Ueli says. It's almost 8000 m, which is definitely another game than climbing 6000 or 7000 m peaks.

"Also, it's not a remote mountain that takes weeks to get to. I like the climbing, but I don't like too much hiking."

Over the coming winter months, Ueli plans to work on and present slideshows of his big summer in the mountains. In spring next year, he and German alpinist David Goettler will attempt to climb 8027 m Shishapangma, the 14th highest mountain in the world, via its technically demanding south face.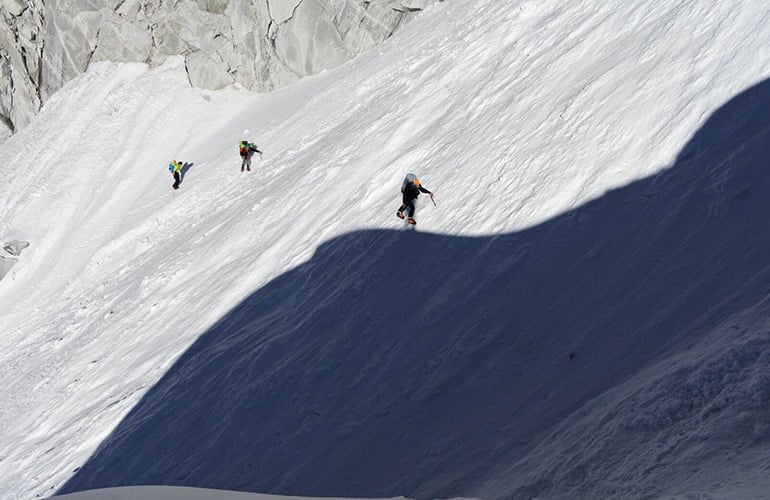 © Ueli Steck
For now, he's back in Switzerland enjoying some well deserved rest time.
"I am super postive from the trip to Nuptse," Ueli says. "I didn't have many restdays and I climbed and ran a lot. I feel stronger then ever!"
Click the links for part one, part two and part three of our series on Ueli Steck's Nuptse expedition.