The Dream Traverse Video Contest has come to an end – and we have a winner! You have voted the Kingdom Traverse the winner, and now Suunto will help Grobler Basson and his crew to make their dream come true.

Grobler Basson from Cape Town, South Africa, has the dream of traversing The Kingdom of Lesotho, a land locked mountain kingdom located inside South Africa, from one side to the other.
We got in touch with Grobler to congratulate him and to find out more about their plans.
Congratulations, Grobler! How does it feel to make your dream come true?
As travel is the only thing you can buy that makes you richer, to have a massive dream like this come true really is amazing and is still a bit surreal at this stage. This is an amazing opportunity that will touch not only my life, but also a group of special people close to me. What a privilege!
Have you had a chance to plan the trip more in detail yet?
Most of the detail planning is complete. If all goes to plan we will have all the logistics, gear, travel and accommodation details sorted within the next couple of weeks. As we will be swimming, kayaking, mountain biking and trail running the traverse should take us approximately eight days depending on a couple of variables.
What are some of the things you are most excited about?
I am most excited about those moments where things don't go to plan, but afterwards you realize you would not have had it any other way! Those unexpected moments that leave you in awe... When you are pushed beyond yourself, physically and mentally and your fellow adventurers keep you going with some sort of humor!
Is there something especially that makes you feel uncertain?
There is a lot of stuff that makes me uncertain: the extreme mountain weather, unknown mountain passes and trails and navigation errors. I suppose these are also the things that excite us to do this adventure!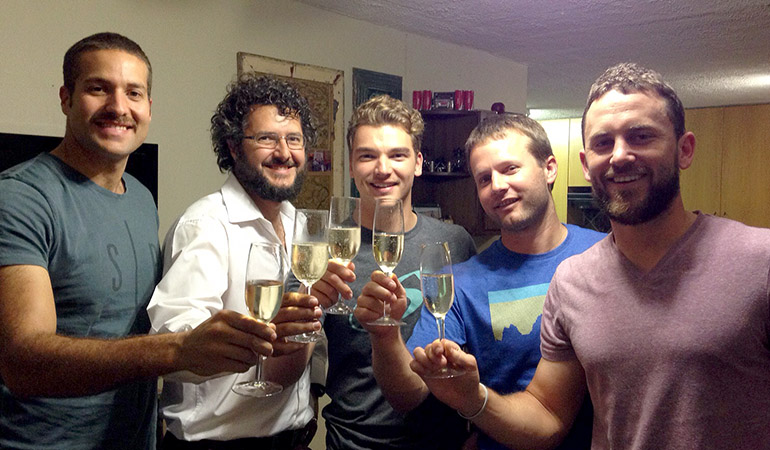 The Kingdom Traverse crew celebrates their Dream Traverse Video Contest victory

Who will be travelling with you?
All in all we will be 17 in total! Even though only 10 of us will do every leg of the traverse, it would be unfair not to mention the people behind the scenes. The whole Kingdom Traverse team is as follow; Quintin van Heerden, Raoul Hamman, Grobler Basson, Vian Espost, Gustav Robberts, Neelke Stadler, Hanmarie Stadler, Ryan Clark, Gideo Basson, Andre Joubert, Karmien Joubert, Erika Basson, Inge Basson, Charl Swart, Chris de Bruyn, Janine de Bruyn and Josh Rowe.
Stay tuned for more about the Kingdom Traverse here at suunto.com and also on Suunto Facebook, Twitter and Instagram.